Today I'm sharing a yummy, easy 6-ingredient Dill Pickle Tuna Egg Salad Sandwich Recipe. It's great for lunch or a light dinner. I love combining tuna and eggs in my salad. It's such a delicious combination especially with some creamy vegan mayo. It also serves well as leftovers for the week. For this tuna egg salad, I also added some dill pickles which elevate this salad along with some bell peppers for added fiber.
Why we shouldn't consume Farmed Fish
When sourcing tuna, make sure to shop for certified sustainable fish. Farmed fish contains questionable nutritional value. The nutritional benefits of fish are significantly reduced when it's farmed. For instance, wild fish receive their omega-3's from water-based plants. "Farmed fish, however, are often fed corn, soy, or other feedstuffs that contain little or no omega-3's. This unnatural, high-corn diet also means some farmed fish accumulate unhealthy levels of the wrong fatty acids. Further, farmed fish are routinely dosed with antibiotics, which can cause antibiotic-resistant disease in humans."
Farmed fish contain a lot of disease. Farmed fish are live in cramped quarters and are often packed together in their living conditions. "These unnatural conditions give rise to diseases and parasites, which often migrate off the farm and infect wild fish populations. On Canada's Pacific coast, for example, sea lice infestations are responsible for mass kill-offs of pink salmon that have destroyed 80% of the fish in some local populations. But the damage doesn't end there, because eagles, bears, orcas, and other predators depend on salmon for their existence. Drops in wild salmon numbers cause these species to decline as well."
Lastly, farmed fish live in their own poop. So if that's no enough to convince you to buy certified sustainable wild-caught fish, then I'm not sure what will! [Source: MindBodyGreen.com]
Now about this Dill Pickle Tuna Egg Salad Sandwich (sorry there really is no better way to segue into my recipe from poop is there?) For this recipe, I'm using Wild Planet Foods tuna which ensures their tuna is sustainably sourced. 
Thanks for visiting my blog! If you enjoyed this recipe, please share it with your family and friends or on social media! If you make recipes, take a picture of it and tag me on Instagram @christieathome in your feed or stories so I can share your creation in my stories with credits to you!
Take care,
Christie
Related recipes:
Tuna Egg Salad Sandwich Recipe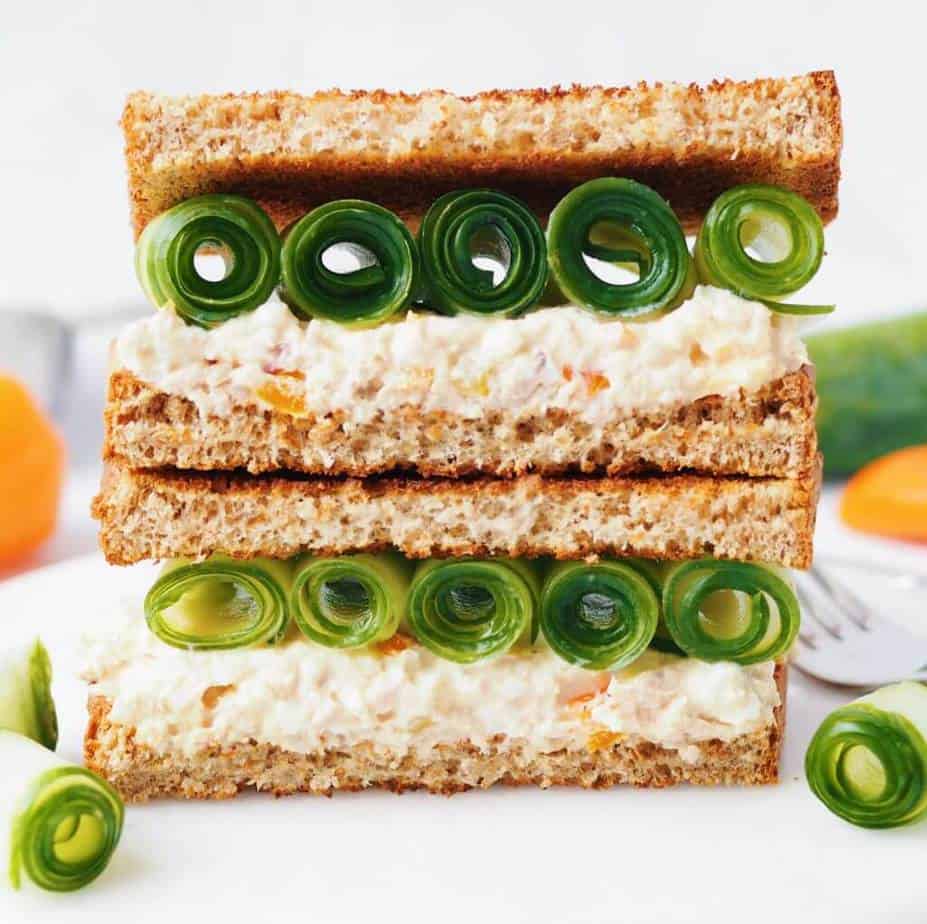 Pickle Tuna Egg Salad Sandwich (15-min. Recipe)
A yummy, easy 6-ingredient Dill Pickle Tuna Egg Salad Recipe. It's great for lunch or a light dinner.

Ingredients
1



can

canned tuna

5

eggs

¼

cup

bell peppers

finely chopped

⅓

cup

mayonnaise
¼

cup



dill pickles

finely diced

Salt and Pepper to taste


Instructions
Boil your eggs in hot boiling water for 10 minutes. Rinse them under cold water and let it sit for 5 minutes before peeling them.



In a resealable container, add tuna, bell peppers, mayo, dill pickles and mix well. Then add in your peeled eggs and mash with a fork until well combined. Season with salt and pepper.



Add your salad to some toast and cucumbers. Enjoy!


Enjoyed my recipe?
Please leave a 5 star review (be kind)! Tag me on social media @christieathome as I'd love to see your creations!
Copyright Policy
Please do not copy and paste my recipes or use my photos in your own site/blog or social media. If you use my recipe for adaptation, please provide a link back to my recipe and re-write in your own words. Thank you.
Suggested Equipment & Products
Nutrition
Calories:
246
kcal
|
Carbohydrates:
1
g
|
Protein:
15
g
|
Fat:
20
g
|
Saturated Fat:
4
g
|
Trans Fat:
1
g
|
Cholesterol:
228
mg
|
Sodium:
380
mg
|
Potassium:
184
mg
|
Fiber:
1
g
|
Sugar:
1
g
|
Vitamin A:
641
IU
|
Vitamin C:
12
mg
|
Calcium:
44
mg
|
Iron:
2
mg