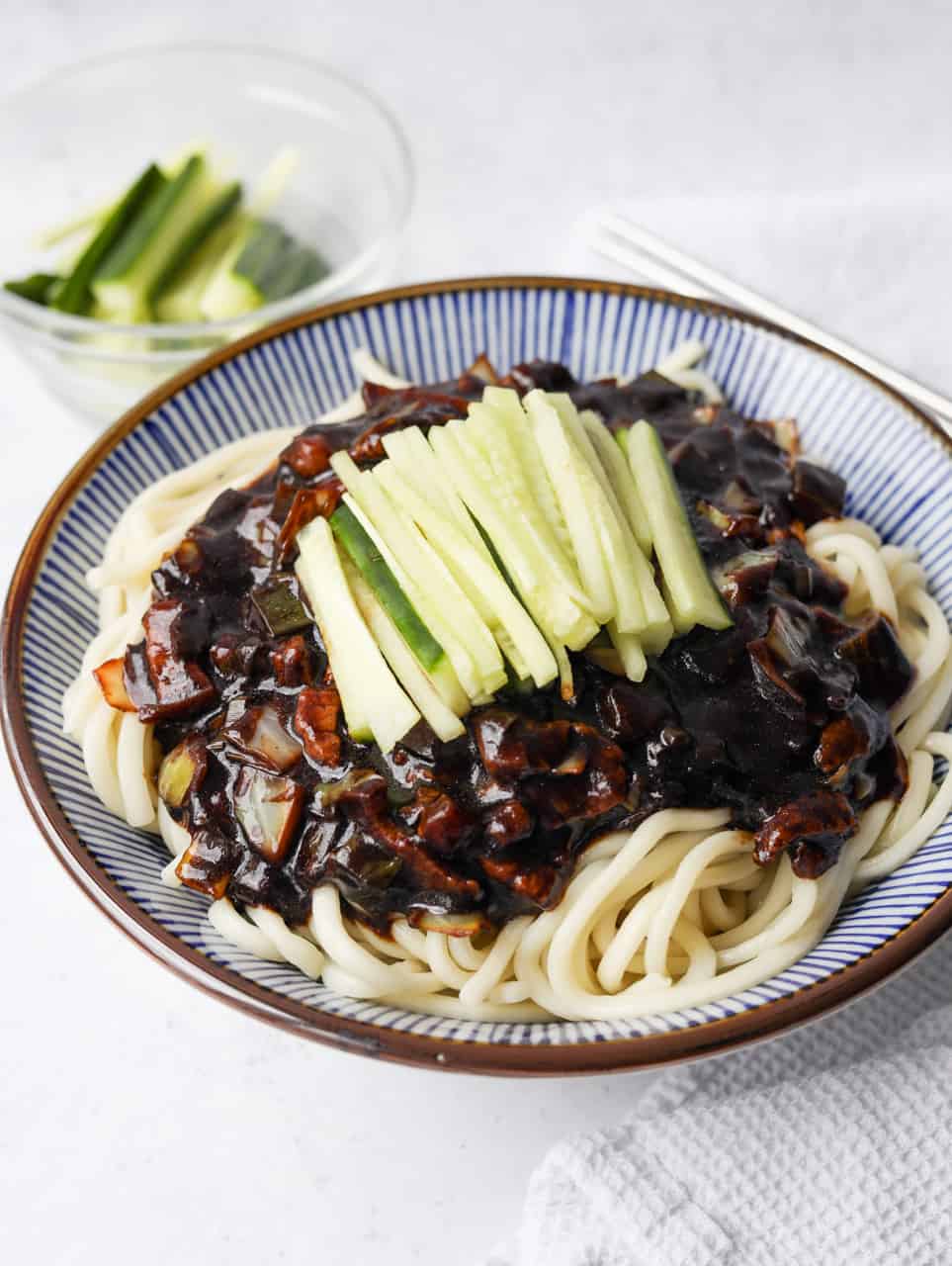 Jajangmyeon Black Bean Noodles. Thick wheat noodles with a savory black bean sauce with savory pork belly, onions, cabbage, zucchini and cucumbers. This is a popular Korean-Chinese noodle dish that serves as total comfort food to many. Ready in 30 minutes!
This Korean noodle dish is also known as Zha Jiang Mian in China and found in some Chinese Restaurant(s). There is also a Chinese version with slight variations in the sauce. Jajangmyeon noodles are a popular Korean-Chinese dish thanks to its savory sauce and thick noodles.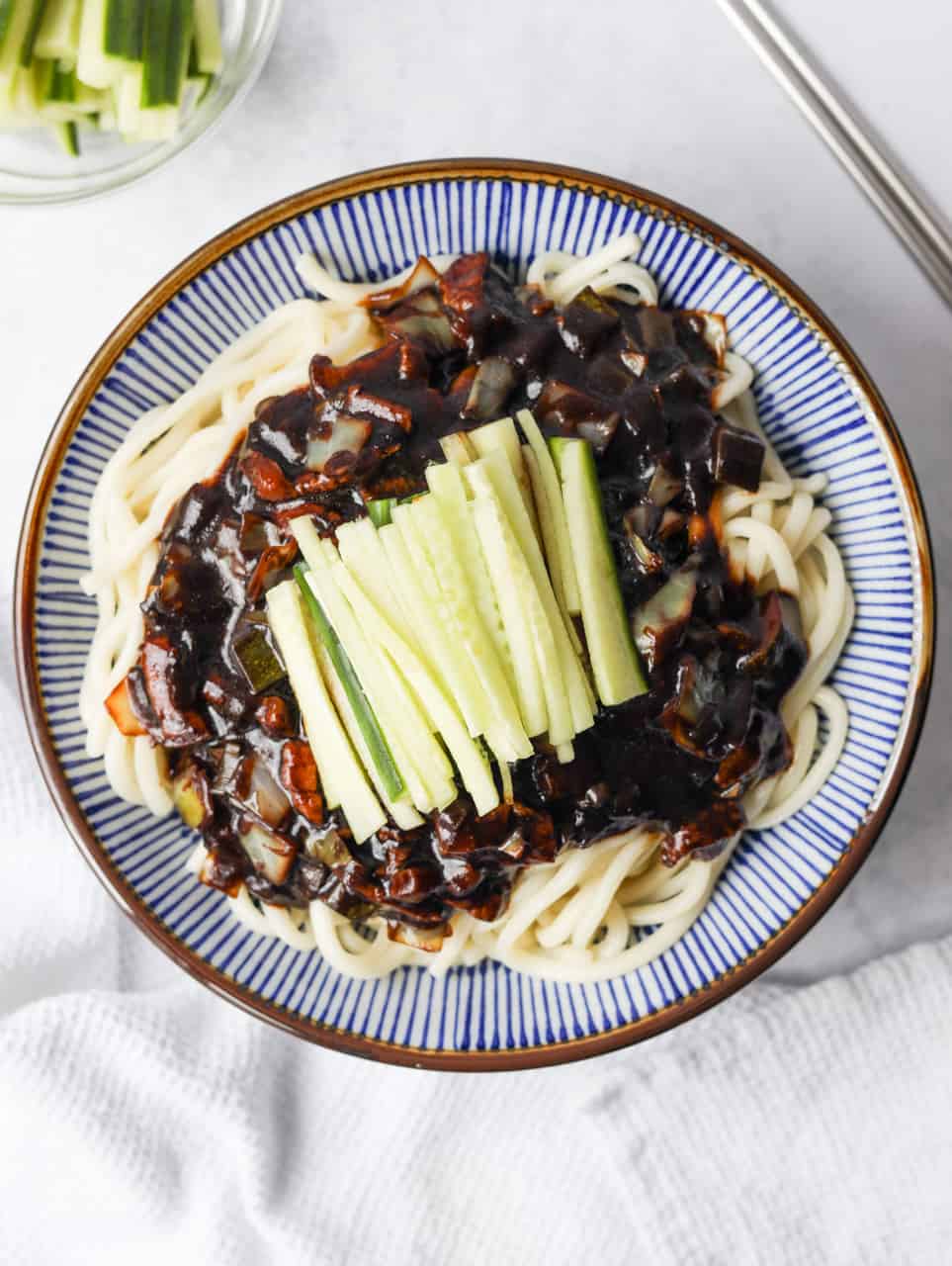 In South Korea, it's eaten on special day(s) like graduation with Tangsuyuk, aka Sweet & Sour Pork, or regularly eaten as it's become widely available through home delivery. This delicious noodle dish is often displayed being slurped down in many Korean dramas.
Easy to make
Korean Jajangmyeon is simple to make at home! You can find most of the ingredients in a Korean or Chinese grocery store. The jajangmyeon sauce consists of Korean black bean paste or Chinese Black Bean Paste, pork belly, veggies, onions, water, sugar, oyster sauce and cornstarch.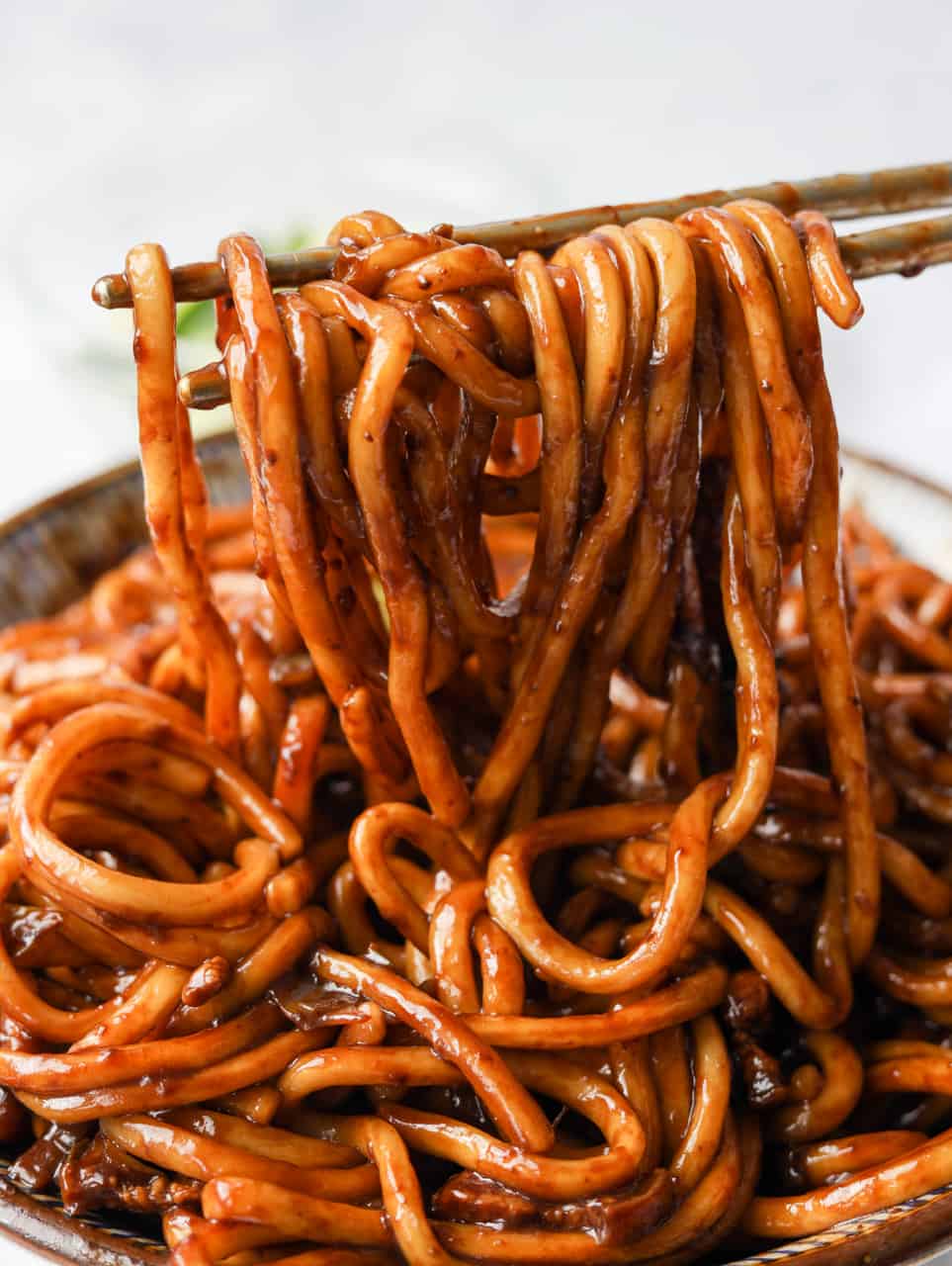 First, over medium heat we will fry the paste in 3 tablespoon oil in a large skillet or wok for a couple minutes and then remove it. Then stir fry the pork belly, aromatics and veggies until cooked. Next, mix back in the fried black-bean paste, followed by the cornstarch slurry.
Bring the black sauce to a simmer until it's thickened. Meanwhile, bring a large pot of water to boil and add the wheat flour fresh noodles. Boil until al dente and strain them. You may rinse the noodles off with cold water to stop the cooking process. Transfer the noodles to a large serving bowl and pour that thick black bean sauce on top with julienned cucumbers to enjoy!
What you'll Need
The below jajangmyeon ingredients are required. ***Please scroll down to the below Recipe card for full measurements***
Korean thick wheat noodle (fresh kind recommended)
pork belly
yellow onion
green cabbage
zucchini
green onion
black bean paste
avocado oil, or any neutral tasting oil
oyster sauce
Cornstarch slurry:
water
cornstarch (or sub with potato starch)
sugar
Garnish:
cucumber, thinly sliced for garnish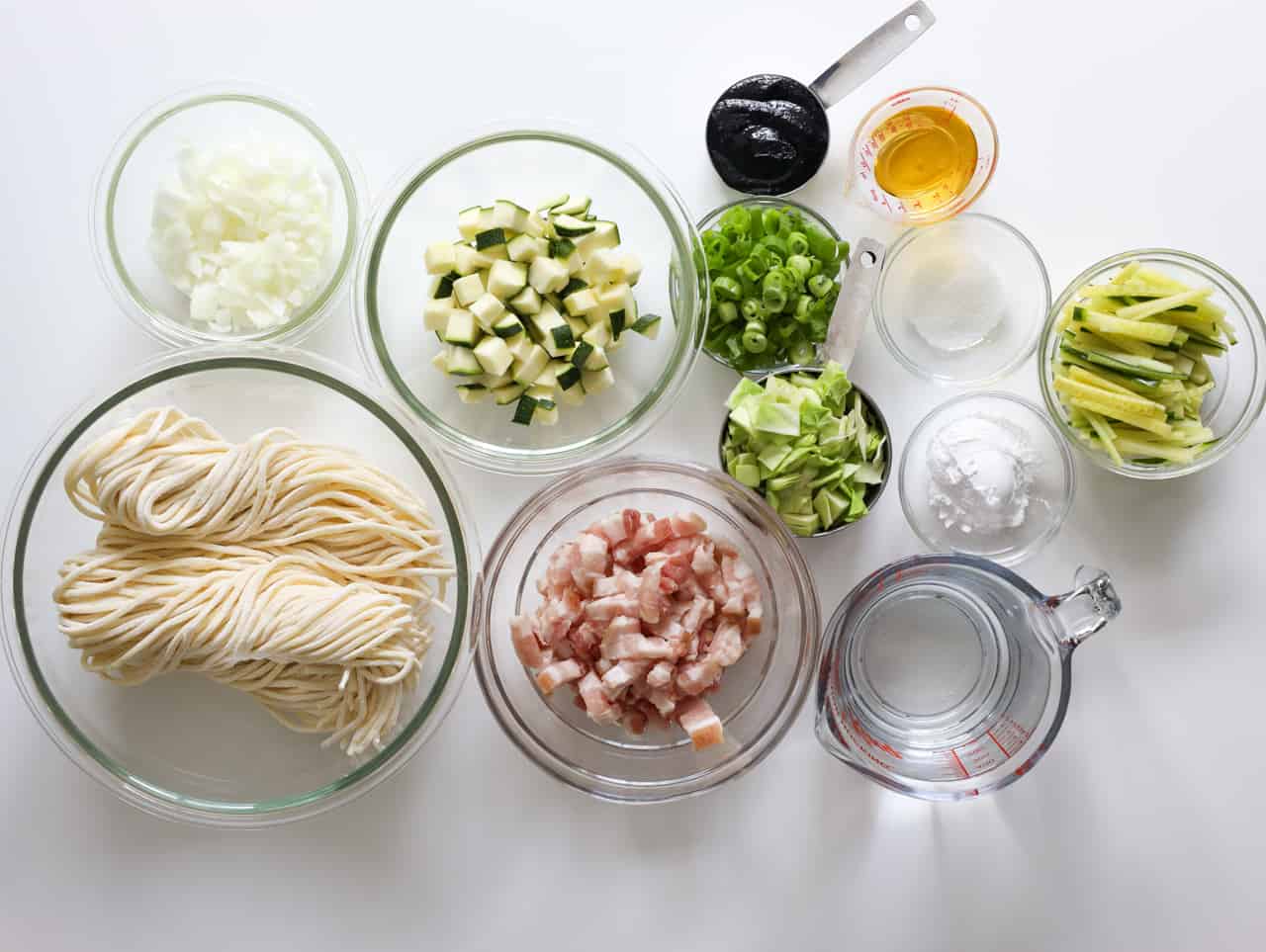 How to Make Jajangmyeon
Below are visuals to show you how to make jajangmyeon. ***Please scroll down to the recipe card below to find full instructions and details***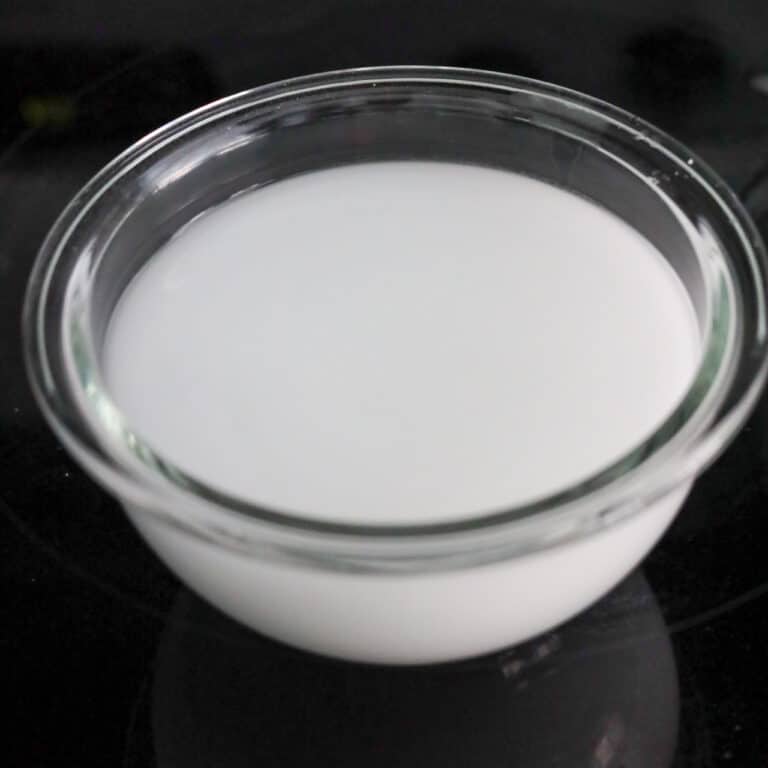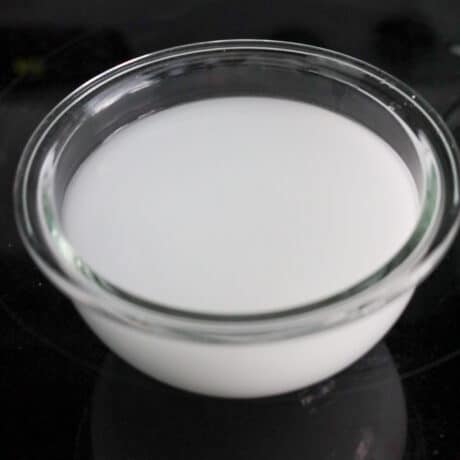 Cooking Tips
Fresh ingredients make a difference
I say this often in my recipes, but it's really important to use fresh ingredients for any recipe. It can make a huge difference in taste!
Fry the black bean sauce
The trick to making this extra delicious is frying the black bean paste in oil first. This prevents the paste from being too sticky and makes it more smooth and less bitter.
Can I use napa cabbage?
I do not recommend using napa cabbage. Use the regular green cabbage. Napa cabbage releases more water and a specific taste that alters the taste of the sauce.
Dice veggies and meat
This will make things easier when you mix the jajangmyeon sauce into the noodles. This applies to the cooked veggies and meat, except for the cucumbers which you can julienne.
Pre-mix the cornstarch, sugar and water
By combining these ingredients in a small bowl, you are creating a cornstarch slurry which will help thicken the jajang sauce.
FAQ
Below are frequently asked questions about this jajangmyeon recipe:
Where can I buy Korean-style black bean paste?
It should be available at the local Asian market. Search for it in your sauce aisle. It should look something like the below. Also, if you're wondering if you can just use black beans, no it's unfortunately not the same. You will need this ingredient to make this dish.
Where can I buy Korean Wheat Noodles?
These are available at the Korean markets, and I recommend buying the fresh Korean noodles. The label will say "Fresh Wheat Flour Noodles". You can also buy the dried kind, but they are not as thick and chewy as the fresh kind. If you can not find either, feel free to substitute with udon noodles.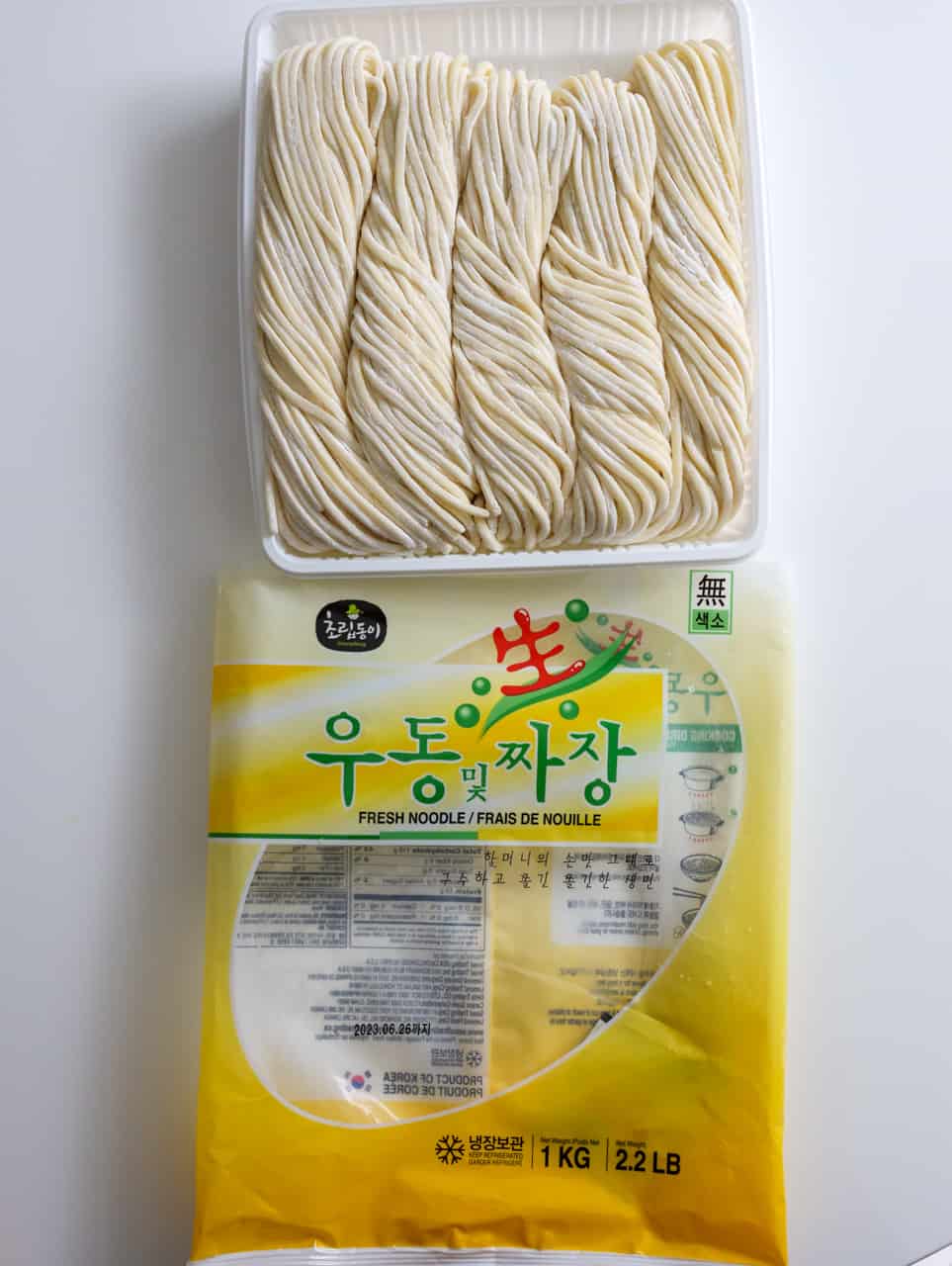 Can I add sesame oil?
Yes! A teaspoon should be suffice.
May I add soy sauce instead of oyster sauce?
I would first taste the sauce and see if it's salty enough for you and if it isn't, then feel free to sub with soy sauce. The oyster sauce lends an umami flavour.
Can I swap the pork belly out for another type of protein?
Yes, I'd recommend ground chicken or beef. However, a side note: the pork fat in the pork belly really lends a delicious and deep flavour to this dish!
What does Jajangmyeon taste like?
Picture thick chewy wheat noodles smothered in a savoury roasted black bean sauce with pork belly, zucchini, cabbage, onion and green onions for an aromatic flavour!
Is Jajangmyeon Korean or Chinese?
Jajangmyeon is a popular noodle dish in Korean, which originated from Chinese Zhajiangmian. There are slight variations between the Korean version and Chinese version, but they are similar.
Why is Jajangmyeon so popular?
It's a delicious Korean food that has very convenient to order for take out and can be easily made at home. In addition, it's eaten for special occasions like Graduation.
Is Jajangmyeon vegan?
Traditionally these Korean black bean noodles are not vegan, however it can be made vegan by omitting the protein and oyster sauce. You can also find a vegan jajangmyeon recipe online.
Other recipes you may like!
Dak Galbi
Korean Side Potatoes Gamja Jorim
Kimchi Tofu Stew
Japchae
Tteokbokki
I hope you give my Jajangmyeon Black Bean Noodles a try and enjoy it!
If you enjoyed my jjajangmyeon, please share it with your family and friends or on social media! Take a picture of your re-creation and make sure to tag me @ChristieAtHome in your feed or stories as I would love to see it!
Christie
*This post contains affiliate links. As an Amazon Associate, I earn from qualifying purchases.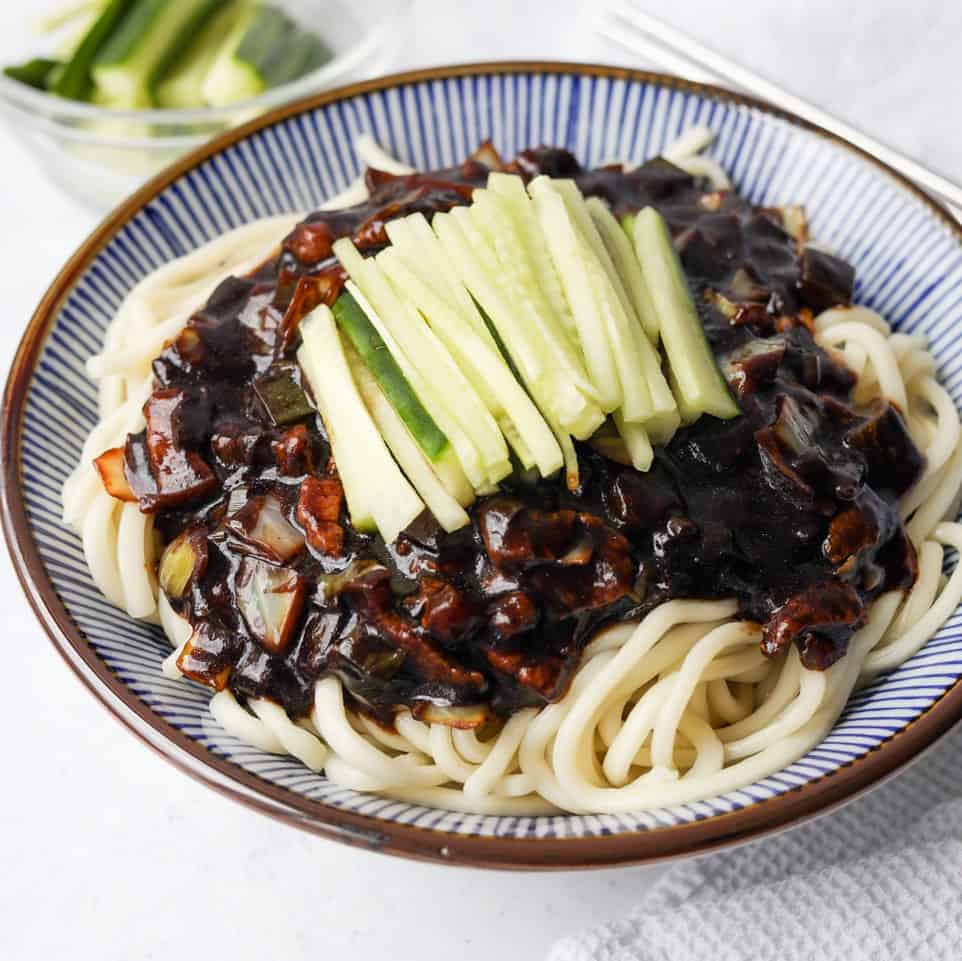 Easy Jajangmyeon - Korean Black Bean Boodles
Jajangmyeon Black Bean Noodles. Thick wheat noodles with a savory black bean sauce with savory pork belly, onion, cabbage, zucchini and cucumbers. This is a popular Korean-Chinese noodle dish that serves as total comfort food to many! Ready in 30 minutes!
Ingredients
550

grams

thick wheat noodles

(fresh kind recommended)

300

grams

pork belly

chopped

1

small

yellow onion

finely chopped

1

cup

cabbage

chopped

1

cup

zucchini

diced

2

stalks

green onion

finely chopped

⅓

cup

Korean style black bean paste

aka Chunjang or Jajang

3

tablespoon

avocado oil

(or any neutral tasting oil)

1

tablespoon

oyster sauce
Garnish:
¾

cups

cucumber

thinly sliced for garnish
Instructions
In a bowl, combine sugar, cornstarch and water. Mix well and set aside.

In a hot pan set to medium heat, add avocado oil and fry black bean paste for 2-3 minutes stirring constantly. Pour black bean paste and oil into a separate bowl, leaving about 1 tablespoon of oil in the pan. Discard the excess oil in the bowl containing the black bean paste.

Fry pork belly in the same oiled pan until cooked and browned on edges.

Add yellow onions and green onions and fry until softened. Then add in zucchini and cabbage and fry until softened.

Add back in cooked pork and black bean paste. Mix well.

Pour cornstarch slurry into pan and mix well. Simmer until it's thickened. Season with oyster sauce.

Boil noodles for 3-4 minutes. Strain. Pour sauce over noodles and garnish with cucumbers.
Enjoyed my recipe?
Please leave a 5 star review (be kind)! Tag me on social media @christieathome as I'd love to see your creations!
Copyright Policy
Christie at Home owns all copyright to her blog content, photos and videos. Usage of any of these copyrighted materials on your website or social media channels is strictly prohibited. If you adapt my recipes, please provide a backlink to my website and re-write in your own words.
Suggested Equipment & Products
Korean thick wheat noodle
Nutrition
Calories:
1403
kcal
|
Carbohydrates:
157
g
|
Protein:
38
g
|
Fat:
70
g
|
Saturated Fat:
21
g
|
Polyunsaturated Fat:
9
g
|
Monounsaturated Fat:
35
g
|
Cholesterol:
72
mg
|
Sodium:
625
mg
|
Potassium:
832
mg
|
Fiber:
2
g
|
Sugar:
11
g
|
Vitamin A:
220
IU
|
Vitamin C:
21
mg
|
Calcium:
117
mg
|
Iron:
8
mg