Dumpling Sauce. This is the simplest and easiest dumpling dipping sauce you'll ever make with only 3-ingredients and 1 minute!
The best way to enjoy homemade Chinese dumplings, store-bought dumplings or Japanese gyoza are with my easy sauce.
This condiment is so versatile you can also have it with soup dumplings, scallion pancakes, mushroom dumplings or even with plain white rice. It's also serves well as a Korean dumpling sauce too!
Simple & Quick
There are many easy dumpling sauce recipes online but the best thing about my sauce is it takes seconds with just 3 key ingredient.
Easy Dumpling Dipping Sauce
My easy dumpling sauce contains the first common ingredient which is soy sauce. It's then elevated with Chinese black vinegar, and a teaspoon sesame oil! That's it. This is a common way to make this condiment in Chinese cooking. You'll find it served at the Chinese restaurants with dumplings.
Additions
The foundation of this sauce is simple and versatile allowing you to add any of the following ingredients to it to elevate it even more:
sesame seeds
scallions
brown sugar for a hint of sweetness
For a spicy dumpling sauce:
Add a little bit of chili oil, chili sauce or red pepper flakes for a little kick of spice. I share a recipe for Chinese Chili Oil here.
What kind of vinegar do I need?
For this dumpling dip recipe, there's a specific type of Asian black vinegar in Asian cuisine that I highly recommend. It's called Chinkiang Vinegar and it comes in this yellow bottle. You can purchase it at most Asian grocers or online. See image below.
It's commonly used in Chinese cuisine for a hint of acid. It has a milder acidity compared to white wine vinegar or apple cider vinegar. It looks like balsamic vinegar with regards to colour, but it doesn't taste as strong.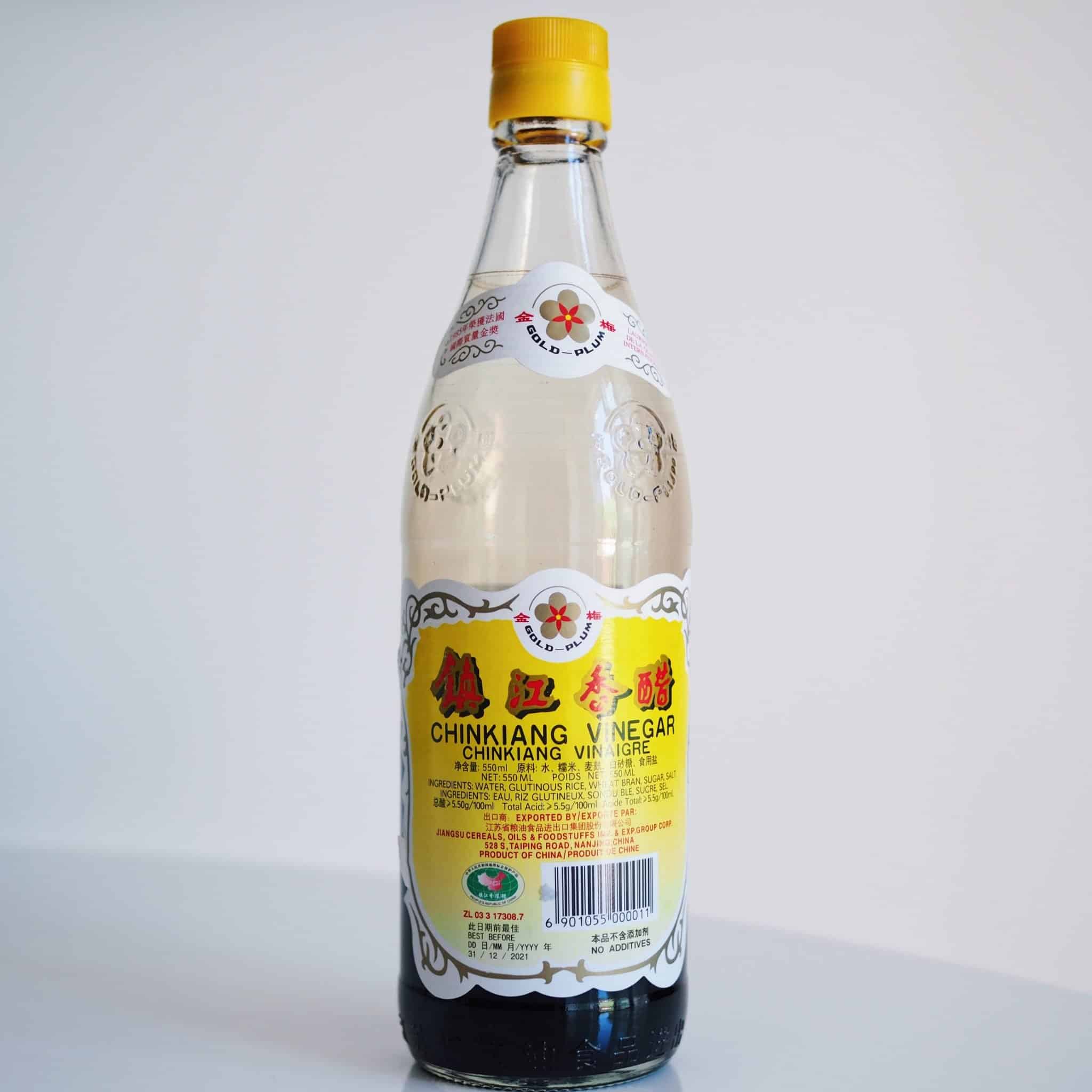 What you'll need
You'll need the following Chinese dumpling sauce ingredients. ***Please scroll down to the below Recipe card for full measurements***
Regular All-Purpose Soy Sauce
Chinese black vinegar
Sesame oil
Optional additions:
Sesame seeds
Scallions
Very thin slices of peeled
Chili Oil or red pepper flakes for spice
Brown sugar for sweetness
How to Make Dumpling Sauce
In a small bowl, add regular soy sauce, black vinegar and sesame oil. Whisk until combined. Enjoy with your dumplings as is or add any of the above suggested additions to elevate it,
FAQ
Below are frequently asked questions about this black vinegar dumpling sauce:
Can I make this homemade dumpling sauce gluten free?
Yes! Just replace the regular soy sauce with a gluten-free soy sauce, tamari sauce or coconut aminos.
Can I use a light soy sauce or low sodium soy sauce?
Yes! You can use both but please add to taste as light soy sauce tends to be saltier than regular soy sauce and low sodium is less saltier.
What does Chinkiang Vinegar taste like?
It tastes like a toned down version of vinegar. It's made of water, glutinous rice, wheat bran, sugar and salt. That's it!
Where can I buy Chinkiang vinegar?
This vinegar is usually sold at Chinese grocers. You may be able to find it online on Amazon but it's much most cost effective to find it at the store.
What is dumpling sauce made of?
It's usually made of soy sauce, a rice vinegar, sesame oil and sometimes chili oil.
Can you buy dumpling dipping sauce?
Yes, you can at most Asian grocers but I find that they don't taste as great as homemade ones.
What can I use instead of Chinese black vinegar?
If you can't find this vinegar, substitute with rice vinegar.
Other Asian sauces you may like!
If you enjoyed this dumplings sauce, you may like these other recipes:
CHINESE GREEN ONION SAUCE
CHINESE CHILI OIL
SAMBAL OELEK
Here are some of my best dumpling recipes on my blog to pair with your sauce:
Chinese Pork Chive Dumplings
Pork Cabbage Dumplings
Pork Shrimp Dumplings
I hope you give my recipe a try and enjoy it!
If you enjoyed my simple dumpling sauce, please leave a star rating and share it with your family and friends or on social media! Take a picture of your re-creation and make sure to tag me @ChristieAtHome in your feed or stories as I would love to see it!
Christie
*This post contains affiliate links. As an Amazon Associate, I earn from qualifying purchases.
3-ingredient Dumpling Dipping Sauce
Dumpling Sauce. This is the simplest and easiest dumpling dipping sauce you'll ever make. It only 3 ingredients and it's so delicious with those dumplings! Takes less than 1 minute to make!
Ingredients
Highly recommended additions:
Instructions
In a small bowl, combine regular soy sauce, black vinegar and sesame oil. This is your base sauce. Feel free to mix in the above listed highly recommended additions and adjust to taste. Enjoy with your dumplings!
Enjoyed my recipe?
Please leave a 5 star review (be kind)! Tag me on social media @christieathome as I'd love to see your creations!
Suggested Equipment & Products
Nutrition
Calories:
49
kcal
|
Carbohydrates:
1
g
|
Protein:
2
g
|
Fat:
4
g
|
Saturated Fat:
1
g
|
Polyunsaturated Fat:
2
g
|
Monounsaturated Fat:
2
g
|
Sodium:
1006
mg
|
Potassium:
38
mg
|
Fiber:
0.1
g
|
Sugar:
0.3
g
|
Calcium:
5
mg
|
Iron:
0.4
mg