Japanese Ebi Mayo. Crispy fried shrimp tossed in a sweet tangy mayo sauce. A delicious, creamy and crispy shrimp dish that is easy to make at home.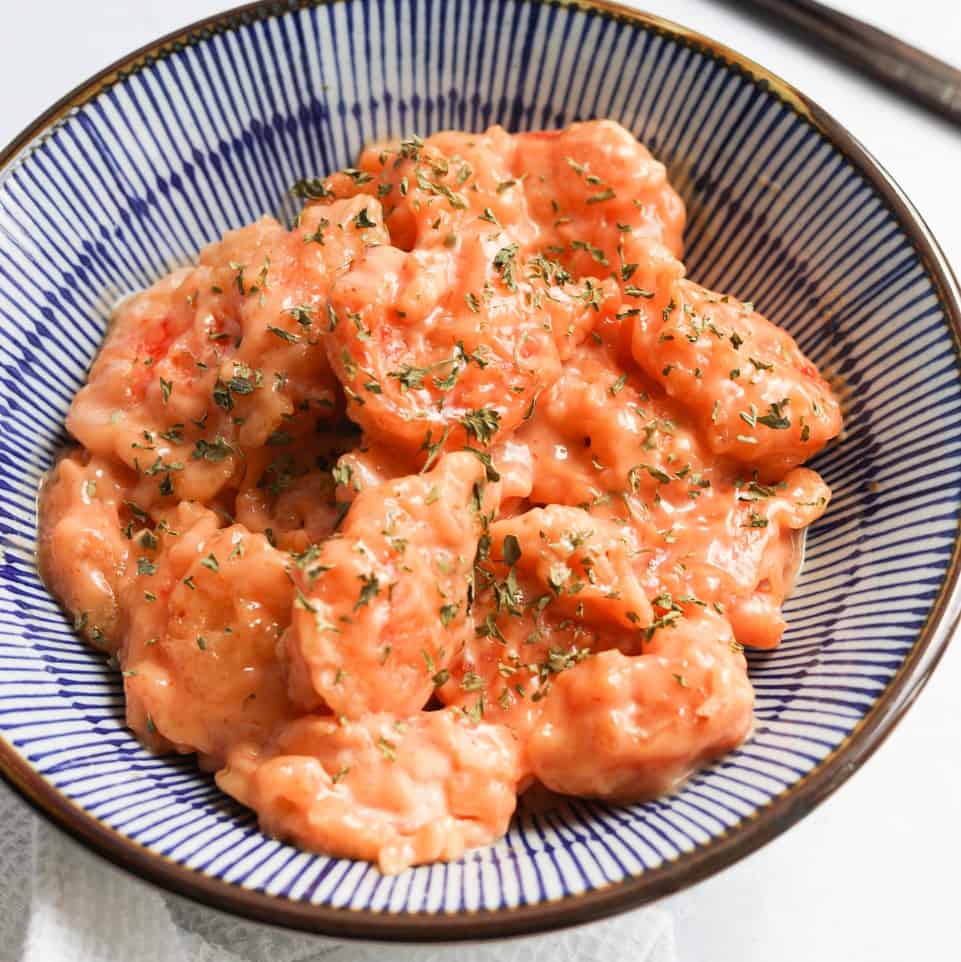 Perfect as a main for dinner or lunch with some steamed rice. Ready in just 30 minutes and I will be teaching you how to make ebi mayo step by step!
This is one of my all-time favourite shrimp recipes. I love the taste of that tangy sweet mayo over the crispy fried prawns. It is a wonderful combination of flavours and textures that will truly keep you coming back for more.
Easy to make!
My ebi mayo prawns recipe is easy to make! It will come together in just 30 minutes because the shrimp only take a couple minutes to fry, and the sauce requires no heating at all!
To make it easier, I would highly recommend buying jumbo shrimp that has been deveined for you and the shell is cut open already. They're usually called "easy peel" shrimp on the packaging.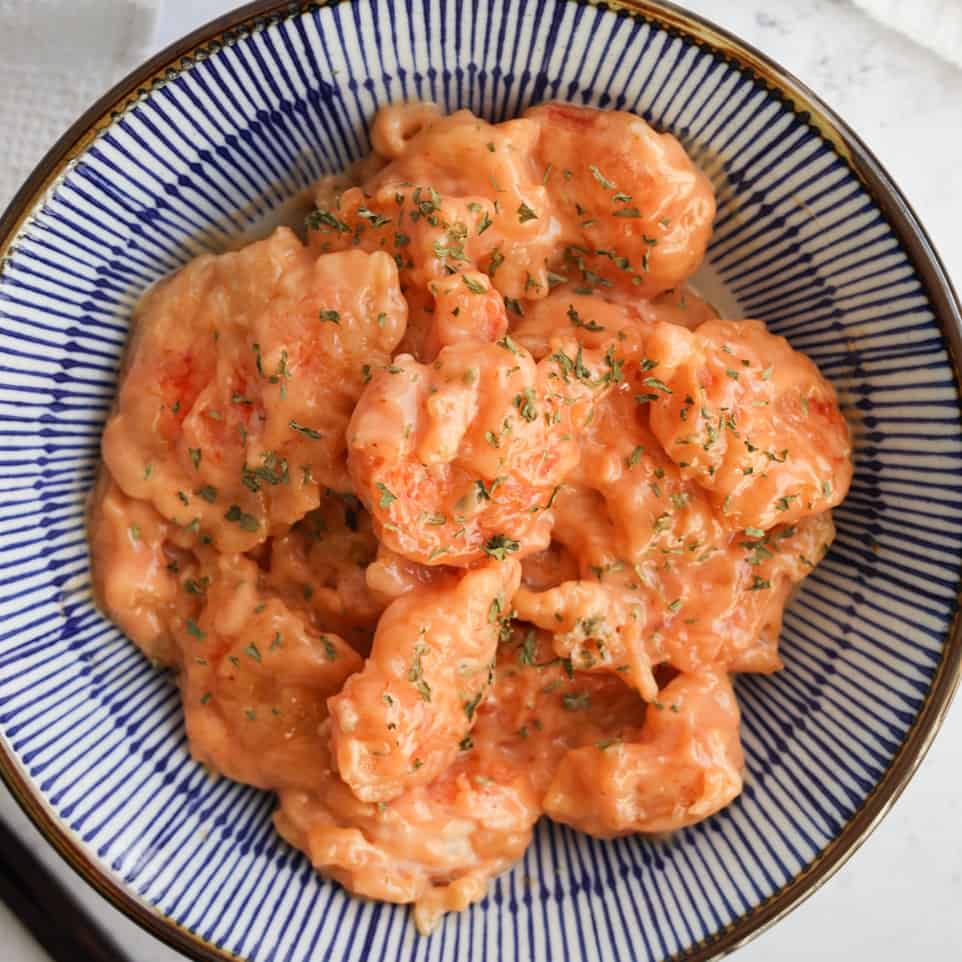 Ingredients
This ebi mayo recipe calls for the following ingredients:
Jumbo shrimp (highly recommend black tiger)
Potato starch
Cake flour
Salt
Vegetable oil
Water
Japanese Mayo
Ketchup
Condensed Milk
Rice Vinegar
Salt
Sugar
How to Cook Ebi Mayo
First, you'll whisk your mayo, ketchup, condensed milk, rice vinegar, salt and sugar until it's combined. Then in another bowl, whisk together the potato starch, cake flour, salt and then pour in the water to whisk again. Next peel your shrimp, pat dry and mix the shrimp into the batter.
Heat your oil in a pot or wok over medium heat, fry your shrimp in two batches until they are crispy and pink through out. Place the fried shrimp on a cooling rack to allow the excess oil to drip. Then gently mix your fried shrimp to the mayo sauce and enjoy!
I've also shared a short ebi mayo recipe video below on how to make this delicious dish!
Tips for Ebi Mayo
Below are tips on making ebi prawn with mayo:
When making your shrimp batter, whisk your dry ingredients first before adding in the water. This allows for even distribution of the flour, starch and salt.
Use a whisk to help you mix your batter and mayo sauce evenly.
Buy easy peel shrimp that has already been deveined with the shells cut open. It'll make the preparation process much faster.
Make sure your prawns or shrimp have defrosted overnight in the fridge. If they have not, place them in cold water for at least 5 minutes to help thaw them.
After you've peeled your shrimp, pat them dry of any moisture.
Make sure your oil is hot enough (350 F) by using a cooking thermometer or use a wooden chopstick to check for bubbles after dipping it in the oil.
Do not overcrowd the oil or your shrimp will not be crispy. Divide the shrimp into two batches for frying.
For extra crispy shrimp, drizzle a tablespoon of the batter over each shrimp as it fries (optional).
Wait for the shrimp to float to the top and for it to become fully pink before removing from hot oil.
Place fried shrimp on a cooling rack or on paper towel for it to soak up the excess oil. The excess oil will make the shrimp soggy.
FAQ
Below are frequently asked questions about this Japanese mayonnaise shrimp:
What is Japanese Ebi?
Ebi means shrimp in Japanese. It's a very common ingredient used in Japanese cuisine.
What is in Kewpie mayonnaise?
Kewpie mayo is Japanese mayo and it contains oil, egg yolks only, and vinegar. It's much creamier than the traditional mayo.
How to make ebi mayo sauce?
It's very easy to make! You're simply whisking the following ingredients in a bowl and that's it! The sauce does not require to be heated for this recipe.
Other recipes you may like!
If you enjoyed this ebi mayo recipe, you may enjoy these other recipes:
EASY JAPANESE SHRIMP TEMPURA
TENMUSU (SHRIMP TEMPURA RICE BALL)
THAI GARLIC FRIED SHRIMP
GARLIC SHRIMP TOFU UDON NOODLES
CHINESE SALT AND PEPPER SHRIMP
CHINESE BATTERED SHRIMP
SHRIMP PAD THAI
KOREAN SHRIMP LEEK PANCAKE
CHINESE SHRIMP OMELETTE
Try it!
Well, I hope you give my Japanese Ebi Mayo a try! It always excites me when you guys make my recipes and I hope this is one you try.
Thanks for visiting my blog! If you enjoyed my Ebi Mayo Shrimp, please share it with your family and friends or on social media!
Take a picture if you've made my recipe and tag me on Instagram @ChristieAtHome in your feed or stories so I can share your creation in my stories with credits to you!
Made this recipe and loved it?
If you could leave a star rating for my ebi mayo prawns recipe, I would appreciate it 🙂 Thanks so much!
Take care,
Christie
*This post contains affiliate links. As an Amazon Associate, I earn from qualifying purchases. I also earn from qualifying purchases through additional affiliate programs
📖 Recipe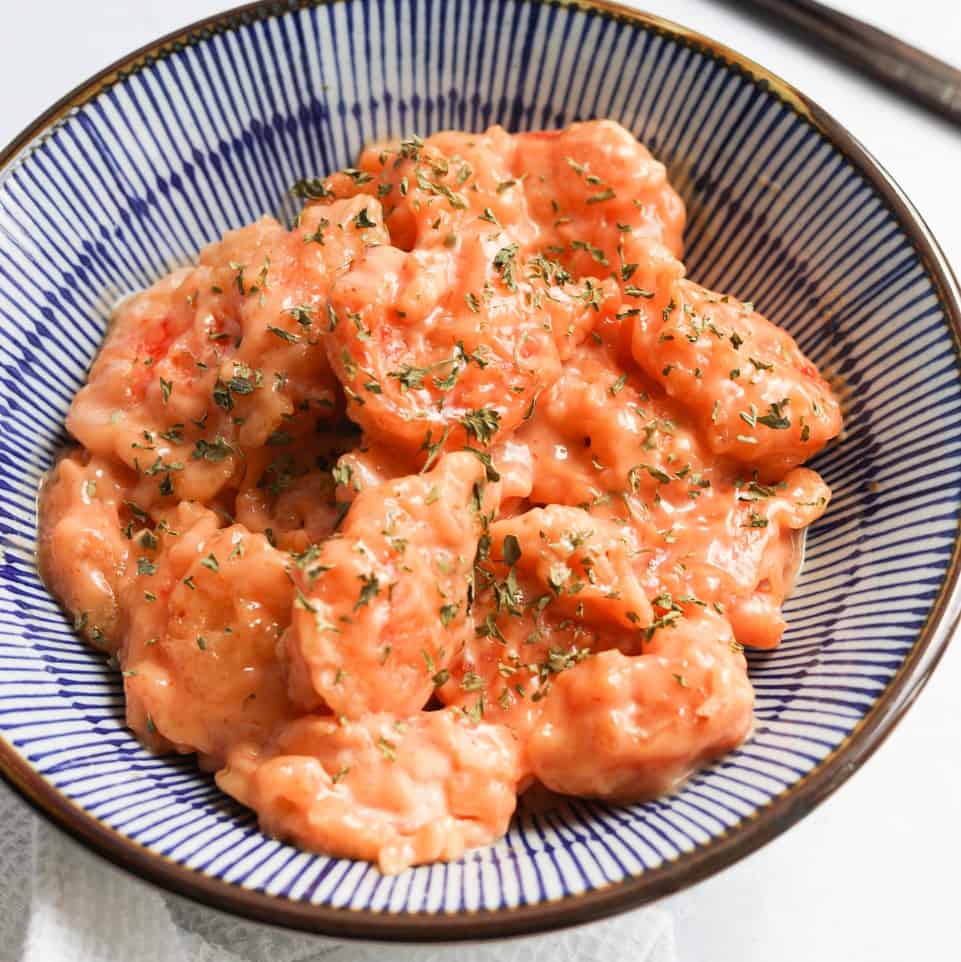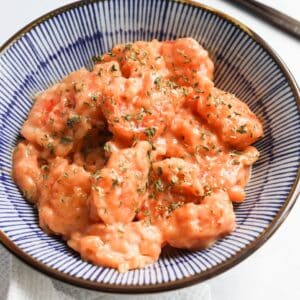 30-min. Ebi Mayo (Crispy Shrimp in Mayo Sauce)
Jumbo Shrimp tossed in a tangy sweet mayo sauce. A delicious, creamy and crispy shrimp dish that is easy to make at home. Perfect as a main for dinner or lunch. Ready in 30 minutes or less!
Ingredients
20

shrimps

jumbo size

2

cups

vegetable oil

or any neutral oil

¼

teaspoon

Dried parsley flakes

optional garnish
Instructions
In a bowl, add potato starch, cake flour, salt and whisk together. Then pour in water and whisk again until combined. Set aside.

In another bowl, whisk together Mayo sauce ingredients (see listed above) until well combined. Set aside.

If needed, peel and devein shrimp. Pat the peeled shrimp dry and add shrimp to batter. Mix together.

In a large wok or pot set over medium heat, add vegetable oil. Make sure oil reaches 350 F or dip a wooden chopstick and look for bubbles at the tip. Once the oil is hot, carefully add half of the battered shrimp. Do not overcrowd the oil.

Fry shrimp until they float and are pink through out, about 2-3 minutes. Flip shrimp halfway through frying. If you'd like them extra crispy, drizzle a teaspoon of the batter per each piece of shrimp as it fries (optional).

Remove the shrimp and place onto cooling rack to allow excess oil to drip off. If you don't own a cooling rack, place fried shrimp on a plate lined with paper towel. Repeat the above process for second batch.

Pour the mayo sauce over fried shrimp and gently mix. Optional: garnish with dried parsley flakes. Enjoy!
Enjoyed my recipe?
Please leave a 5 star review (be kind)! Tag me on social media @christieathome as I'd love to see your creations!
Suggested Equipment & Products
As an Amazon Associate, I earn from qualifying purchases.
Nutrition
Calories:
237
kcal
|
Carbohydrates:
28
g
|
Protein:
4
g
|
Fat:
12
g
|
Saturated Fat:
3
g
|
Polyunsaturated Fat:
6
g
|
Monounsaturated Fat:
3
g
|
Trans Fat:
0.03
g
|
Cholesterol:
13
mg
|
Sodium:
409
mg
|
Potassium:
211
mg
|
Fiber:
1
g
|
Sugar:
13
g
|
Vitamin A:
94
IU
|
Vitamin C:
1
mg
|
Calcium:
68
mg
|
Iron:
0.3
mg