Japchae aka Korean glass noodle stir-fry. Chewy sweet potato noodles with marbled beef, colorful stir-fried vegetables in a sweet soy sesame sauce.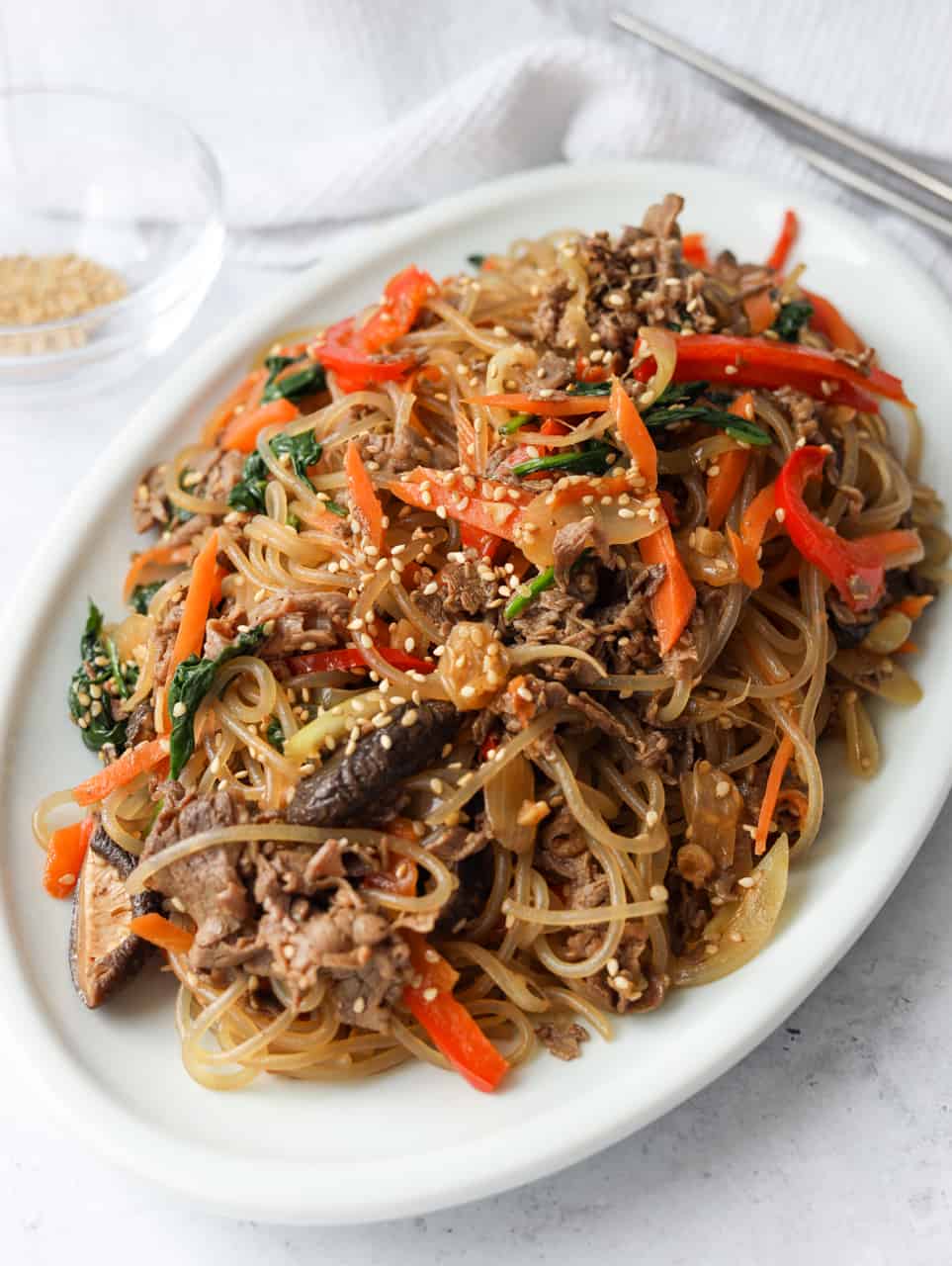 Ready in 25 minutes or less!
This quick Korean dish takes less than half an hour in the kitchen and can be served hot, or at room temperature. It's also great as leftovers.
What does it taste like?
These are my favorite cooked noodles in Korean cuisine! I love the taste of those chewy noodles in that light sesame savory sauce with bell peppers, spinach, carrots, shiitake mushrooms, onions and beef.
It's not only tasty but beautiful to look at thanks to the gorgeous vibrant colors.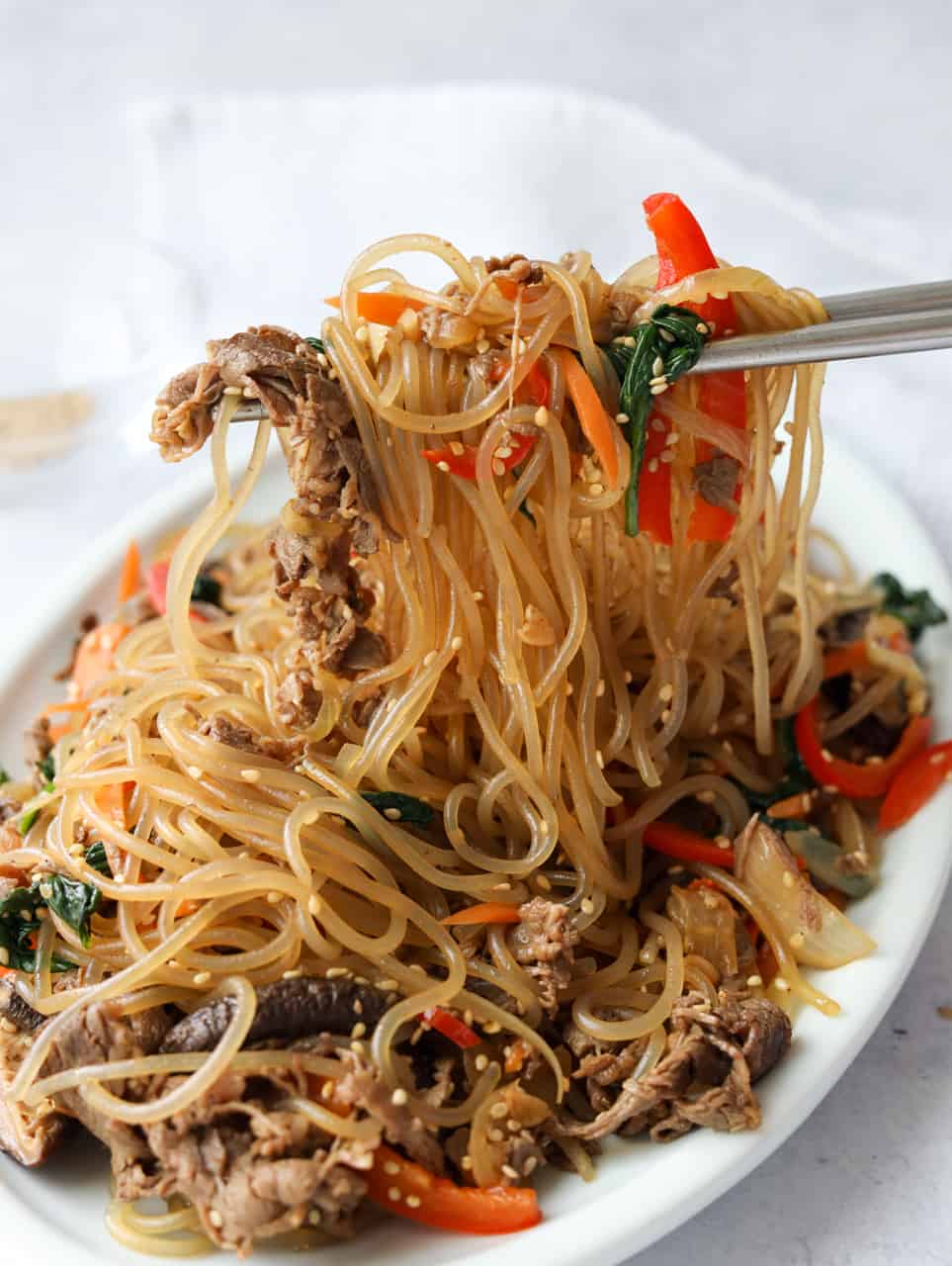 My method is quick & easy!
Believe it or not, these Korean Sweet Potato Glass Noodles are very easy to make at home! There are many authentic japchae recipes where you have to stir fry and season each ingredient. However, this takes more time and effort.
I'm sharing a great recipe that is simple and easy so you can make this dish more!
Served as a side dish or main dish
Jap Chae is a traditional Korean food for special occasions or holidays! Korean restaurants will serve this Korean glass noodle stir fry. Some Korean grocery store(s) will sell it pre-cooked and chilled. You can eat it as a side dish or as a main dish.
Japchae is served over a bed of rice with extra marinated beef for a filling meal at my favorite restaurants!
Vegan Version
I also share a vegan japchae recipe here on my blog if you'd like to check that out!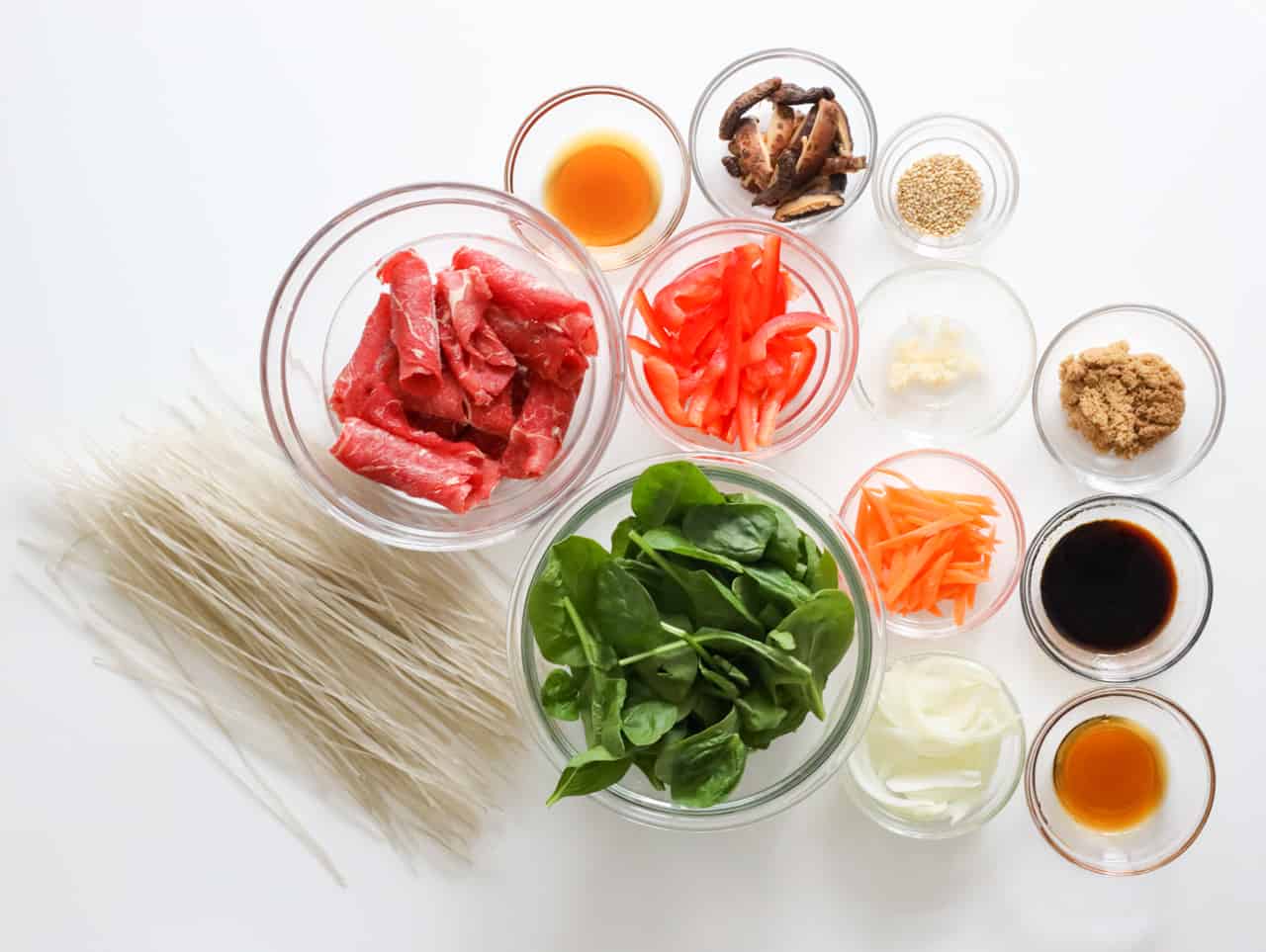 What you'll need
This japchae recipe calls for the below ingredients. ***Please scroll down to the below Recipe card for full measurements***
Korean sweet potato noodles
thinly sliced chuck or rib eye beef (hot pot style beef recommended)
carrot
yellow onion
red bell pepper
baby spinach
shiitake mushrooms or sub with re-hydrated dried shiitake mushrooms
garlic clove
sesame oil
sesame seeds
Japchae Sauce:
regular soy sauce, (not light or dark soy sauce)
sesame oil
brown sugar
How to make Japchae
Below are visuals to show you how to make japchae noodles. ***Please scroll down to the recipe card below to find full instructions and details***
Cooking Tips
Below are tips on making japchae sweet potato noodles:
Thinly cut carrots and bell peppers
This will allow these vegetables to better incorporate into your noodles since they're long and slender like your noodles.
Pre-mix the sauce!
In a small bowl, mix the sauce ingredients well, until the brown sugar fully dissolves for a well-balanced taste.
Use thinly cut marbled beef for ease!
Many Asian markets carry this item in the freezer section. Or you can use any marbled beef and cut it thinly.
Use pre-washed baby spinach for simplicity!
I love using pre-washed baby spinach to make things easier in the kitchen. Any Western or Asian grocer will carry this item.
Boil the noodles until soft and chewy
In a large pot of water, bring to boil. Boil the noodles for about 5 minutes in hot water.
Use a large bowl for mixing
Have a large bowl ready to pour your strained noodles and the rest of your ingredients into.
Fry veggies together until soft but crisp
Over low heat, warm your large skillet. Then fry veggies for 1-2 minutes at most. We do not want to overcook the vegetables. So, cook at a low heat.
Sauté mushrooms, garlic and beef with Japchae Sauce
Over medium heat, add sesame oil along with garlic and mushrooms and sauté for a bit. Then add beef to the pan, spread it apart and then add a little bit of the Japchae sauce into the pan to give the ingredients extra flavor. This part will take about 2-3 minutes.
Mix everything together!
In a large mixing bowl or medium bowl, transfer everything into it including the sesame seeds and mix well with tongs or gloved hands as the noodles will be hot.
Great as leftovers
You can make this noodles dish in large quantities and store it in an airtight container for next day. To reheat the leftover japchae, microwave or stir fry on the stove top. You can serve it chilled too.
To cut the noodles
Sometimes the noodles can be pretty long to eat and serve. Use clean kitchen scissors to cut the noodles within the large mixing bowl.
FAQ
Below are common questions about this easy japchae recipe:
Are japchae noodles healthy?
Yes, this Korean Glass Noodles recipe is healthy. It contains delicious mixed vegetables. You can also add more vegetables if you wish.
Where can I buy Korean Sweet Potato Starch Noodles?
You can buy this item at any Korean Grocer or Asian Grocery Store.
What are Sweet Potato Noodles made of?
Sweet potatoes starch. These noodles are gluten free.
Where can I find thinly cut marbled beef?
Most Asian markets will sell thinly cut marbled beef in the frozen section. It's usually chuck or rib eye beef that has been thinly cut. It's also known as "Shabu Shabu Beef" or "Hot Pot Style Beef".
I can't find thinly cut marbled beef!
You may also use thinly cut rib eye or chuck beef with fat running through it. Freeze it for 45-60 minutes and then this will make it easier to slice into thin pieces.
Can I use other vegetables?
Sure! Feel free to use other various vegetables that suit your fancy. Aim for colorful vegetables like green onions or spring onions, wood ear mushrooms, bok choy or choy sum (or any leafy green), yellow or orange peppers, bean sprouts and more.
Other Korean dishes you may like!
If you enjoyed these healthy Korean noodles, you may like these Korean recipes:
KOREAN FISH CAKE STIR-FRY
CUCUMBER SALAD
KOREAN POTATO SALAD
BEAN SPROUT SALAD (Korean Style!)
KOREAN CORN CHEESE
KOREAN SPINACH SIDE DISH
BULGOGI (KOREAN BBQ BEEF)
I hope you give my Korean japchae a try and enjoy it!
If you enjoyed my recipe, please share it with your family and friends or on social media! Take a picture of your re-creation and make sure to tag me @ChristieAtHome in your feed or stories as I would love to see it!
Christie
*This post contains affiliate links. As an Amazon Associate, I earn from qualifying purchases.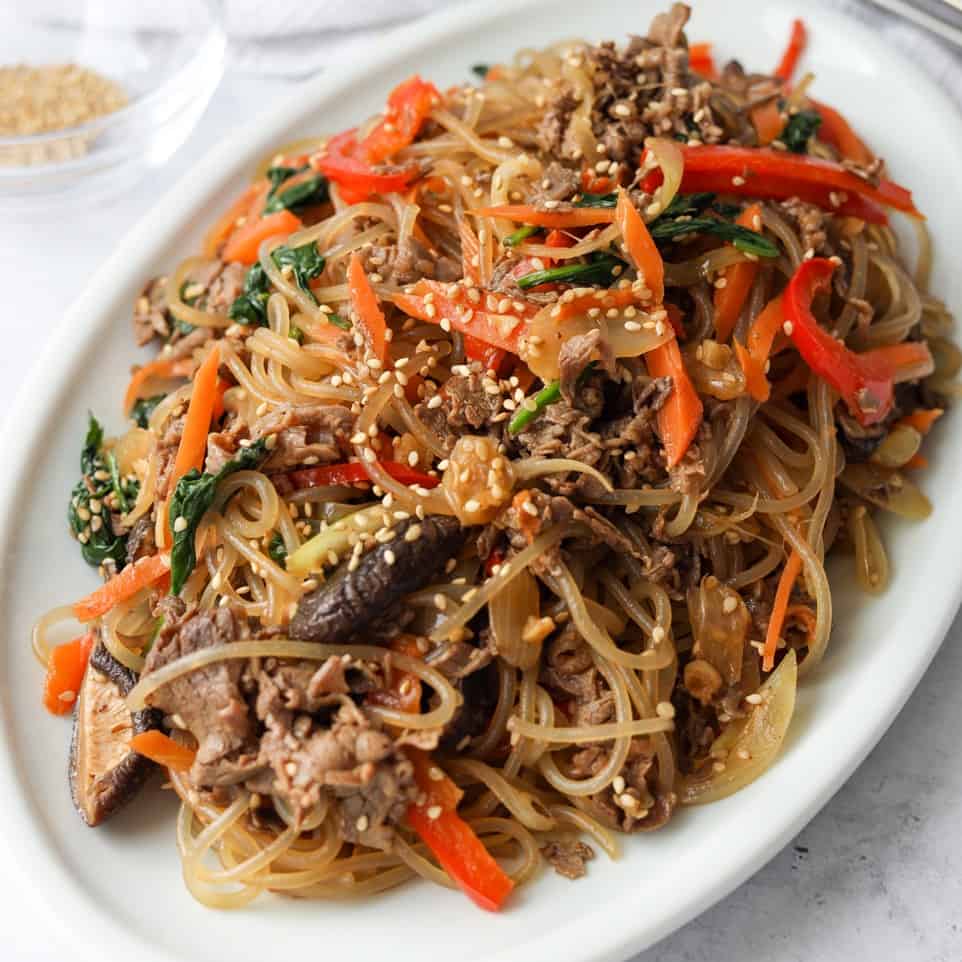 Easy Japchae (Korean glass noodle stir-fry)
Japchae aka Korean glass noodle stir-fry. Chewy sweet potato noodles mixed with marbled beef, colorful stir-fried vegetables in a sweet soy sesame sauce. Ready in 25 minutes or less!
Ingredients
100

grams

Sweet potato noodles

100

grams

rib eye beef

(or chuck beef) thinly sliced

⅓

cup

carrot

thinly sliced

¼

yellow onion

thinly sliced

¼

red bell pepper

thinly sliced

1

cup

baby spinach

(packed into the measuring cup)

3

shiitake mushrooms

(or sub with dried shiitake mushrooms soaked in hot boiling water)

1

garlic clove

minced

1

tablespoon

sesame oil

for cooking

1

teaspoon

sesame seeds

toasted
Instructions
In a small bowl, combine Sauce ingredients. Set aside.

In a pot filled with water, bring to a boil. Boil noodles for 5 minutes and strain. Transfer to a large mixing bowl to cool down.

In a large non-stick pan set on low-medium heat, add ½ tablespoon sesame oil. Add onions, carrots, red bell peppers and spinach. Fry until softened but still crisp. About 1-2 minutes. Transfer veggies into large mixing bowl.

Add the leftover ½ tablespoon of sesame oil into the pan. Fry garlic and mushrooms until softened. Add in thinly sliced beef and 2 teaspoon of Sauce. Mix sauce with beef and mushrooms. Cook until beef is fully cooked. Transfer ingredients to large mixing bowl.

Add remaining sauce into large mixing bowl with noodles. Once the noodles are cool enough to touch, mix everything together with clean hands or if you're impatient like me, use tongs. Garnish with sesame seeds. Enjoy!
Enjoyed my recipe?
Please leave a 5 star review (be kind)! Tag me on social media @christieathome as I'd love to see your creations!
Copyright Policy
Christie at Home owns all copyright to her blog content, photos and videos. Usage of any of these copyrighted materials on your website or social media channels is strictly prohibited. If you adapt my recipes, please provide a backlink to my website and re-write in your own words.
Suggested Equipment & Products
Nutrition
Calories:
472
kcal
|
Carbohydrates:
70
g
|
Protein:
12
g
|
Fat:
17
g
|
Saturated Fat:
3
g
|
Polyunsaturated Fat:
6
g
|
Monounsaturated Fat:
7
g
|
Cholesterol:
2
mg
|
Sodium:
12787
mg
|
Potassium:
524
mg
|
Fiber:
3
g
|
Sugar:
22
g
|
Vitamin A:
5437
IU
|
Vitamin C:
26
mg
|
Calcium:
92
mg
|
Iron:
2
mg