Non-Spicy Korean Pork Bulgogi. Tender juicy pork belly with a sweet smoky flavor. Easy to make at home. A classic in Korean cuisine. Ready in less than 25 minutes!
It pairs deliciously with a bowl of rice, leafy greens, and kimchi or wrapped in lettuce wraps.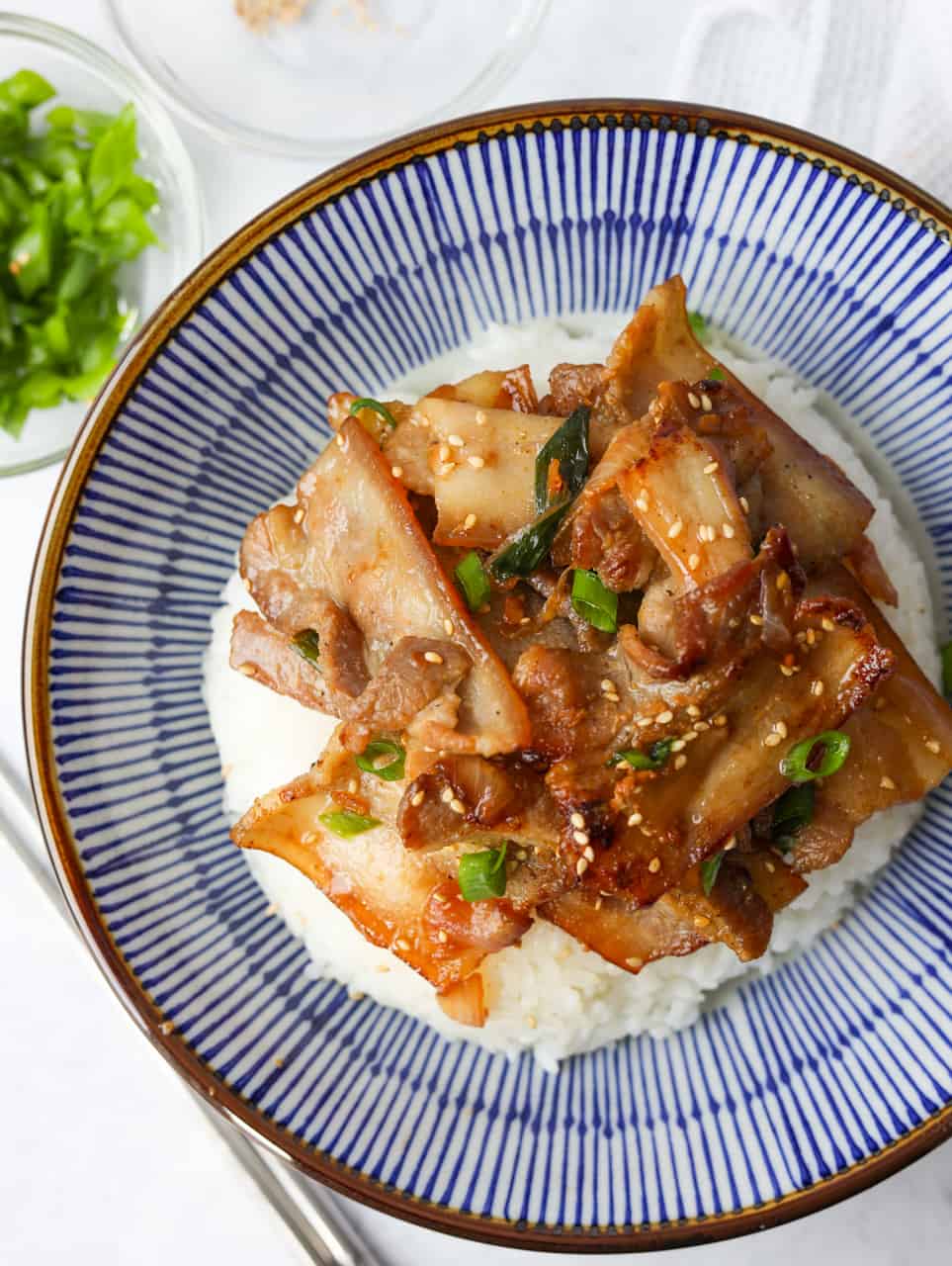 Non-spicy Version!
I know not everyone is a fan of spicy food or spicy sauce. There are plenty of recipes for spicy traditional pork bulgogi. But not many for the non-spicy version! This one is perfect for those who can't tolerate spice.
Furthermore, we can achieve this by removing gochugaru (red chili flakes) and gochujang (Korean chilli paste) and increasing the amount of soy sauce and sugar ratio.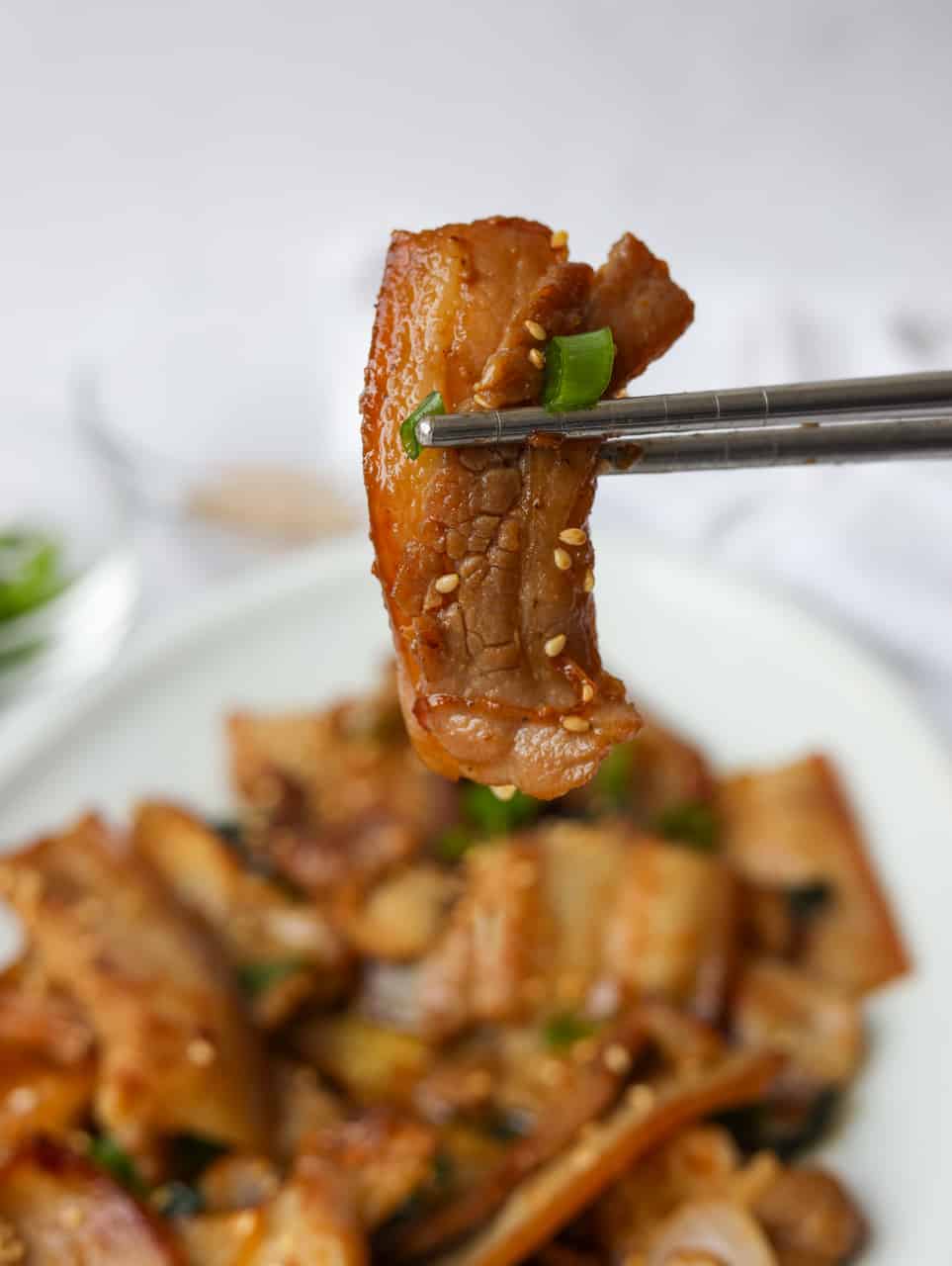 A Korean BBQ Classic!
When I was younger, I loved Korean BBQ meat. Especially when I could eat bulgogi Korean pork! There was something so special about going to a Korean BBQ restaurant. Conversing with good company as you grilled.
No grill needed!
Also, you can easily make this popular Korean BBQ dish at home without a grill. Just a large non-stick skillet! However, if you want to grill these, feel free to!
Easy to make!
This easy Korean pork recipe is simple to make at home and the marinade only requires several ingredients. Some of which you may own if you have an Asian pantry. If you don't, most of the ingredients can be found at an Asian or Korean grocer!
Can Be Made in Advance
My pork belly bulgogi can be marinated overnight to cook the next day or made within the same day. For best flavour, I would suggest marinating overnight or at least 15 minutes or more.
What you'll need
The below non-spicy pork bulgogi ingredients are required. ***Please scroll down to the below Recipe card for full measurements***
Korean Pork Marinade:
small yellow onion
green onion
garlic
regular soy sauce, (not light or dark soy sauce)
sesame oil
white granulated sugar
mirin
black pepper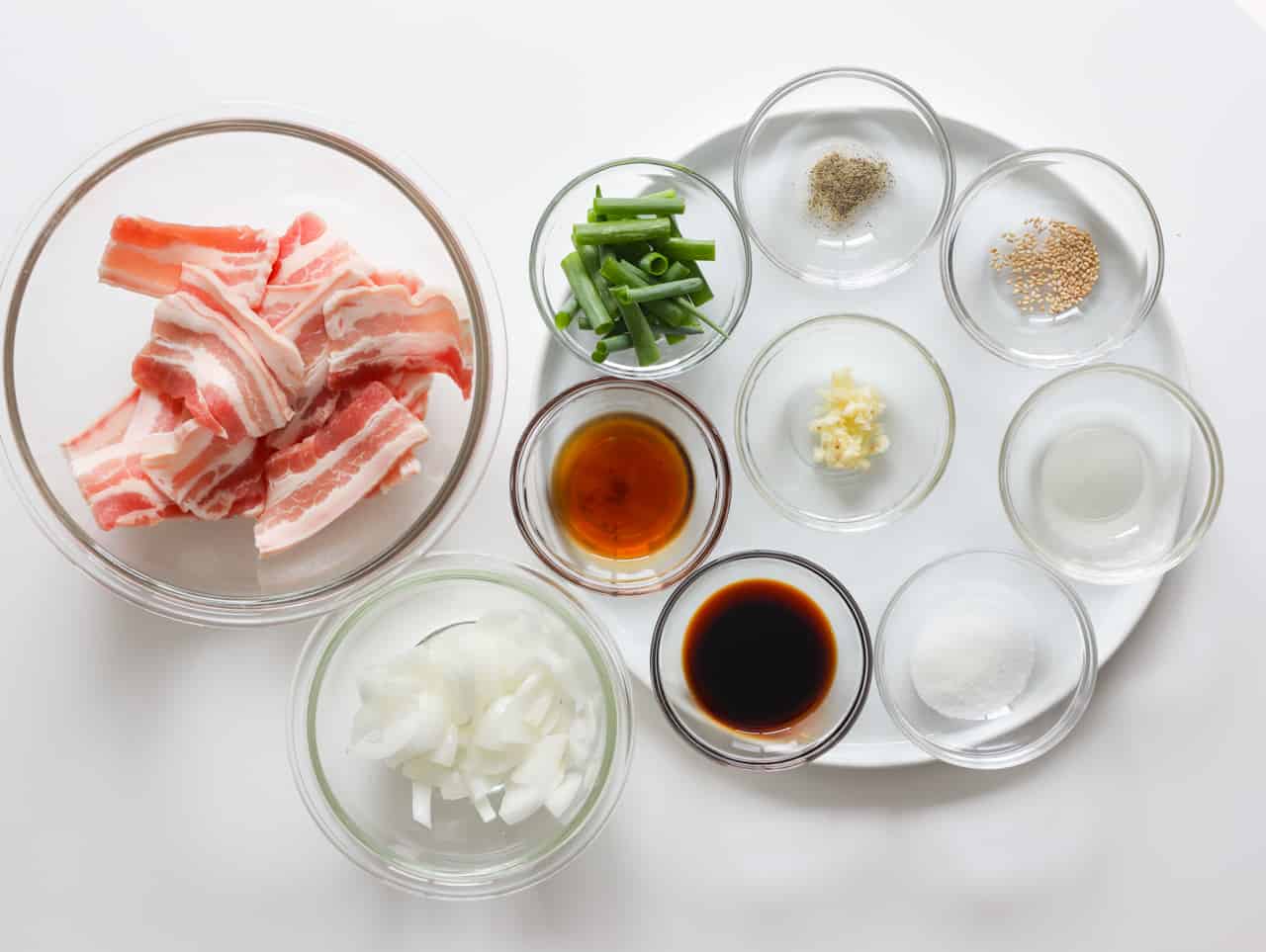 How to make Korean Pork Bulgogi
Below are visuals to show you how to make authentic Korean pork bulgogi recipe. ***Please scroll down to the recipe card below to find full instructions and details***
Cooking Tips
Below are tips on making non spicy Korean pork bulgogi:
Cut Pork Belly Strips into Thirds
Slice your pork belly into 2.5 - 3 inch long pieces. This will make it easier when it comes to enjoying this dish.
Allow Pork to Marinate
Marinate the pork in a large mixing bowl covered with a lid or plastic wrap for at least 15 minutes or overnight for best taste!
Cook over medium heat
I find this to be the best heat level to cook your pork without it overcooking and to reach an internal temperature of 145 F. I wouldn't suggest cooking over medium-high heat or higher.
FAQ
Below are frequently asked questions about this non spicy pork bulgogi recipe:
What cut of meat is Korean bulgogi?
The better choice for this dish is to use thin slices of pork belly for best results. For a leaner cut, feel free to use pork shoulder or pork butt.
Another very lean cut is pork tenderloin. However, please note that this will be drier due to a lack of fat content so I don't usually recommend this cut.
Please also consider using high quality pork for best taste because this is the main ingredient.
Where can I find Pork Belly?
You can usually find this popular cut of pork at an Asian grocery store, Korean grocery store, or at Western grocery stores. This cut has extra fat running through the lean meat.
Can I use chicken or beef?
Yes, I would recommend using thinly sliced chicken thigh or thin slices of beef with fat running through it.
What can I eat this with?
The best way to enjoy this classic Korean dish is with steamed rice or wrapped in lettuce leaves, specifically red leaf lettuce in Korean cuisine. There are different ways to enjoy this BBQ pork and there's no right or wrong way.
What is bulgogi sauce made of?
Korean pork bulgogi sauce is typically made with soy sauce, brown sugar, gochujang, Korean red pepper flakes (Korean chili flakes), sugar, green onion, minced garlic, sesame oil and sesame seeds. But some recipes include grated Asian pear, mirin, rice wine vinegar or a cooking wine.
What does bulgogi mean?
Generally the term "bulgogi" is a traditional Korean dish that means fire meat. It is usually a beef or pork that is thinly cut and coated in a spicy marinade. Hence the word "fire". Then it's grilled. It is extremely popular in Korean restaurants.
Do you have a Korean Spicy Pork Recipe?
Yes! I do and it's called Jeyuk Bokkeum or Spicy Korean Pork. You can find it by clicking here.
What kind of pan can I use?
Any large skillet or non-stick pan will work. Even a cast iron-skillet will work well for a thorough distribution of heat.
Other Korean recipes you may like!
If you enjoyed this easy pork bulgogi recipe, you may like these other Korean dishes:
Bulgogi Korean BBQ Beef
Dak Galbi
Korean Spicy Chicken Stir-fry
Tangsuyuk Sweet and Sour Pork
Korean Fried Chicken
I hope you give my Non-Spicy Korean Pork Bulgogi a try and enjoy it!
If you enjoyed my Korean style pork bulgogi, please share it with your family and friends or on social media! Take a picture of your re-creation and make sure to tag me @ChristieAtHome in your feed or stories as I would love to see it!
Christie
*This post contains affiliate links. As an Amazon Associate, I earn from qualifying purchases.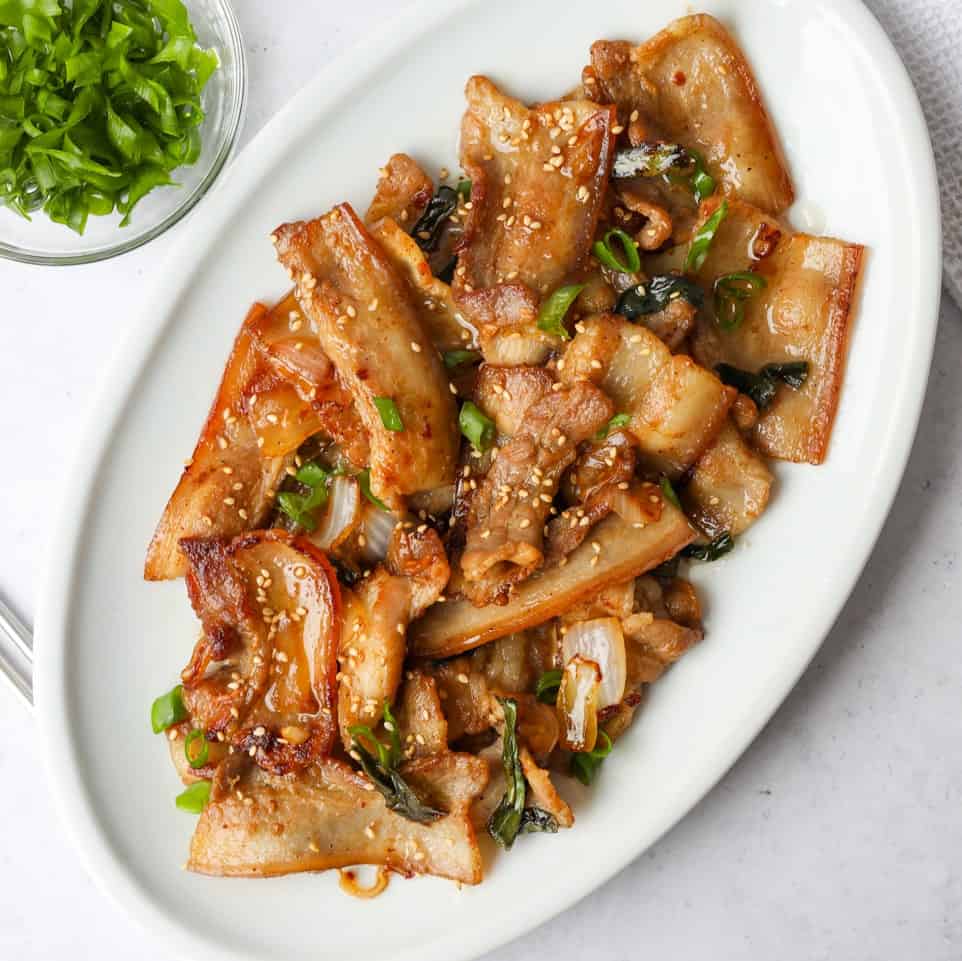 Non-Spicy Korean Pork Bulgogi
Non-Spicy Korean Pork Bulgogi. Flavourful, sweet, juicy Korean bulgogi pork belly that is packed with smoky flavor and easy to make at home. A classic in Korean cuisine. Ready in less than 25 minutes!
Instructions
Slice pork belly strips into 2.5 - 3 inch long pieces. Transfer to a large mixing bowl. Add marinade ingredients to the bowl and mix well with pork. Cover and marinate for at least 15 minutes or overnight.

In a large skillet over medium heat, add pork along with marinade ingredients. Fry pork on both sides until no longer pink and most of the liquids (except the fat) have evaporated. For a tender version: cook for 6-7 minutes. For a crispier pork with browned edges: cook for 8-9 minutes. Garnish with sesame seeds. Enjoy!
Notes
This dish will last 4 days in the fridge in a sealed container and reheated for later consumption.
Enjoyed my recipe?
Please leave a 5 star review (be kind)! Tag me on social media @christieathome as I'd love to see your creations!
Suggested Equipment & Products
Nutrition
Calories:
688
kcal
|
Carbohydrates:
8
g
|
Protein:
12
g
|
Fat:
67
g
|
Saturated Fat:
23
g
|
Polyunsaturated Fat:
9
g
|
Monounsaturated Fat:
31
g
|
Cholesterol:
82
mg
|
Sodium:
561
mg
|
Potassium:
296
mg
|
Fiber:
1
g
|
Sugar:
5
g
|
Vitamin A:
73
IU
|
Vitamin C:
4
mg
|
Calcium:
25
mg
|
Iron:
1
mg