Vegan Fruit Jelly Cake. Light, refreshing and naturally sweetened. Perfect for dessert and packed with a variety of fruit. Also a great way to impress guests.
I love a good fruit and jelly cake! They're beautiful, fun to eat and I never feel heavy after having one. In case you're wondering if they're hard to make, not at all!
I do recommend that you read some of my tips on how to make a good agar fruit jelly cake. I share them all below.
For my fruit jelly cake recipe, you'll need 3 of your favourite fruits diced up if they are not small enough, water, juice, agar agar powder, maple syrup and coconut milk!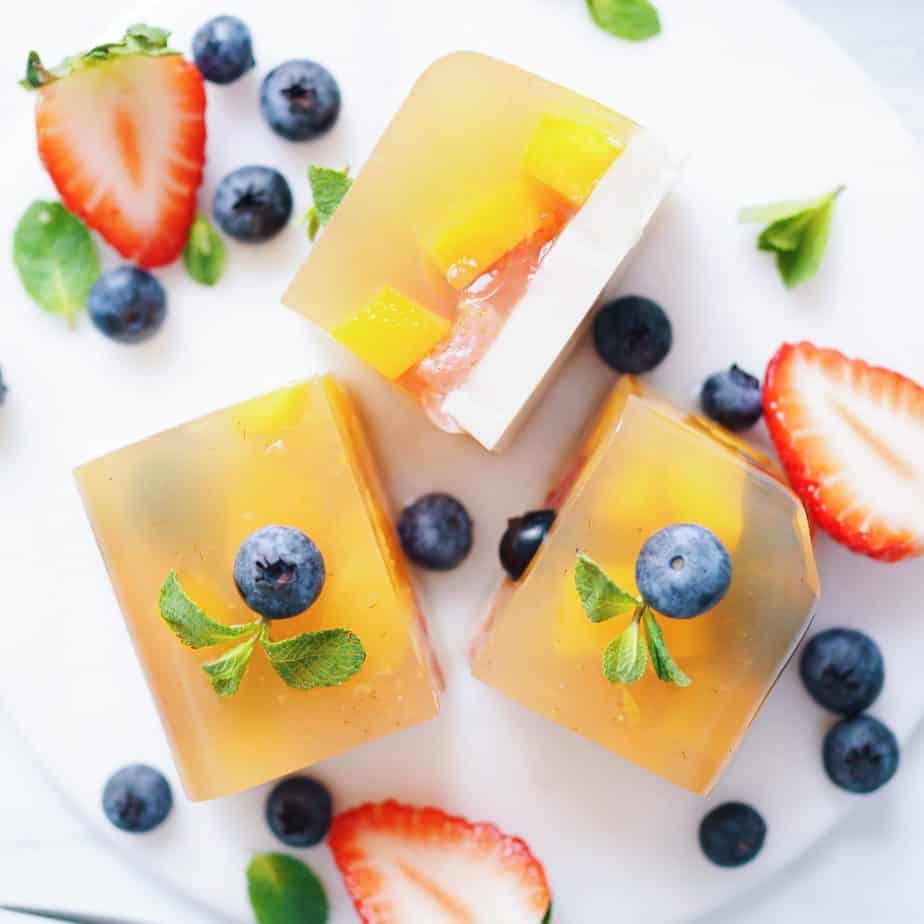 Other recipes you may like!
Mango Coconut Jelly
Pomegranate Coconut Jelly
Coffee Coconut Jelly
When people see this fruit jelly cake with agar agar they think it's hard AF to make lol but I TELL YOU IT'S NOT! It's legit like making jello and adding in some fruit. Seriously and if you can't make jello then I'm sorry I can't help you there lol.
How to Make Fruit Jelly Cake at Home
But since this is recipe blog, I figured I'd share some pointers on making jellies so you don't waste your time and toss the whole thing out because the layers are perfect! Even if they aren't, totally worth eating because #nofoodwaste please.
tips for making agar jelly fruit cake recipe
Always whisk your agar agar powder into the liquid before you heat it. This allows for the agar agar powder to mix in with the ingredients well to prevent any clumps.
Use a whisk! This ensure even distribution of your liquids. A fork does not cut it.
Make sure to monitor your jelly liquid and do not over boil. Once it hits a boil, lower it to a very low simmer. Keep your jelly liquid over low heat before pouring into the mold. This ensures your jelly stays as a liquid. If you remove it off the heat source, it will solidify very quickly.
Once your slowly and carefully pour your first layer of jelly into the mold and freeze it to firm the layer faster!
Thanks to Hot Thai Kitchen for inspiring me to make this Fruit Jelly Cake. You all need to follow her for all wonderful jelly recipes. In fact, she was the one who inspired me to start experimenting with agar agar powder!
Pin for later!
Give it a try!
Well I hope you give my Vegan Fruit Jelly Cake recipe a try! It always excites me when you guys make my recipes and I hope this is one you try.
Thanks for visiting my blog! If you enjoyed this beautiful and delicious fruit jelly cake, please share it with your family and friends or on social media! Take a picture if you've made my recipe and tag me on Instagram @christieathome in your feed or stories so I can share your creation in my stories with credits to you!
Made this recipe and loved it?
If you could leave a star rating, I would greatly appreciate it 🙂 Thanks so much!
Take care,
Christie
*This post contains affiliate links. As an Amazon Associate I earn from qualifying purchases. I also earn from qualifying purchases through additional affiliate programs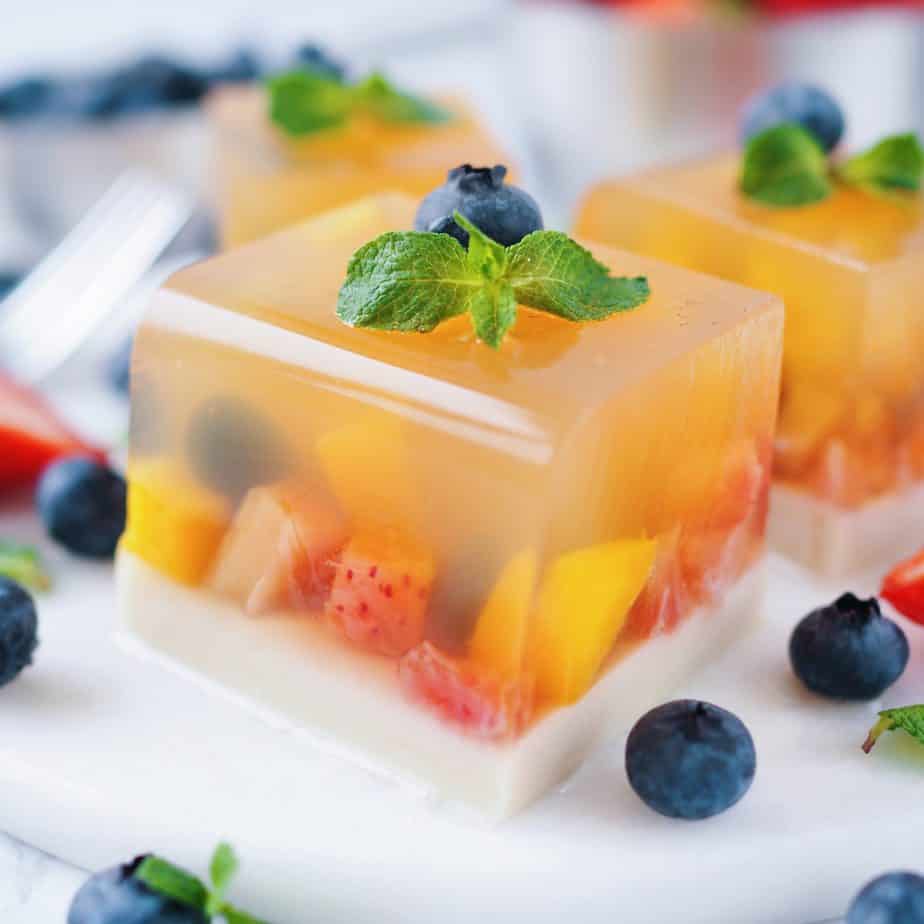 Vegan Fruit Jelly Cake
A delicious elegant and simple to make Vegan Fruit Jelly Cake! It's light, refreshing and naturally sweetened. Perfect for dessert and packed with a variety of fruit.
Ingredients
Fruit Layer
1 ⅓

cups

water

⅔

cup

fruit juice

of your choice

¼

cup

maple syrup

1¾

teaspoon

agar agar powder

⅓

cup

mango

diced

⅓

cup

strawberries

diced

⅓

cup

blueberries
Instructions
Fruit Layer
In a small pot, whisk together water, fruit juice, maple syrup, agar agar powder. Bring to a boil and pour liquid into a 7 x 5 inch glass container. Then add in fruits and stir to distribute the colours. Freeze without a cover for 30 minutes to speed up the firming process.
Coconut Layer
In a small pot, whisk together coconut milk, water, agar agar powder and maple syrup. Bring this a boil for 1 minute uncovered, stirring consistently.

Pour this hot liquid over your firm fruit layer. Seal and place in the fridge for 3-4 hours or overnight to firm completely.
Enjoyed my recipe?
Please leave a 5 star review (be kind)! Tag me on social media @christieathome as I'd love to see your creations!
Suggested Equipment & Products
5 x 7 inch glass container
Nutrition
Calories:
96
kcal
|
Carbohydrates:
15
g
|
Protein:
1
g
|
Fat:
4
g
|
Saturated Fat:
4
g
|
Sodium:
7
mg
|
Potassium:
118
mg
|
Fiber:
1
g
|
Sugar:
13
g
|
Vitamin A:
70
IU
|
Vitamin C:
6
mg
|
Calcium:
25
mg
|
Iron:
1
mg
Suggested Equipment