Japanese Strawberry Raindrop Cake. Light, refreshing, captivating and delicious when paired with a brown maple syrup. This dessert is vegan.
This 4-ingredient raindrop cake recipe will impress your guests and is pretty simple to make as long as you follow all the instructions.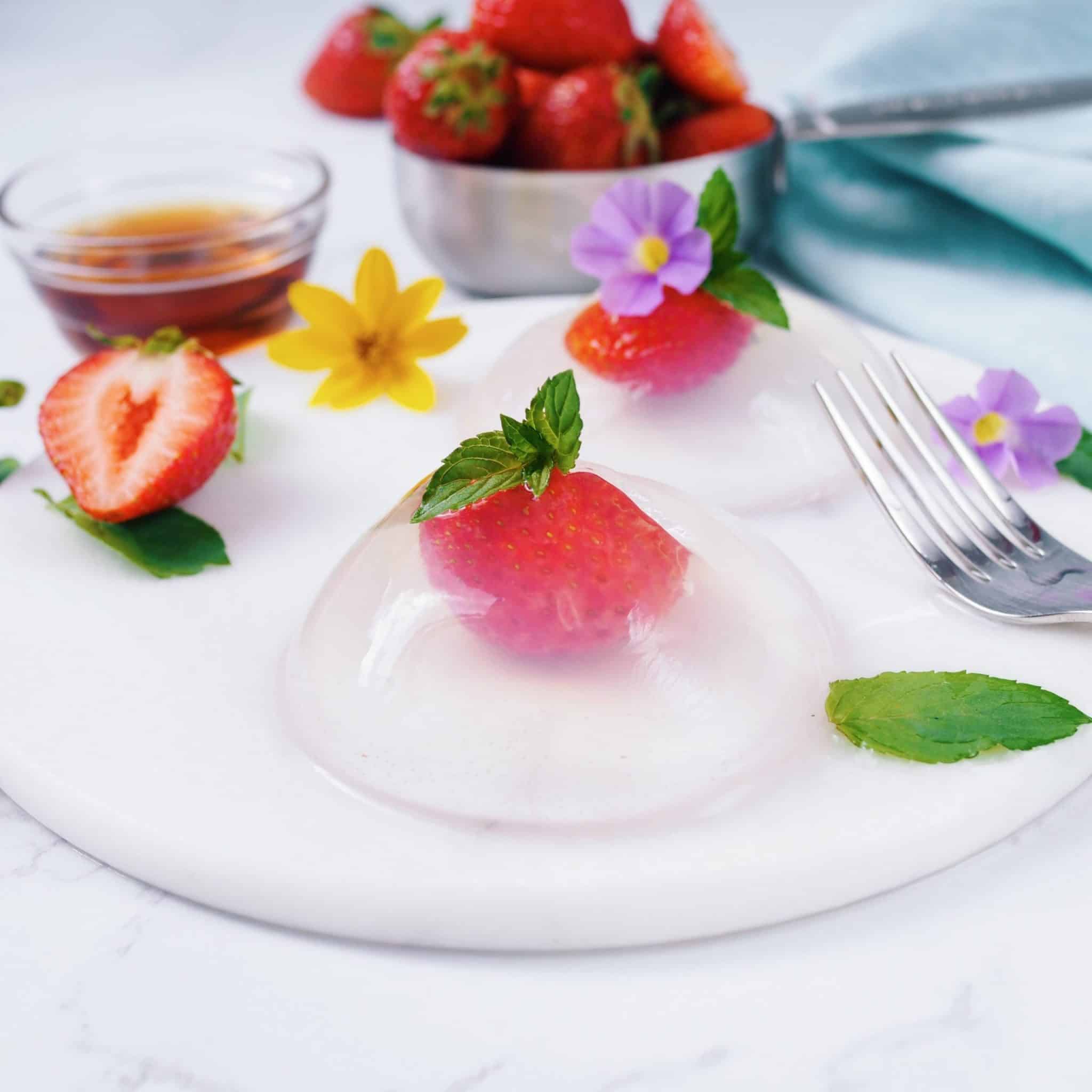 This is a very simple dessert to make and it originates all the way from Japan. And now you can have raindrop cake at home! If you're not a fan of strawberries, you can easily swap out the fruit for what you desire!
I also share many other jelly like recipes below so please check them out!
Other recipes you may like!
LYCHEE COCONUT JELLY
PANDAN COCONUT JELLY
FRUIT JELLY CAKE
COFFEE COCONUT JELLY RECIPE
CHINESE MANGO PUDDING
MANGO COCONUT CHIA PUDDING
VEGAN MANGO COCONUT JELLY
MATCHA PANNA COTTA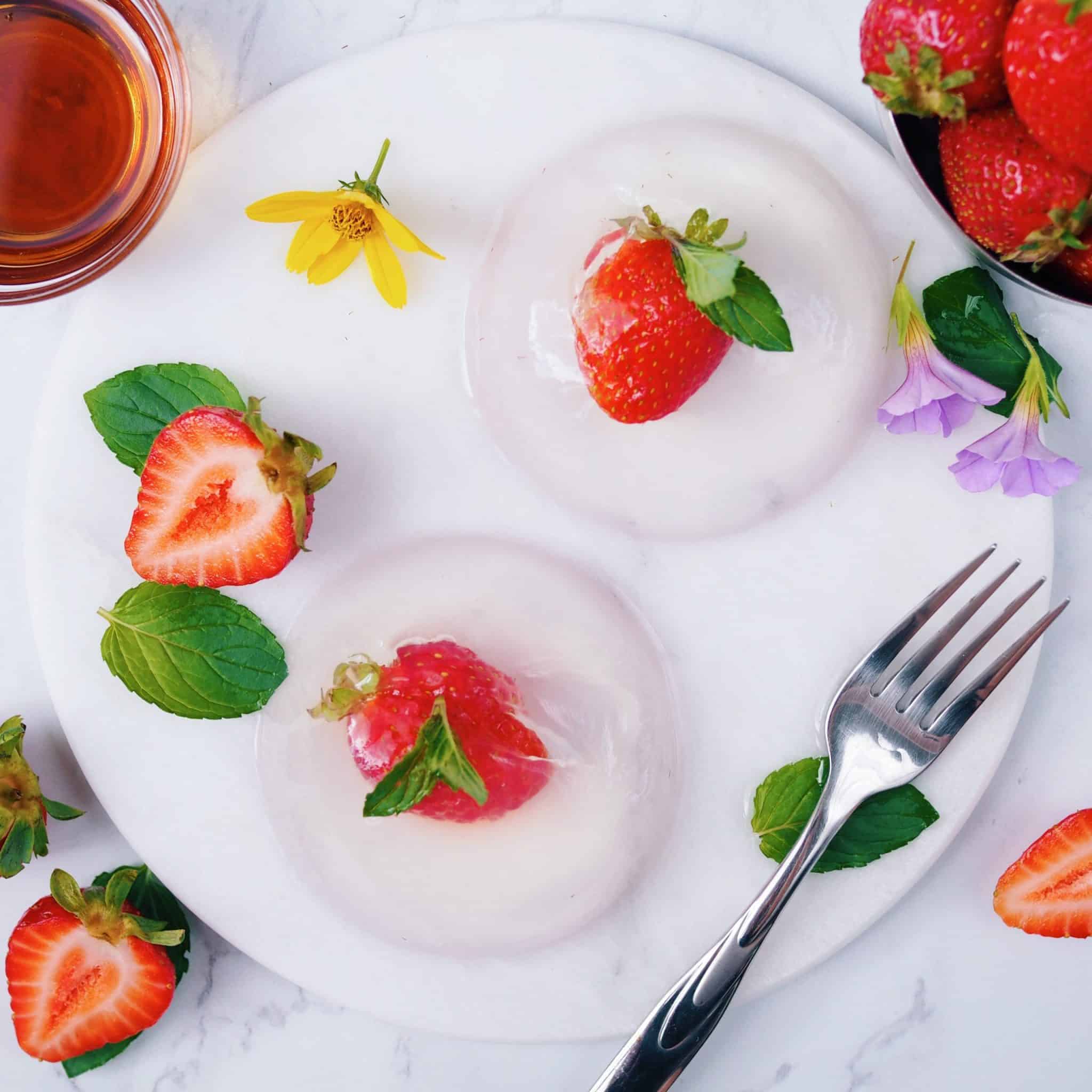 This recipe was also adapted from Kirbie's Craving's Raindrop Cake! She has so many amazing recipes and I hope you check out her blog! I made my version much simpler by using maple syrup so you can keep the ingredients to a minimal!
What does a raindrop cake taste like?
This dessert is very light and the jelly part is very soft and neutral tasting but when paired with maple syrup, it is such a delight!
Watch how I made this!
For this recipe
You will need the following Raindrop cake ingredients for 1 serving :
¾ water
⅛ teaspoon + 1/16 teaspoon agar agar powder
1 strawberry
Maple syrup, as much as desired
Required: a round bottom cup or a dome shaped mold (I share where to purchase the one I used below):
What kind of Agar Agar Powder do you use?
I use this one linked below that you can purchase off Amazon.
Tips
Always whisk your agar agar powder with your water before you bring it to boil. This allows for an even distribution of the powder to the water.
Bring the liquid to a high boil, then reduce your heat to medium and boil for 1 minute and no more than that. The timing must be exact.
Make sure your mold or cup is dry
If you're using a silicone mold, make sure to rest it on a flat base so you can transfer to the fridge easily without spilling the jelly liquid
Place your fruit in the center of the mold and make sure it's also dry so the liquid can stick to the fruit well.
Allow your jelly liquid to cool a bit because you don't want to boil your fruit. I usually cool my pot down in a sink filled with cold water for 5 minutes but no more than that or it'll solidify.
Once you pour your liquid, allow it to rest for 5 minutes then transfer to the fridge.
Refrigerate overnight and when removing it from your mold or cup, be very gently. It should literally slip out because it's so smooth and soft.
Also this dessert is VERY slippery! So make sure you're plate it on a plate or bowl with edges to keep it from falling on the floor like I did.
Give it a try!
Well I hope you give my Japanese Strawberry Raindrop Cake recipe a try! It always excites me when you guys make my recipes and I hope this is one you try.
Thanks for visiting my blog! If you enjoyed this raindrop cake easy recipe, please share it with your family and friends or on social media! Take a picture if you've made my recipe and tag me on Instagram @christieathome in your feed or stories so I can share your creation in my stories with credits to you!
Made this recipe and loved it?
If you could leave a star rating for my raindrop jelly cake recipe, I would greatly appreciate it 🙂 Thanks so much!
Take care,
Christie
*This post contains affiliate links. As an Amazon Associate I earn from qualifying purchases. I also earn from qualifying purchases through additional affiliate programs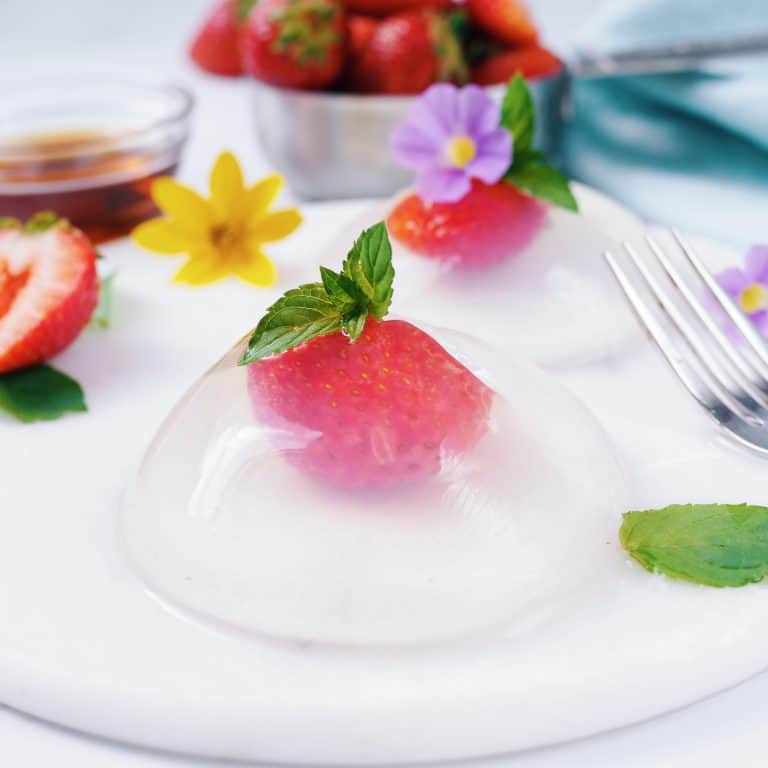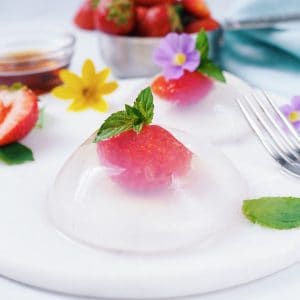 Japanese Strawberry Raindrop Cake (Vegan)
Japanese Strawberry Raindrop Cake. Light, refreshing, captivating and delicious when paired with a brown maple syrup. This dessert is vegan.
Ingredients
¾

water

⅛+ 1/16

teaspoon

agar agar powder

1

strawberry

1

tablespoon

Maple syrup

or as needed
Instructions
In a small pot, whisk together your water and agar agar powder well. Then bring it to a boil. Quickly reduce it to medium heat, and allow this to simmer for 1 minute and no more than that. The timing needs to be exact or the jelly will be too hard. Do not cover your pot.

Allow your pot of liquid jelly to cool in sink filled with cold water or 5 minutes. But no more than that, or it'll solidify and you will need to reboil it again.

Place your strawberry in the center of the mold or cup.

Pour your liquid jelly over top. Allow this to rest for 5 minutes.

Transfer to the fridge and allow this to chill overnight or at least 3-4 hours.

Serve with maple syrup and enjoy!
Enjoyed my recipe?
Please leave a 5 star review (be kind)! Tag me on social media @christieathome as I'd love to see your creations!
Copyright Policy
Christie at Home owns all copyright to her blog content, photos and videos. Usage of any of these copyrighted materials on your website or social media channels is strictly prohibited. If you adapt my recipes, please provide a backlink to my website and re-write in your own words.
Suggested Equipment & Products
Extra Large 5-Cavity Semi Sphere Silicone Mold
Nutrition
Calories:
58
kcal
|
Carbohydrates:
14
g
|
Protein:
1
g
|
Fat:
1
g
|
Sodium:
3
mg
|
Potassium:
63
mg
|
Fiber:
1
g
|
Sugar:
13
g
|
Vitamin A:
1
IU
|
Vitamin C:
7
mg
|
Calcium:
24
mg
|
Iron:
1
mg
Suggested Equipment