Korean Kimchi Bibim Guksu. Chewy cold noodles in a spicy, tangy and sweet sauce with egg and refreshing cucumbers! Ready in 10 minutes!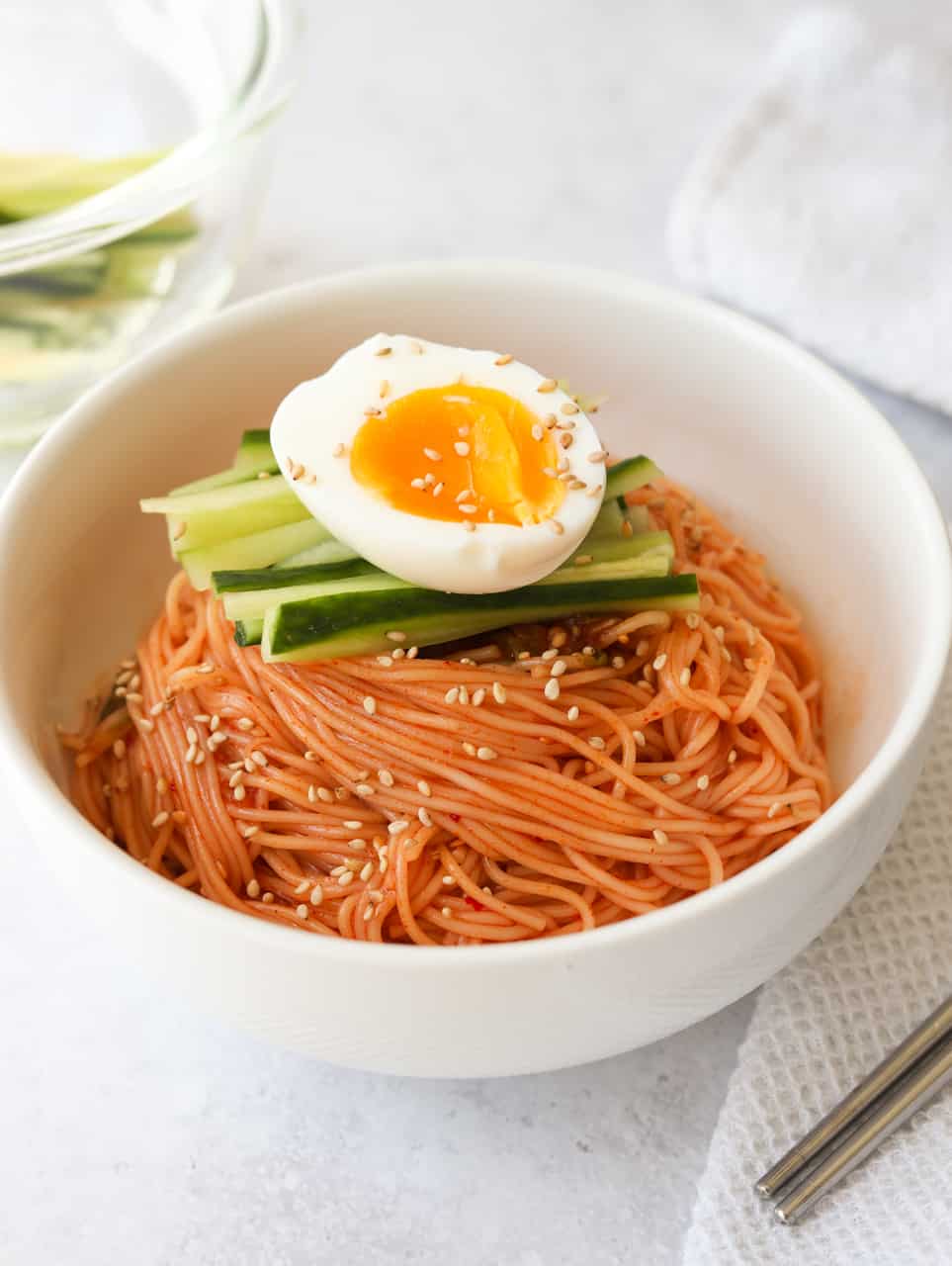 Perfect for a quick dinner or lunch. You will be craving these noodles anytime it's hot!
Quick & Easy
My bibim guksu noodles are easy to make in 10 minutes! Firstly, you're simply boiling, straining and rinsing the cold noodles in cold water. Secondly, you'll mix them into your sauce ingredients. After that, you can top it off with cucumbers and boiled egg.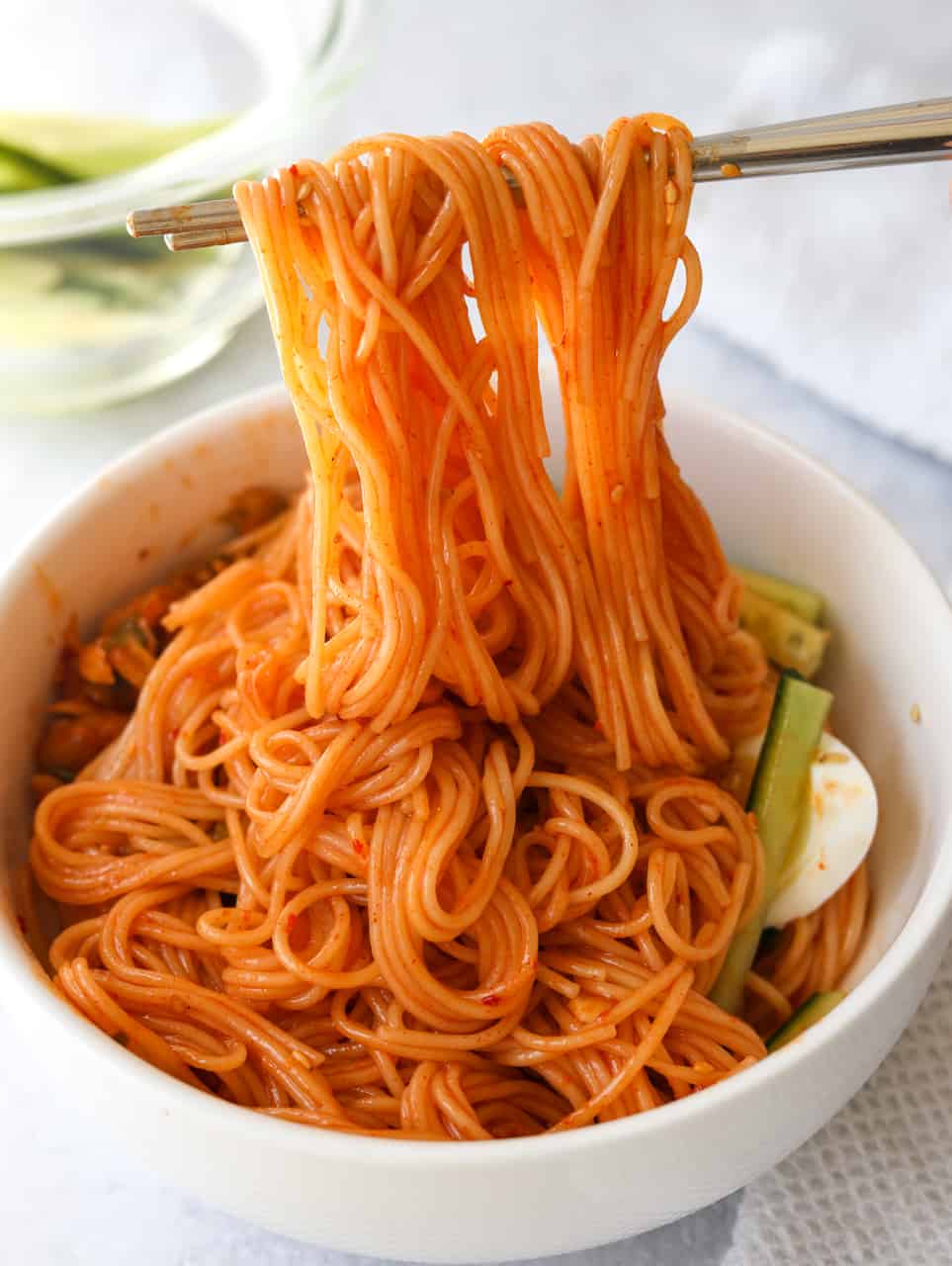 Refreshing for Summer
This is the best bibim guksu recipe to make for hot summer days! It's a Korean noodle dish commonly eaten to cool the body down.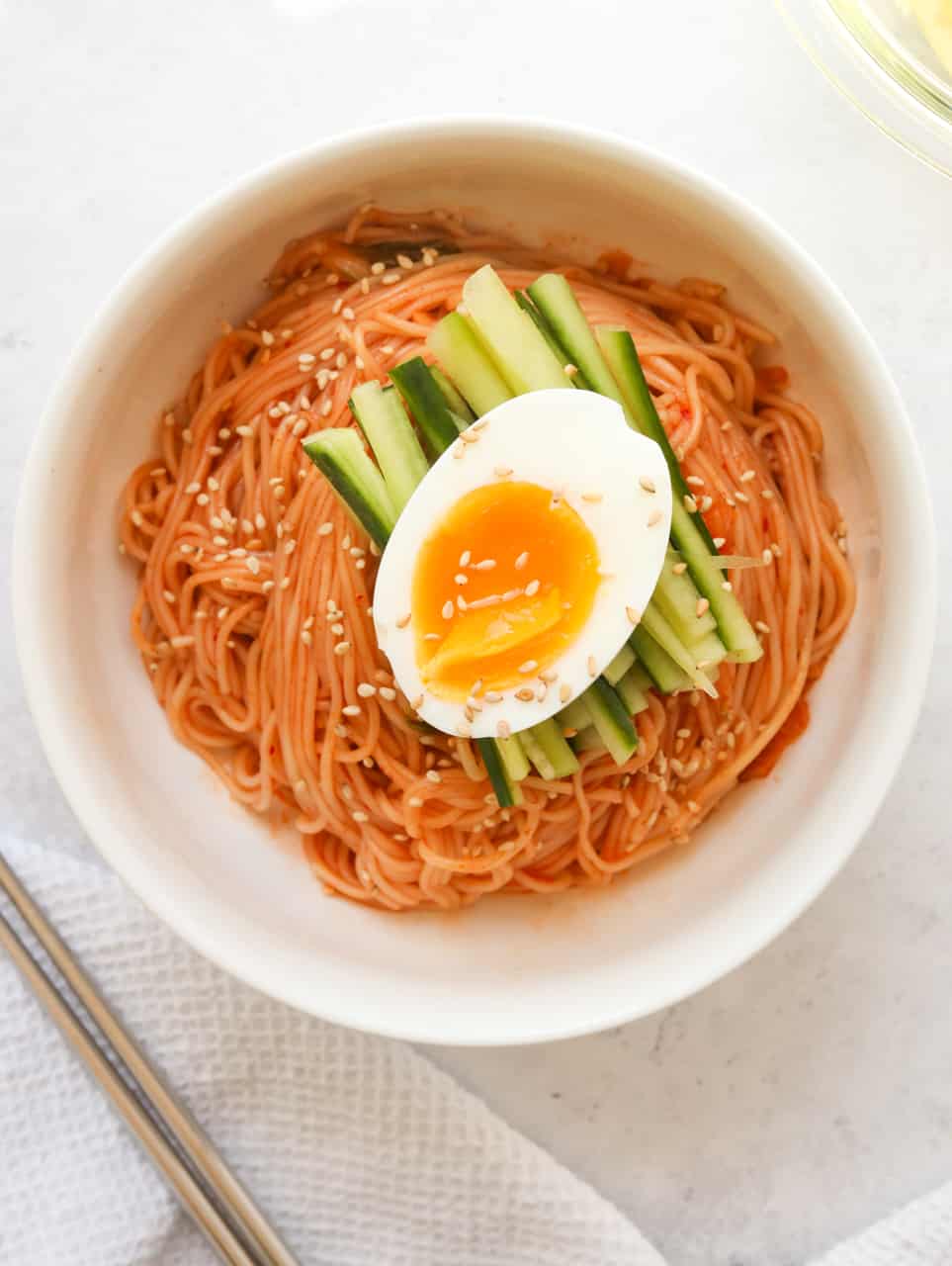 What is bibim guksu made of?
It's made of Korean wheat noodles boiled and rinsed in cold water to keep them very chewy. The noodles are mixed in a spicy, tangy and sweet sauce which consist of gochujang, kimchi, soy sauce, rice vinegar, sesame oil, sugar, sesame seeds and garlic. (You can find the bibim guksu sauce recipe below). Lastly, they are topped with fresh cucumbers and a boiled egg.
What You'll Need
The following bibim guksu ingredients are required, please scroll down to the below Recipe card for full measurements:
extra thin round Korean wheat noodles
cucumber
egg
Bibim Guksu sauce:
regular soy sauce
sesame oil
rice vinegar
gochujang paste
sugar or honey
garlic
kimchi
sesame seeds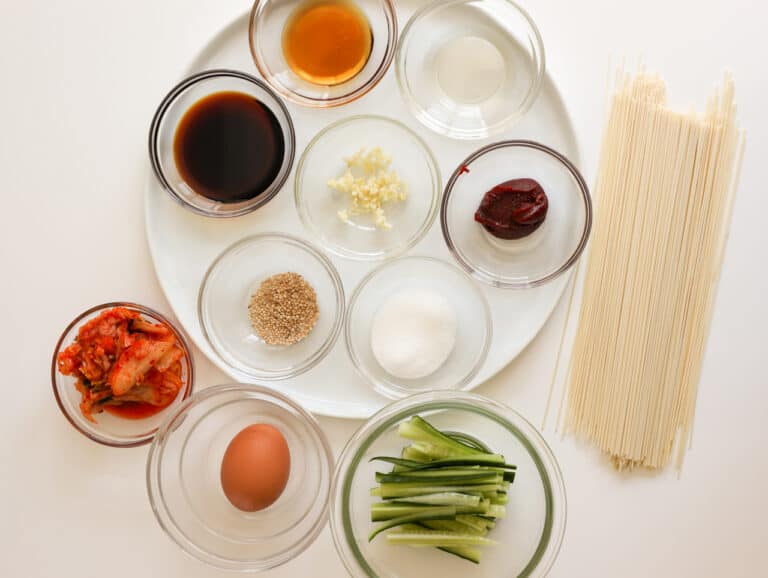 How to make Bibim Guksu
Below are visuals to show you how to make this dish. Please scroll down to the recipe card below to find full instructions and details.
FAQ
Please find below frequently asked questions about this Korean Bibim Guksu recipe:
Where can I find some of these ingredients?
Korean Extra Thin Wheat Noodles - any Asian or Korean grocer in the noodle aisle.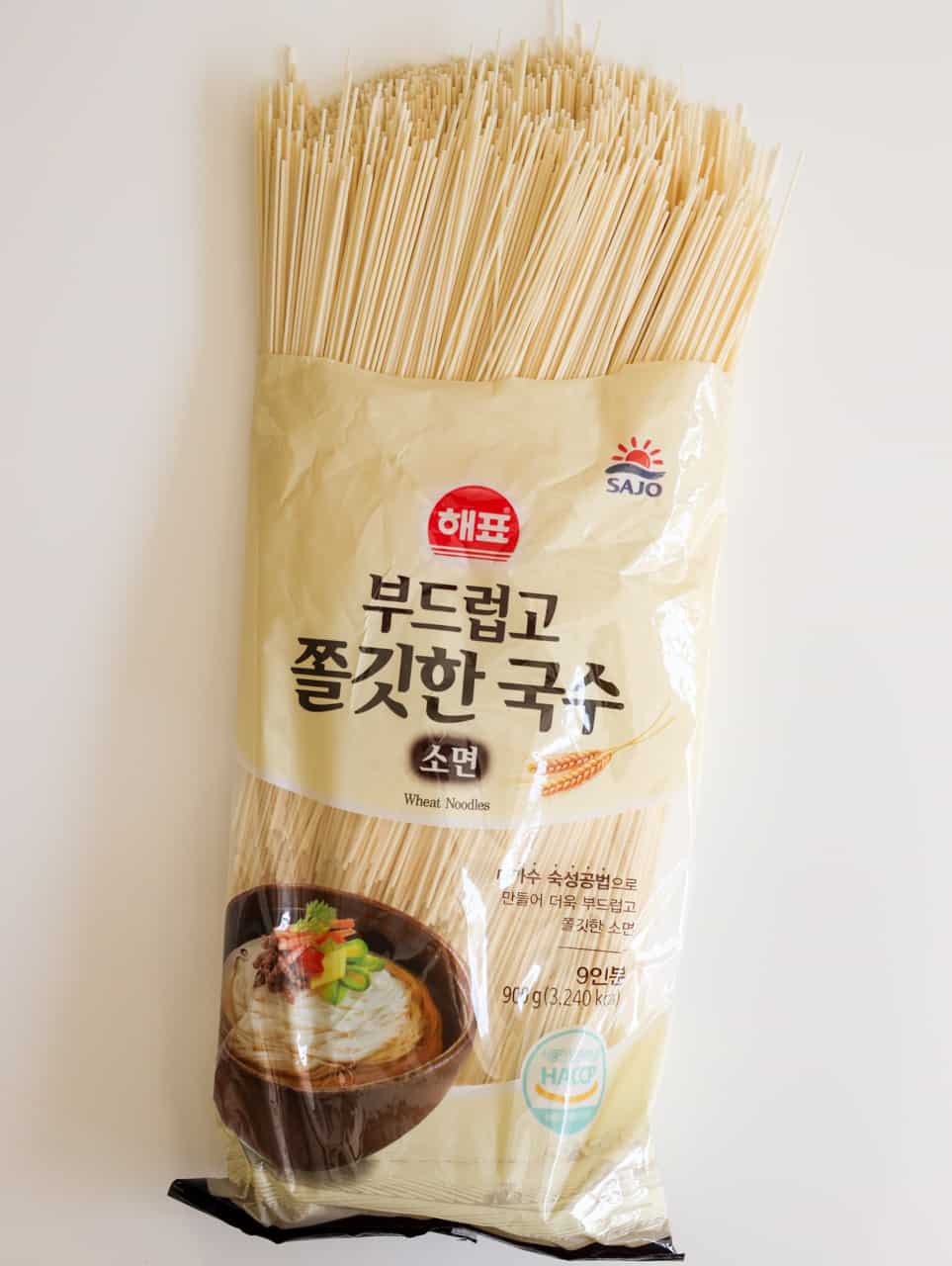 Kimchi - Korean or some Asian grocery stores.
Gochujang Paste - Korean and Asian grocery stores. Check your sauce aisle.
Rice Vinegar - Any Asian grocer will carry this item.
Do you have a non-spicy version of this dish?
Yes, please click here for my Soy Sauce Bibim Guksu aka Ganjang Bibim Guksu.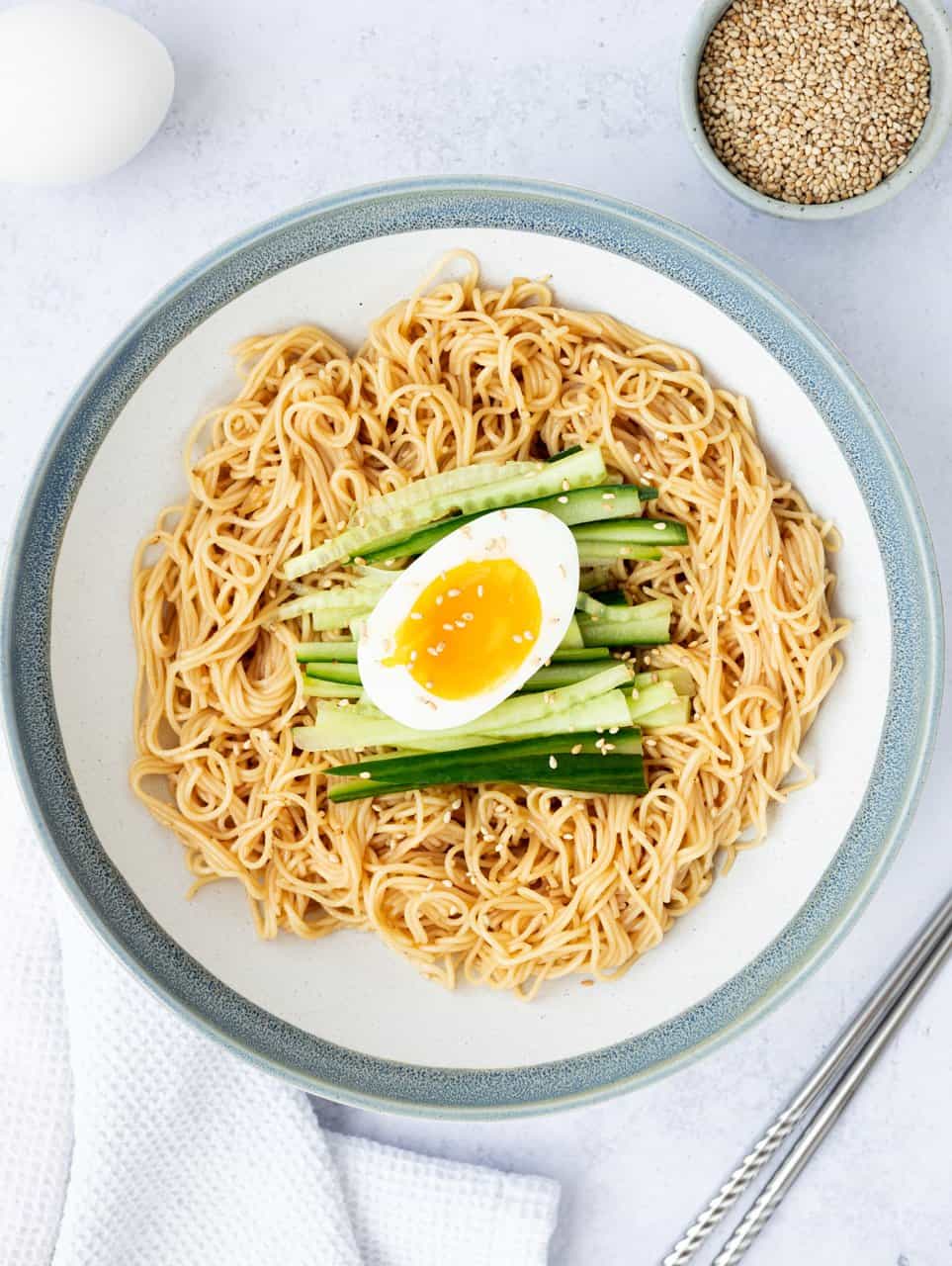 What kind of kimchi should I use?
I recommend using a well fermented kimchi. You can tell when the cabbage is more reddish than white and there is some juice in the container.
Other Korean Recipes You May Like!
If you enjoyed this easy Korean noodle dish, you may like these other Korean dishes:
Rabokki Korean Spicy Sweet Ramen
Korean Japchae Noodles
Jajangmyeon Korean Black Bean Noodles
Mild Tteokbokki Korean Rice Cakes
Try it!
I hope you give my Korean Kimchi Bibim Guksu a try and enjoy it!
If you enjoyed my recipe, please share it with your family and friends or on social media! Take a picture of your re-creation and make sure to tag me @ChristieAtHome in your feed or stories as I would love to see it!
Christie
*This post contains affiliate links. As an Amazon Associate, I earn from qualifying purchases.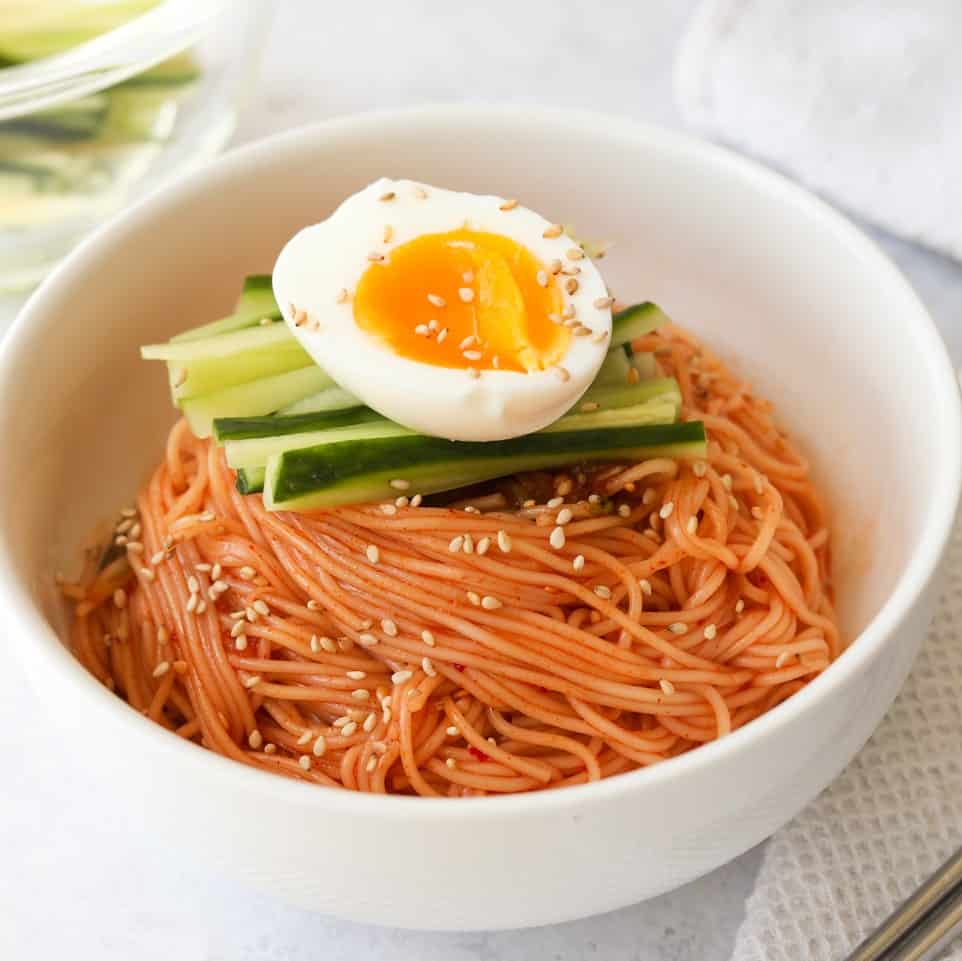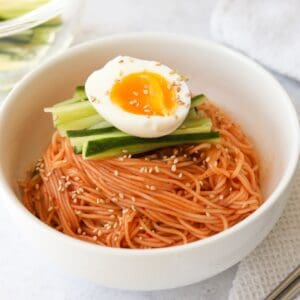 Easy 10-min. Bibim Guksu
Korean Kimchi Bibim Guksu. Spring chewy cold noodles mixed in a spicy, tangy and sweet sauce topped with egg and refreshing cucumbers! Perfect for a quick dinner or lunch as it only takes 10 minutes to make!
Instructions
In a mixing bowl, add your kimchi and begin cutting into smaller pieces with clean kitchen scissors. Next add all Sauce ingredients (as listed above) and mix well.

Bring a small pot of water to boil. Lower the egg into the boiling water and cook for 7 minutes over high heat, uncovered. Then submerge cooked egg into an ice bath. Crack and peel egg. Slice it into half and set aside.

Meanwhile, in a medium large pot filled half way with water, bring it to boil. Add noodles and cook for 2-3 minutes until chewy. *Make sure to taste for desired consistency. Strain and rinse noodles under cold water until noodles are cold. Strain out any excess water.

Add strained noodles to your sauce and mix well with clean hands. Transfer to serving bowl. Top off with sliced cucumbers and egg. Enjoy!
Enjoyed my recipe?
Please leave a 5 star review (be kind)! Tag me on social media @christieathome as I'd love to see your creations!
Copyright Policy
Christie at Home owns all copyright to her blog content, photos and videos. Usage of any of these copyrighted materials on your website or social media channels is strictly prohibited. If you adapt my recipes, please provide a backlink to my website and re-write in your own words.
Suggested Equipment & Products
Nutrition
Calories:
638
kcal
|
Carbohydrates:
96
g
|
Protein:
25
g
|
Fat:
20
g
|
Saturated Fat:
4
g
|
Polyunsaturated Fat:
8
g
|
Monounsaturated Fat:
8
g
|
Trans Fat:
0.02
g
|
Cholesterol:
164
mg
|
Sodium:
2087
mg
|
Potassium:
478
mg
|
Fiber:
1
g
|
Sugar:
15
g
|
Vitamin A:
294
IU
|
Vitamin C:
5
mg
|
Calcium:
98
mg
|
Iron:
6
mg