Mild Tteokbokki. Chewy rice cakes coated in a sweet, mildly spicy sauce with fish cakes. A popular and delicious Korean street vendor snack.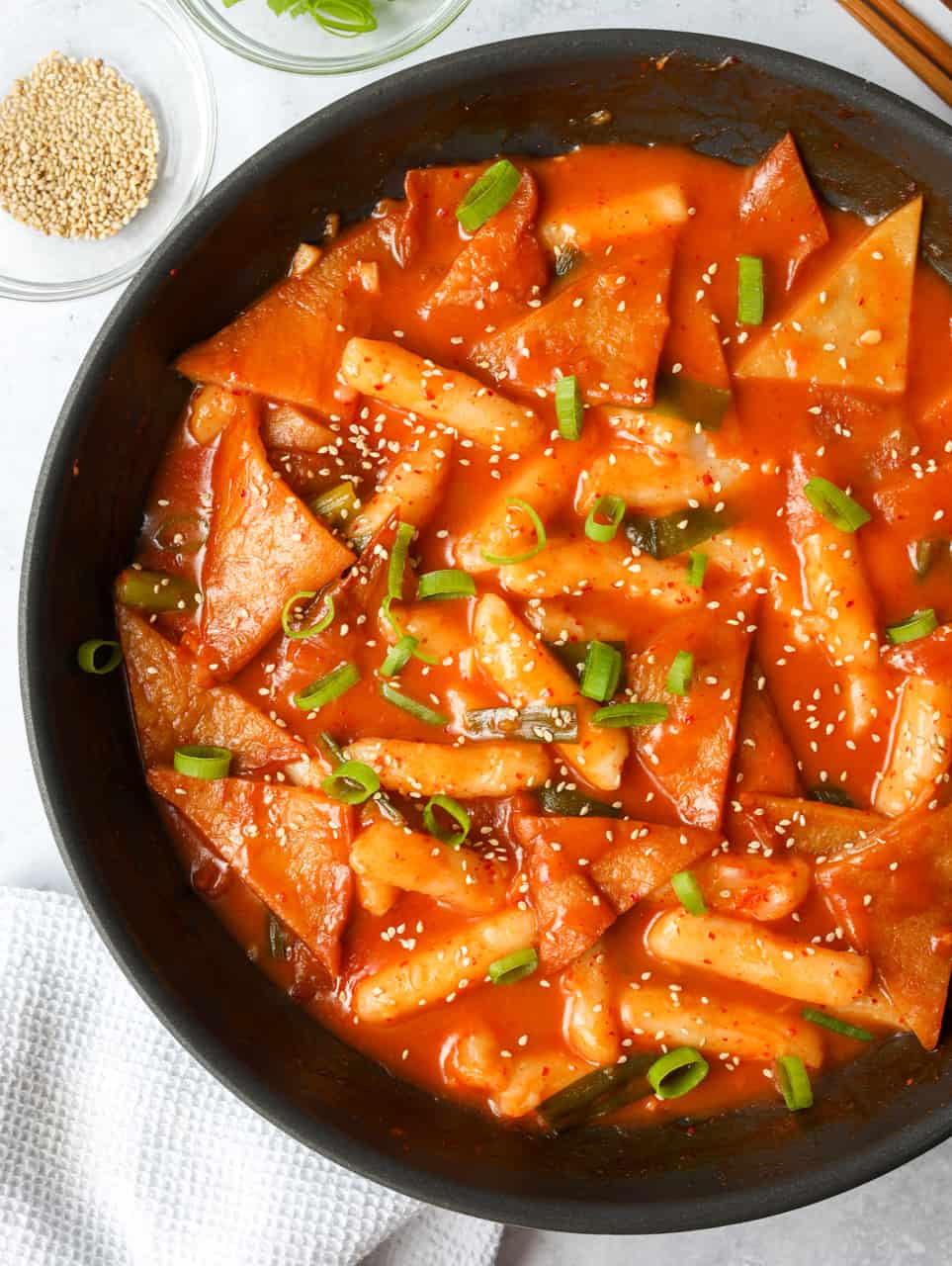 This is usually served as a snack or side dish. In Korea, you can get tteokbokki with cheese or with eggs to make it more filling.
I love tteokbokki! The rice cakes have the most amazing chewy texture and when it's covered in that delicious sauce, you just can't help but fall in love with this dish.
This Korean dish is usually eaten as a snack but you can eat it as a side dish for dinner or lunch. Typically you share it with a friend.
Easy to make
This mild tteokbokki is very easy to make at home! It comes together in less than 20 minutes in one skillet or pan!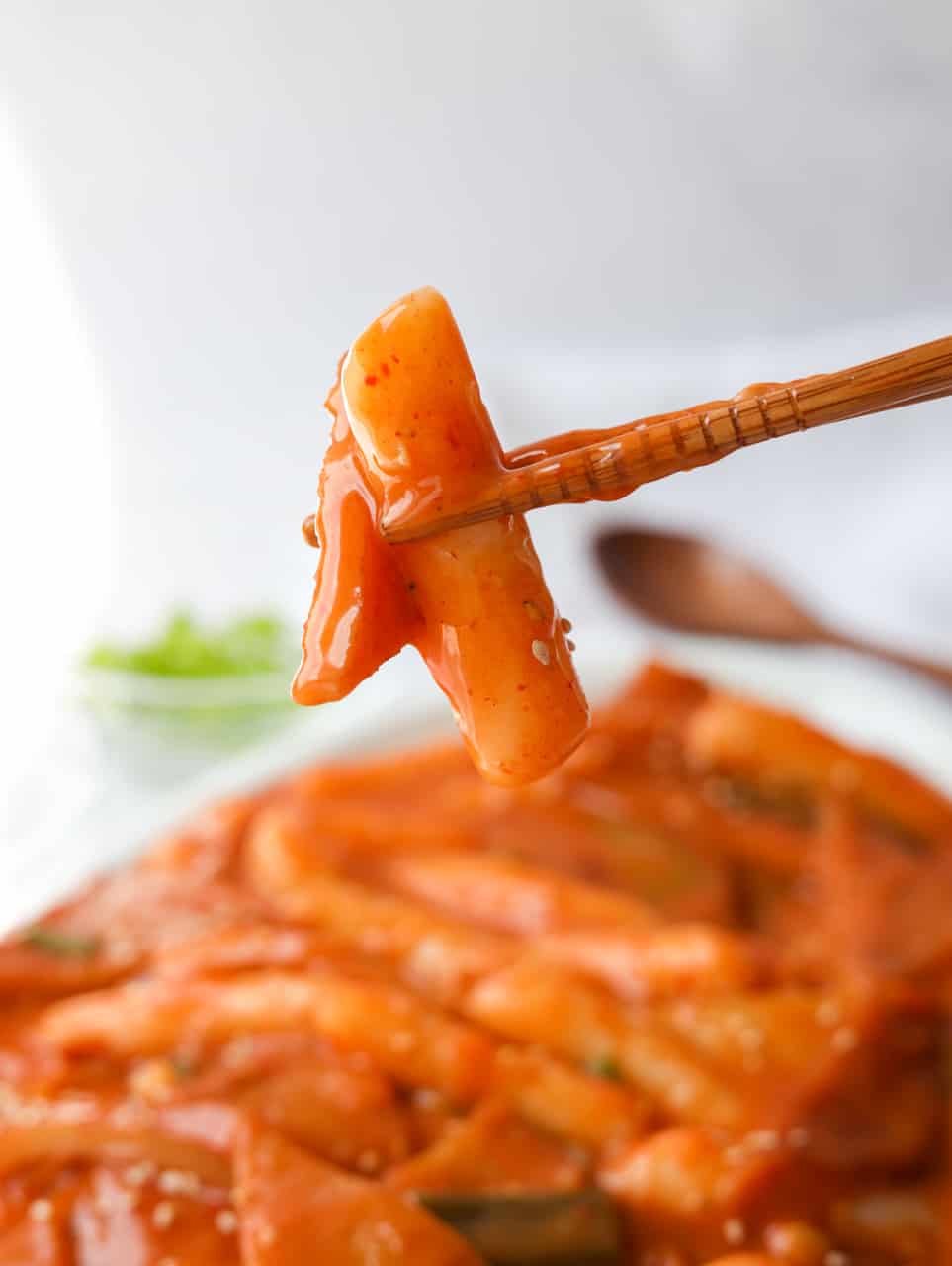 Mild Version
This tteokbokki recipe is a mild version as the title suggests. I made it with my husband in mind as he can't tolerate the spicy version. So this one is very manageable with a cold drink. It still has a slight kick but not like the traditional tteokbokki.
What You'll Need
You'll require the below tteokbokki ingredients. ***Please scroll down to the below Recipe card for full measurements***
Korean rice cakes
cold water, or vegetable broth (or even chicken broth)
Korean fish cakes
dried kelp
green onions
Sesame seeds (optional)
Tteokbokki Sauce:
gochujang, mild type
regular soy sauce
white granulated sugar
garlic, minced
gochugaru (Korean red pepper flakes)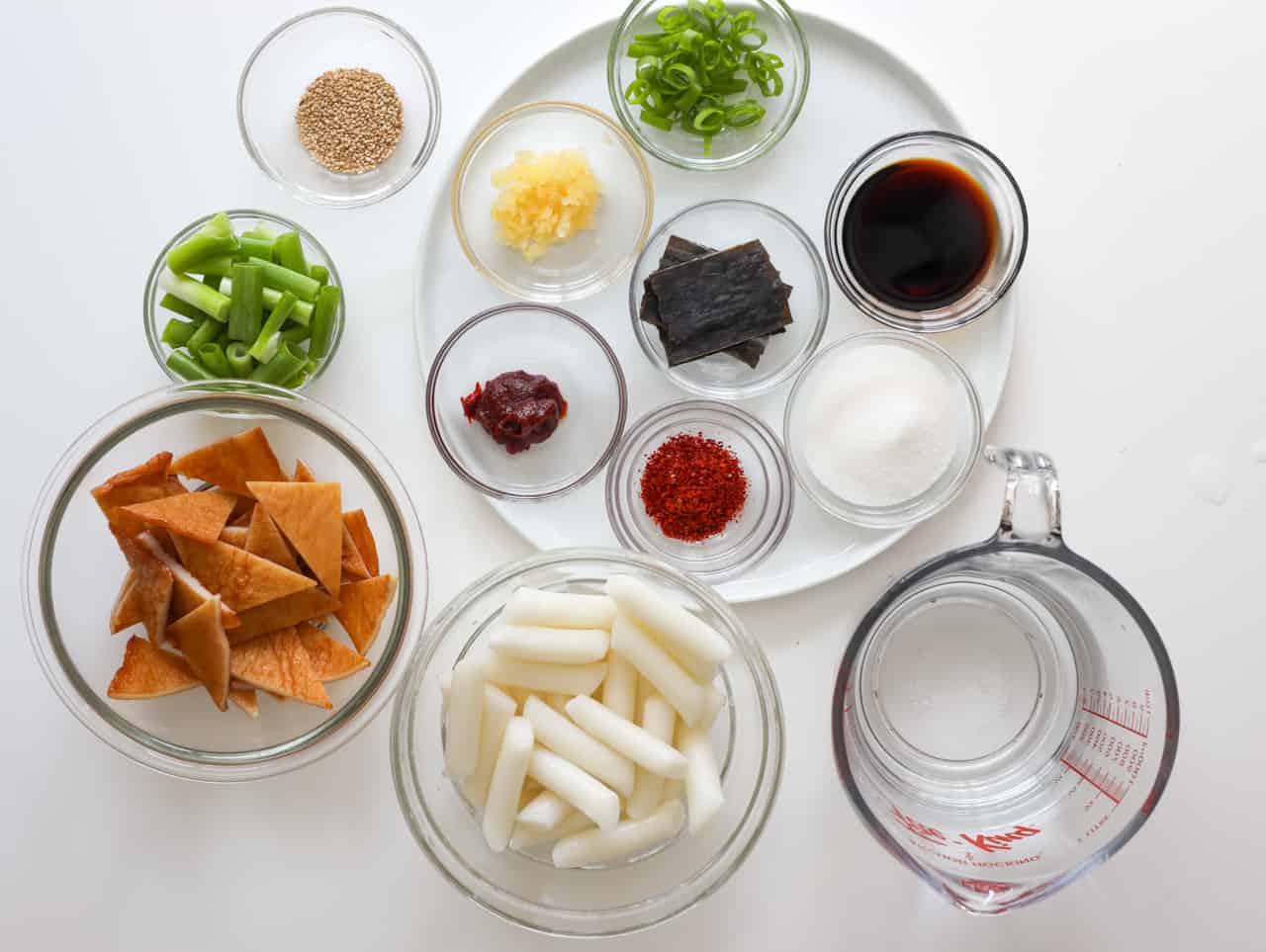 How to make Tteokbokki
Below are visuals to show you how to cook tteokbokki. ***Please scroll down to the recipe card below to find full instructions and details***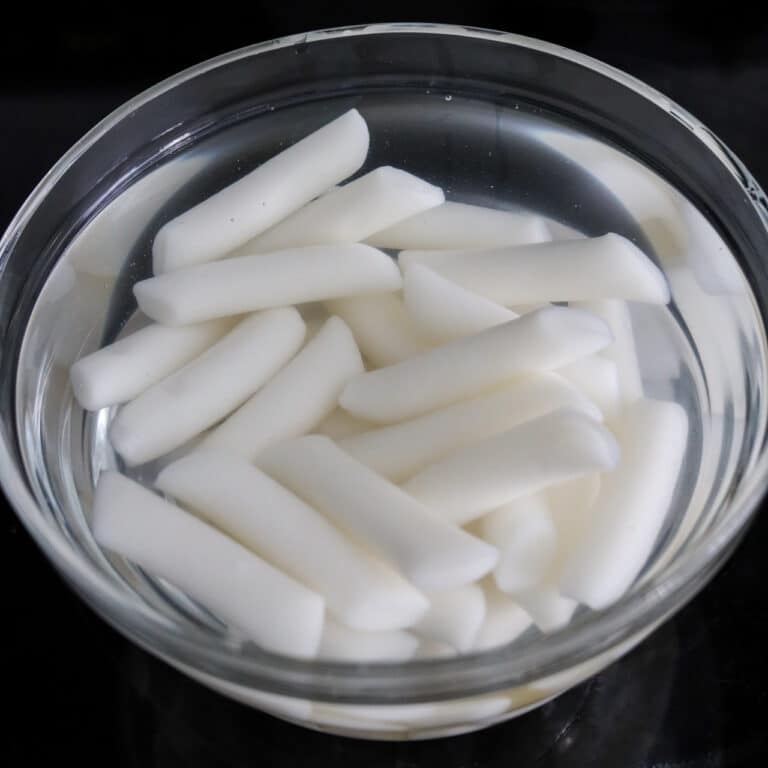 Popular Korean Street Food
This easy tteokbokki dish is iconic to South Korea! It's a delicious comfort food that serves as a perfect snack. The flavours of the Korean spicy rice cake coated in that sweet sauce with bouncy fish cakes make this dish a winner among Korean food.
Variations of this Dish
There are a variations of tteokbokki.
Rose Tteokbokki: a creamy tomato sauce version where the rice cakes are swimming in a delicious rose sauce. This version is not spicy at all.
Jajang Tteokbokki: it's made with black beans paste. This is also not spicy.
Gukmul tteokbokki: a spicy rice cake soup. This is spicy and very similar to Tteokbokki but in a soupier version.
Gungjung tteokbokki: a soy sauce based version with savory ingredients like shiitake mushrooms, beef and zucchini. This stir fried dish dates back to the Joseon Dynasty!
FAQ
Below are frequently asked questions about this non-spicy tteokbokki:
Where can I find Gochujang?
You can find this hot pepper paste at the Korean grocery store or sometimes or at the Asian grocery store. I like using this brand of gochujang as pictured below. Make sure to buy the mild version.
This spicy sauce is also known as spicy gochujang sauce, Korean red pepper paste, Korean chili paste, gochujang paste or hot pepper paste.
Where can I buy Gochugaru?
You can find these Korean red chili pepper flakes at the Korean supermarket or at the Asian stores.
How do I find Korean Fish cakes?
These are also known as Eomuk fish cake. You can find them sold in the refrigerated section at most Korean markets.
Where do I purchase Korean Rice Cakes?
The type of rice cake we are looking for are the ones that look like long cylinder cakes made of rice flour. You should be able to find cylindrical rice cakes at the Korean grocer or at the Asian grocer in the freezer section.
I recommend buying the fresh rice cakes if you can find them. Or get the ones that are located in the refrigerated section. Note: there are also the round white rice cake that look like little coins. You may use these too as a last resort.
Where do I find dried kelp?
This is a dried sea plant that you can find at all Korean or at the Asian market in the dried section. It's commonly used to make anchovy broth, dashi stock, or Korean soup stock giving dishes a wonderful depth of flavor.
How long does leftover tteokbokki last for?
This mild tteokbokki lasts 3-4 days in an airtight container in the fridge. I would not recommend freezing this.
How do I store gochugaru?
Since this typically comes in a large bag, you can freeze the rest. Trust me, it's still good after years! I would suggest freezing it in a reusable sealed bag or an airtight container.
What is the spice level of this Mild Tteokbokki?
It's mild. You will feel a slight kick but it is significantly less spicy than the original Spicy Korean Rice Cakes.
Cooking Tips
Below are some tips on how to make this mild tteokbokki recipe:
Soak rice cakes in warm water for 5 mins
This allows the rice cakes to soften up from being stored in the cold fridge.
Simmer over medium heat
Once the ingredients have come together in your large skillet, I would strongly suggest simmering over medium heat. Not medium-high heat nor low heat.
Medium heat will allow for the sauce to reduce and thicken without overcooking the ingredients if you were to cook over medium high heat.
Can I add sesame oil?
Yes! A teaspoon will be suffice for my mild tteokbokki.
How do I cut the fish cake sheets?
You can slice them into triangles or strips.
Can I use fish cake balls?
Yes!
May I add any vegetables to this dish?
Although not traditional, you may add some vegetables to this dish like napa cabbage to make it slightly healthier.
Can I use chicken stock instead?
Sure!
Do you have a vegan version?
Unfortunately I don't have a specific vegan recipe for this dish. However, you can simply remove the fish cakes and use water or vegetable stock to make vegan tteokbokki. The sauce mixture is already vegan.
Should I add corn syrup like other recipes?
You may, but I don't find it to be necessary as the sauce will thicken on its own thanks to the rice cakes.
Other recipes you may like!
If you enjoyed my mild version of these Korean spicy rice cakes, you may enjoy these other Korean recipes:
Rose Tteokbokki
Jajang Tteokbokki
Rabokki
Korean Bibimbap
Dakbokkeumtang Korean Chicken Stew
Jajangmyeon Korean Black Bean Noodles
I hope you give my easy Mild Tteokbokki a try and enjoy it!
If you enjoyed my recipe, please share it with your family and friends or on social media! Take a picture of your re-creation and make sure to tag me @ChristieAtHome in your feed or stories as I would love to see it!
Christie
*This post contains affiliate links. As an Amazon Associate, I earn from qualifying purchases.
📖 Recipe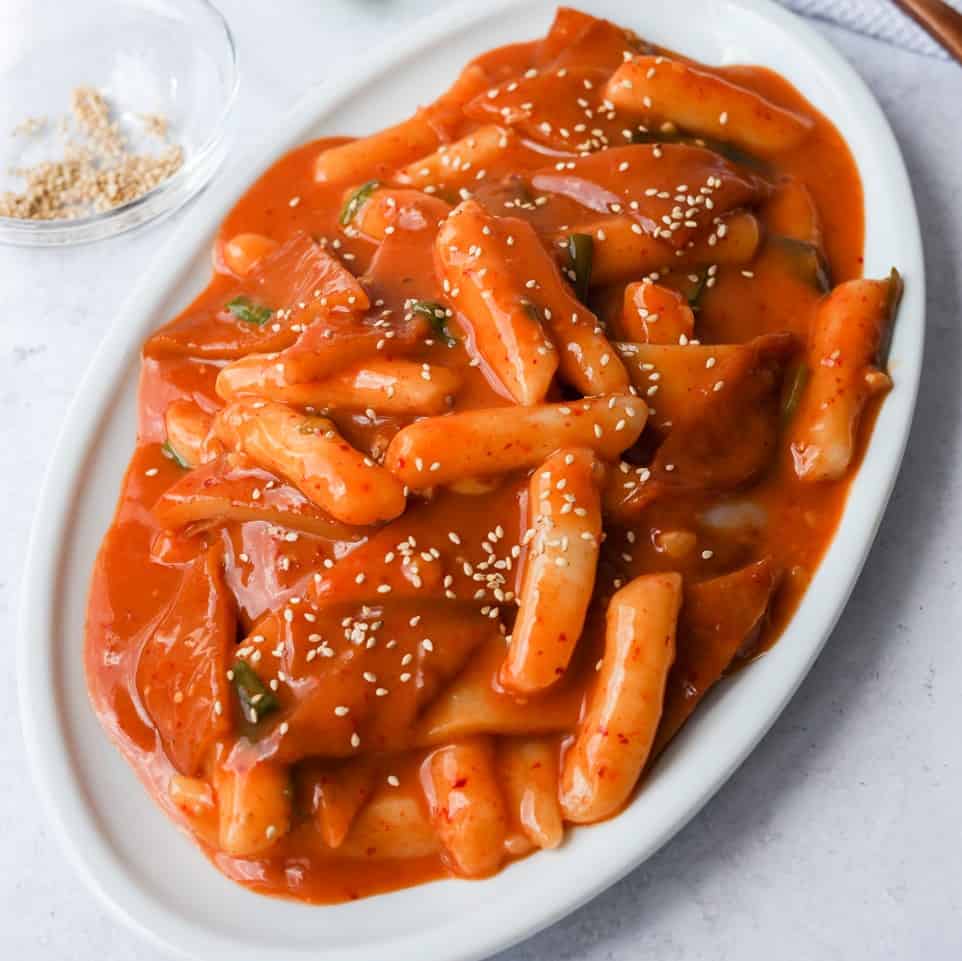 Easy Mild Tteokbokki
Mild Tteokbokki Rice Cakes. Spicy, sweet, chewy rice cakes. A popular Korean street vendor snack. It's so delicious and easy to make at home. Ready in 20 minutes!
Ingredients
2 ½

cups

Korean rice cakes

2

cups

water

or vegetable stock for more flavour

1

cup

Korean fish cake

sliced into triangles or strips (or sub with Fish Cake Balls)

4

pieces

dried kelp

2

stalks

green onion

chopped into 1 inch pieces

1

teaspoon

Sesame seeds

(optional garnish)
Instructions
Soak rice cakes in warm water for 5 minutes. Strain the liquids.

In a bowl, combine sauce ingredients until well combined and set aside.

In a non-stick pan, add water and dried kelp. Bring to boil.

Once it reaches a boil, mix in sauce until combined with water. Bring to a boil.

Add fish cakes, rice cakes and green onions. Lower heat to medium flame. Let it simmer for 10 minutes uncovered, until sauce has thickened.

Once sauce has thickened, remove off heat. Garnish with sesame seeds. Enjoy!
Enjoyed my recipe?
Please leave a 5 star review (be kind)! Tag me on social media @christieathome as I'd love to see your creations!
Suggested Equipment & Products
Silicone Spatula 3-Piece Set
As an Amazon Associate, I earn from qualifying purchases.
Nutrition
Calories:
689
kcal
|
Carbohydrates:
23
g
|
Protein:
3
g
|
Fat:
1
g
|
Saturated Fat:
0.1
g
|
Polyunsaturated Fat:
0.3
g
|
Monounsaturated Fat:
0.2
g
|
Sodium:
1037
mg
|
Potassium:
129
mg
|
Fiber:
1
g
|
Sugar:
19
g
|
Vitamin A:
425
IU
|
Vitamin C:
4
mg
|
Calcium:
42
mg
|
Iron:
1
mg