Egg Fried Rice. Delicious, simple egg fried rice with soy sauce, sesame oil, eggs and green onions. Just 6 ingredients and 10 minutes!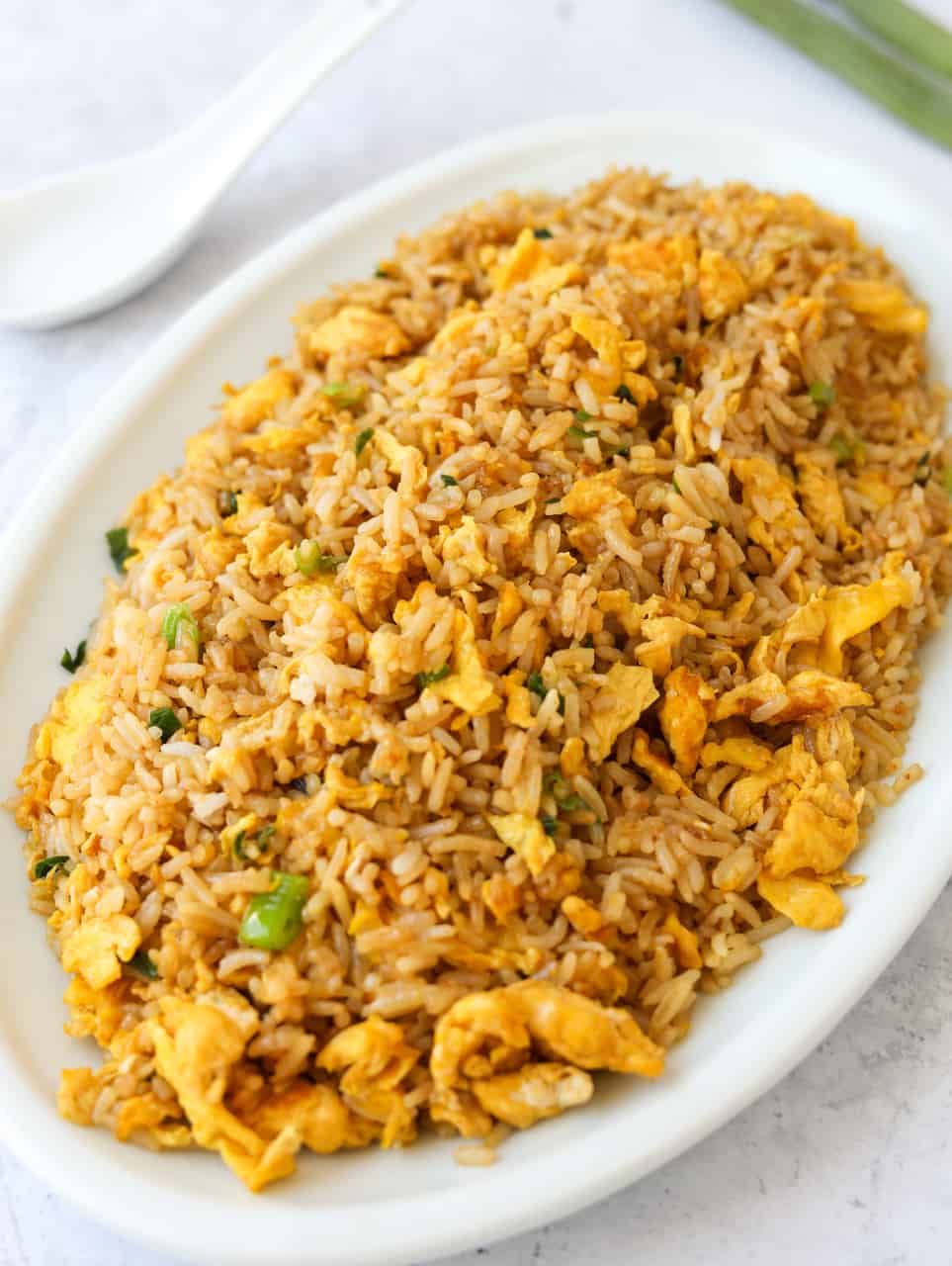 Egg Fried Rice is among those popular choices when it comes to dining at a Chinese restaurant. It's the first thing I order because it always hits the spot!
It's also great for dinner or lunch time if you have leftover cooked rice sitting in the fridge. I love having mine with some leafy greens like bok choy and a fried egg on top to make it a complete meal. I'll be teaching you how to make this dish at home.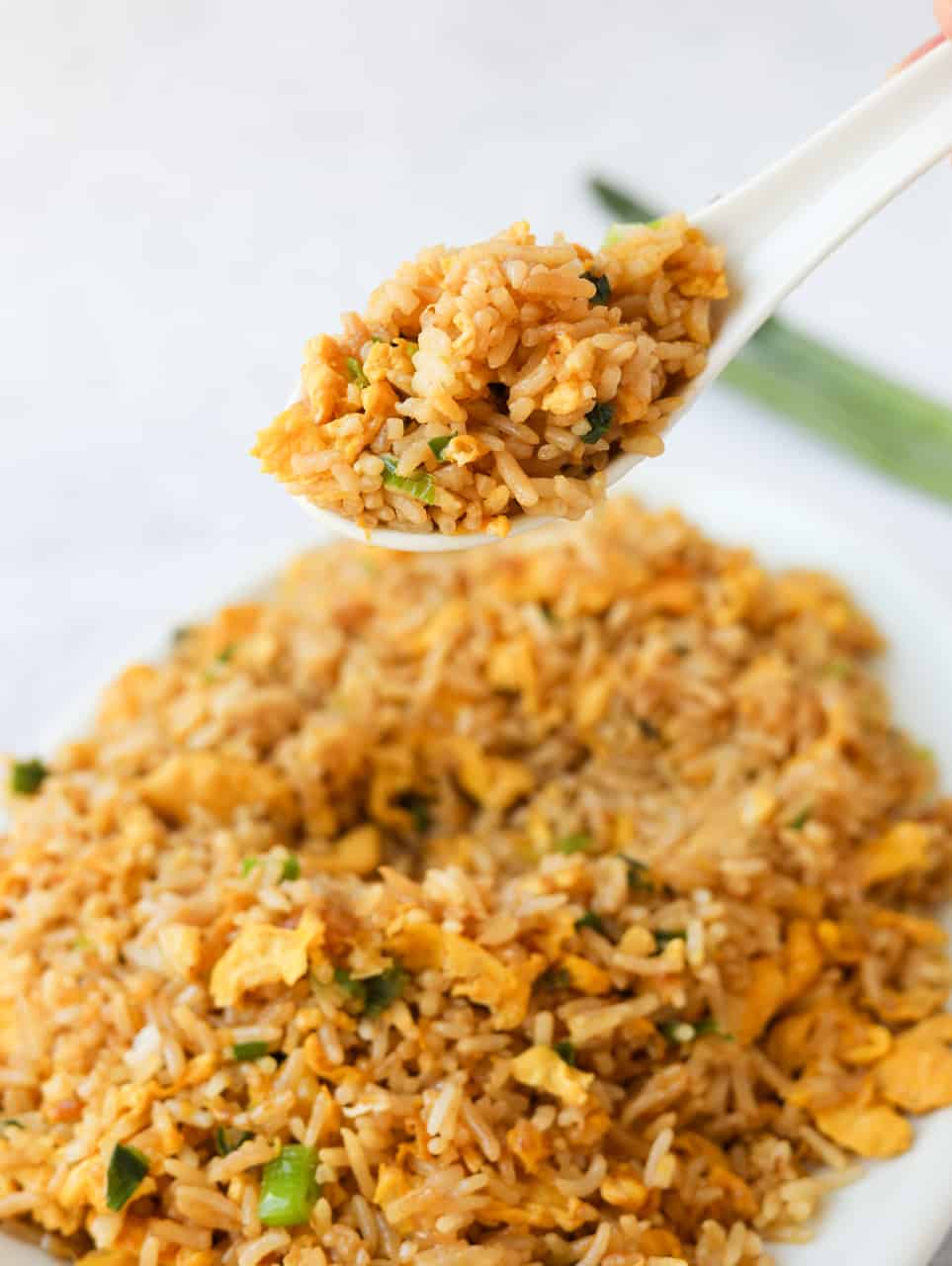 Quick & Satisfying
A quick and easy dish to make at home for a last minute complete meal. This also can be served as a side dish. I love this dish because it's one of those delicious meals that comes together quickly and easily with minimal ingredients.
A classic in Chinese Food
There are many fried rice recipes online, but this easy egg fried rice is a total classic in Chinese cooking. The best part is that you can add any additional ingredients to elevate it even further.
However, the simplicity of this dish is what makes it so approachable and accessible for many. Funny enough it's taken a long time to post a recipe for egg fried rice so here you go! Now you can enjoy this egg fried rice at home and I hope you love it!
Ingredients
The below egg fried rice ingredients are required. ***Please scroll down to the below Recipe card for full measurements***
Leftover cold rice, specifically jasmine rice: I recommend using day old or leftover rice for fluffy fried rice. If you use same day warm cooked rice, it may clump together. I recommend cooking the rice the night before and laying the cooked rice on a tray. Then store it in the fridge to dry out. The next day, break the rice up with your hands before frying. You can also add a little oil to the rice to prevent them from sticking together.
Green onions
Regular soy sauce: Just your regular all-purpose soy sauce where the label doesn't say "light soy sauce" or "dark soy sauce". If you like your fried rice saltier, feel free to add extra soy sauce. Feel free to use low sodium soy sauce but please add to taste.
Toasted Sesame oil: This will add a lovely nutty flavour to your fried rice. Most Asian grocers or online retailers like Amazon will carry this item.
Beaten eggs
Avocado oil, or sub with vegetable oil
How to Cook Egg Fried Rice
Below are brief steps with visuals to show you how to make egg fried rice. ***Please scroll down to the recipe card below to find full instructions and details***
Cooking Tips
Below are tips on making the best egg fried rice recipe:
Use day-old rice
One of the most important things to a successful fried rice is using leftover long grain white rice. Because it won't contain as much moisture as same day cooked rice. This creates fluffy separated rice grains versus using same day warm rice which creams rice clumps.
Source fresh vibrant spring onions
Fresh green onions offer the most flavour.
Use fresh local free run eggs with omega 3s
If you want those gorgeous yellow egg yolks, opt for local free run eggs with omega 3s. That's what I use
Use a steel wok for that smoky flavour!
Fried rice is especially tasty when you stir fry in a hot carbon steel wok or aluminum wok due to the smoke from the oil. But if you don't own a large wok, feel free to use a large skillet. Important: do not smoke your non-stick pan over high heat. This will melt the non-stick coating off into your food.
Do not overcook the eggs
Once the eggs look like scrambled egg but are still moist, push to the side of the pan to prevent overcooking.
Keep flame on medium high to medium high heat
While keeping the heat on medium to medium-high heat, this actually prevents your rice from sticking to the wok.
Fry the green onions in oil
This helps to release more flavour and fragrance into the rice
Be quick when mixing the ingredients
When you overcook the rice, the rice will stick and clump together.
FAQ
Below are frequently asked questions about this Chinese egg fried rice:
How long does this dish last for?
It lasts 4-5 days in an airtight container stored in the fridge.
What kind rice should I use for this recipe?
Leftover day old cold jasmine rice is recommended for this 10 minute egg fried rice! You can also use brown rice. I wouldn't recommend basmati rice, short grain rice or fresh rice. These rice variations can create clumpy fried rice instead of individual grains of rice.
Does rice have to be cold for fried rice?
I would recommend it especially if you're cooking it in a hot wok. The heat from the wok will make the rice clump together or worse break down if you're using same day warm rice. If you are using same day warm rice, I would recommend a non-stick pan and a wooden spoon to fry your rice. If you use a wok, it'll likely stick to the bottom of the wok.
Can I use same day cooked rice?
Sure, but I would just suggest to lay the hot rice on a baking sheet in a thin layer and pop it in the freezer for 1 hour. This will dry out the rice creating the effect of 'leftover rice'.
How do you cook your rice?
Like many Asian households, I use a rice cooker. You can purchase a relatively affordable one online or in store. Rice cookers are the best way to steam rice without worry!
May I use peanut oil or olive oil?
Yes to peanut oil and no to olive oil. Olive oil contains a slight olive scent.
What is the secret to Chinese fried rice?
Grains that are well seasoned and fully separated after being cooked in that wok hei without using too much oil.
What makes Chinese fried rice taste so good?
The aromatics, browning of the rice and the wok "hei" (aka breathe of wok) that gives fried rice that smoky flavour.
What are some good egg fried rice vegetables?
I purposely made this egg fried rice without vegetables so that you can add any veggies you desire. Here are my favorite mix-ins:
Peas
Carrots
Green beans
Corn
Broccoli florets
Snap peas
Bell peppers
Bean sprouts
Other additions
The great thing about this recipe is you can elevate it further by adding these other ingredients:
Black pepper or white pepper
Butter: use butter that is unsalted
Oyster sauce but please add to taste
Sesame seeds
Hot sauces like chili oil
Adding a fried egg on top is a great way to make this meal feel complete
Sliced chicken breast
Small pieces of pork
Beef
Shrimp
Firm tofu
Other Chinese recipe(s) you may like!
If you enjoyed this quick egg fried rice recipe, you may enjoy these other fried rice recipes:
I hope you give my 10 minute egg fried rice restaurant style a try and enjoy it!
If you enjoyed my recipe, please share it with your family and friends or on social media! Take a picture of your re-creation and make sure to tag me @ChristieAtHome in your feed or stories as I would love to see it!
Christie
*This post for Chinese style egg fried rice contains affiliate links. As an Amazon Associate, I earn from qualifying purchases.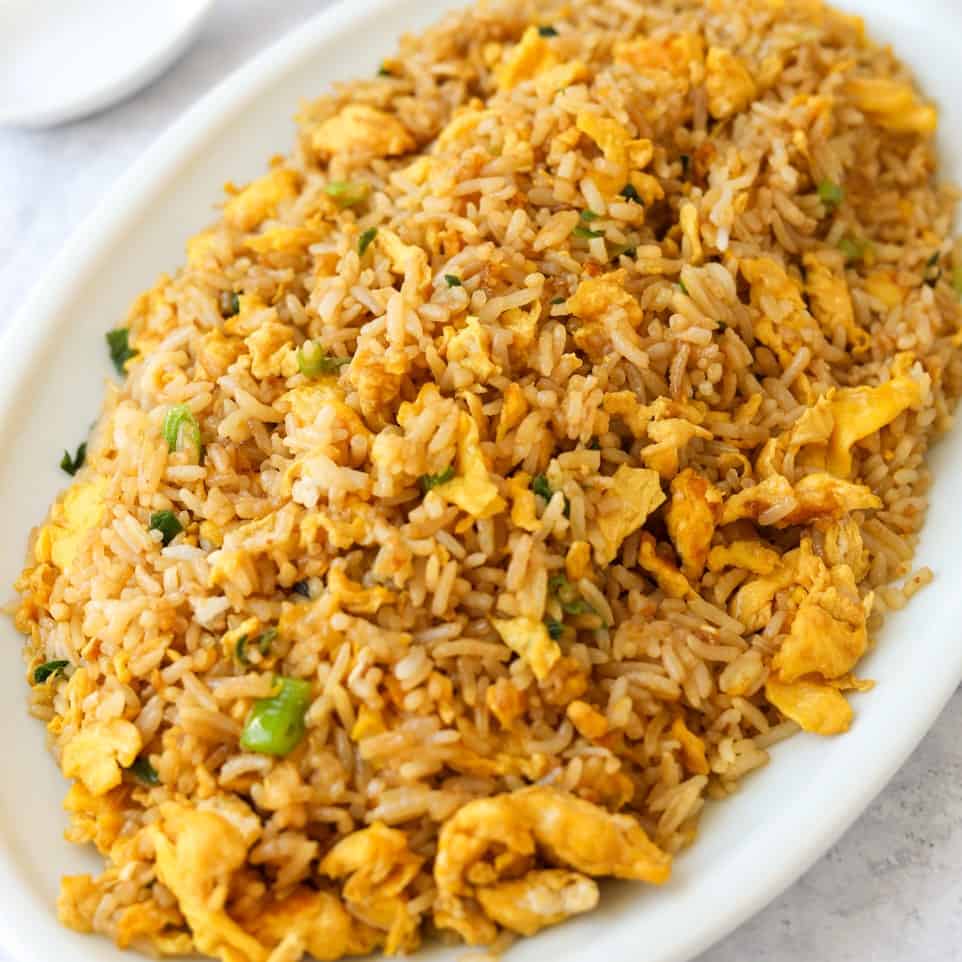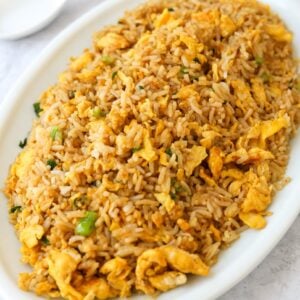 10 min. Egg Fried Rice (only 6 ingredients!)
10 minute Egg Fried Rice. Delicious, simple fried rice seasoned with soy sauce and sesame oil with eggs and green onions. This only requires 6 ingredients!
Instructions
Over medium high heat in a steel wok, add 1 tbsp of cooking oil and allow it to smoke. Important: if using a non-stick pan, do NOT smoke oil and keep it on medium heat allowing the oil to get hot.

Once oil begins to smoke, pour in whisked eggs and quickly stir to form shape. Once the eggs form shape but are still moist, quickly toss and mix in rice. If rice is clumped together, break apart in pan.

Sweep everything to the side, add remaining oil into empty space with green onions. Quickly mix green onions into rice and eggs.

Add soy sauce and sesame oil. Mix until grains are coloured brown and immediately remove off heat. Serve hot and enjoy!
Enjoyed my recipe?
Please leave a 5 star review (be kind)! Tag me on social media @christieathome as I'd love to see your creations!
Copyright Policy
Please do not copy and paste my recipes or use my photos in your own site/blog or social media. If you use my recipe for adaptation, please provide a link back to my recipe and re-write in your own words. Thank you.
Suggested Equipment & Products
Nutrition
Calories:
501
kcal
|
Carbohydrates:
47
g
|
Protein:
18
g
|
Fat:
26
g
|
Saturated Fat:
5
g
|
Polyunsaturated Fat:
5
g
|
Monounsaturated Fat:
15
g
|
Trans Fat:
0.04
g
|
Cholesterol:
327
mg
|
Sodium:
1384
mg
|
Potassium:
241
mg
|
Fiber:
1
g
|
Sugar:
1
g
|
Vitamin A:
535
IU
|
Vitamin C:
1
mg
|
Calcium:
74
mg
|
Iron:
2
mg