Spam Fried Rice. White rice fried with diced spam, scrambled eggs, green peas, carrots, corn with soy sauce and butter. Totally delicious!
There is something so good about this spam and egg fried rice! It's savoury, filling and hits the spot like no other! This easy meal really comes together pretty quickly if you have day-old rice and a can of spam in your pantry.
Ready in 30 minutes!
The perfect way to use up leftover rice to serve the whole family! Perfect as a main dish, side dish or as leftovers. Ready in just 30 minutes with leftover rice.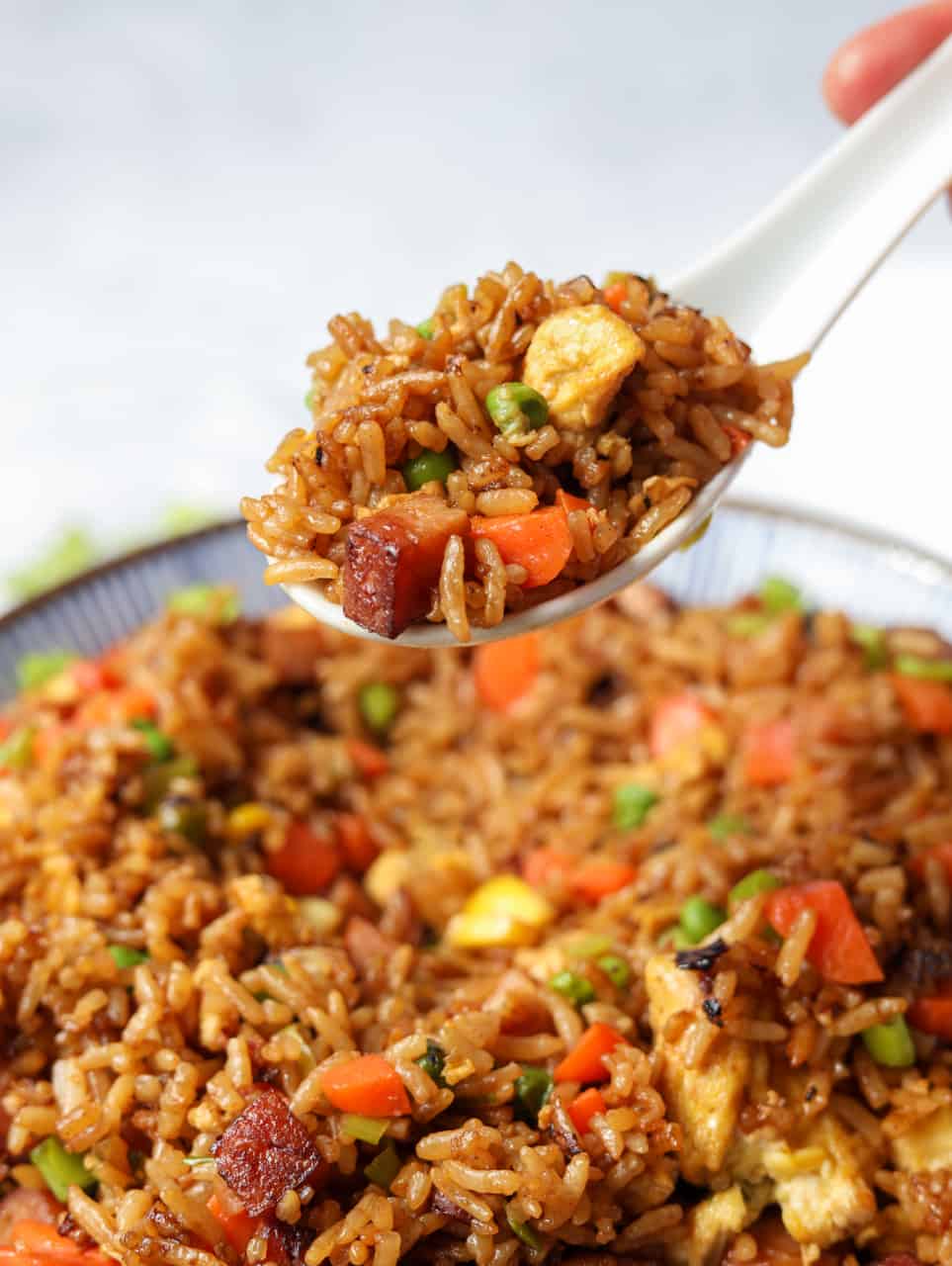 Best recipes on Pinterest!
This is absolutely the best spam fried rice I've ever made! It's incredibly popular and well-loved on Pinterest! So I hope you give this amazing recipe a try!
Not a fan of spam?
That's okay, I know so many people who aren't a fan of it and it doesn't make their favorite foods list. So feel free to substitute with diced ham or smaller pieces of ham.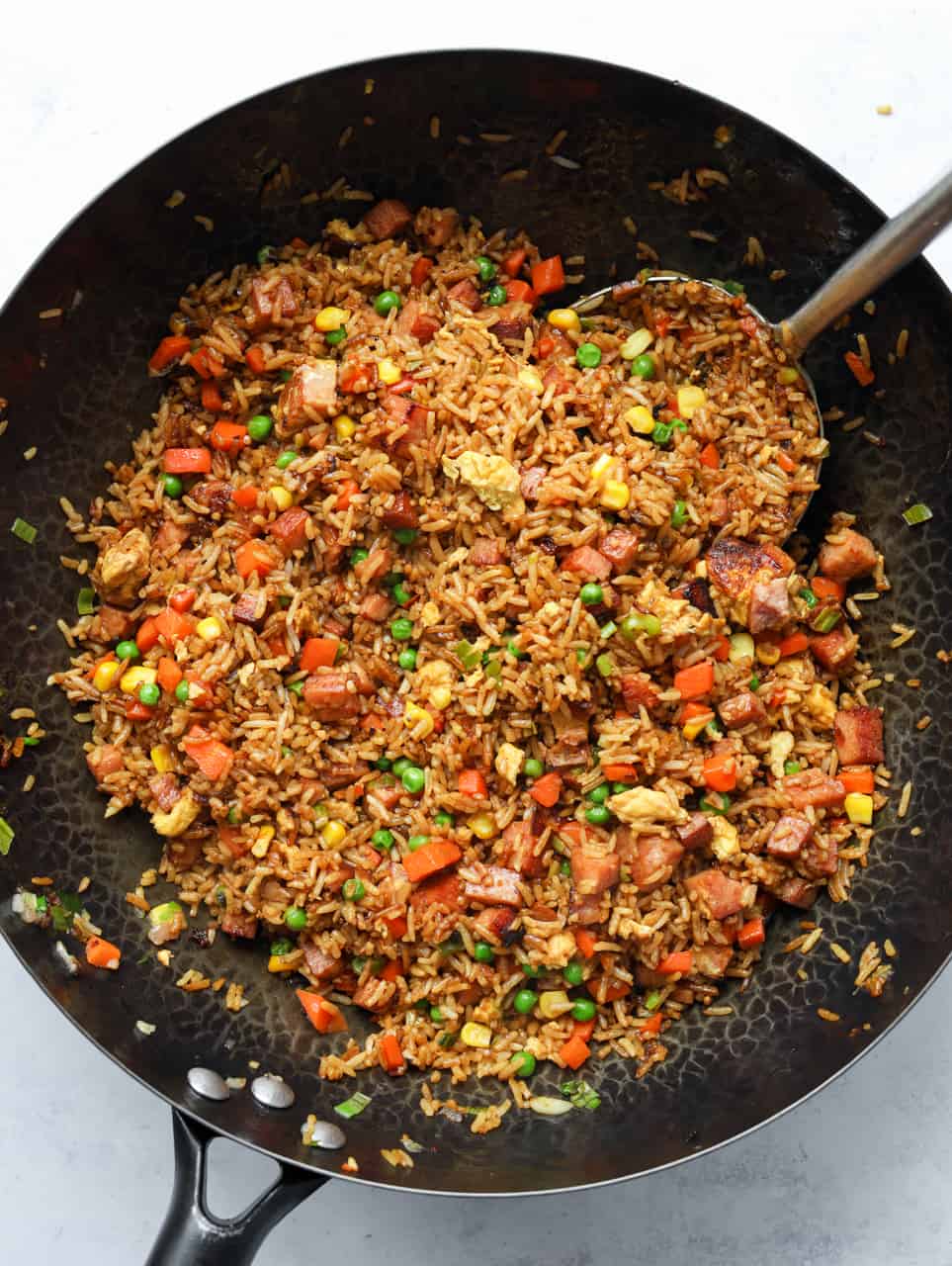 What is Spam Fried Rice?
It's your classic fried rice made with cooked eggs, mixed veggies and fried spam with a little soy sauce, sesame oil, oil and butter!
What does Spam taste like?
Spam is a mixed pork ingredient that is very popular in Hawaii and Korea. It tastes more spongier than ham and more saltier. You can also find a reduced sodium version of spam at the grocery store.
What You'll Need
The below ingredients are required for this Spam Fried Rice. ***Please scroll down to the below Recipe card for full measurements***
day-old cooked jasmine rice
can of spam
beaten eggs
carrots diced
frozen corn
frozen peas
shallot
green onions
garlic
avocado oil, or any neutral tasting oil
regular soy sauce
dark soy sauce
butter
salt
sesame oil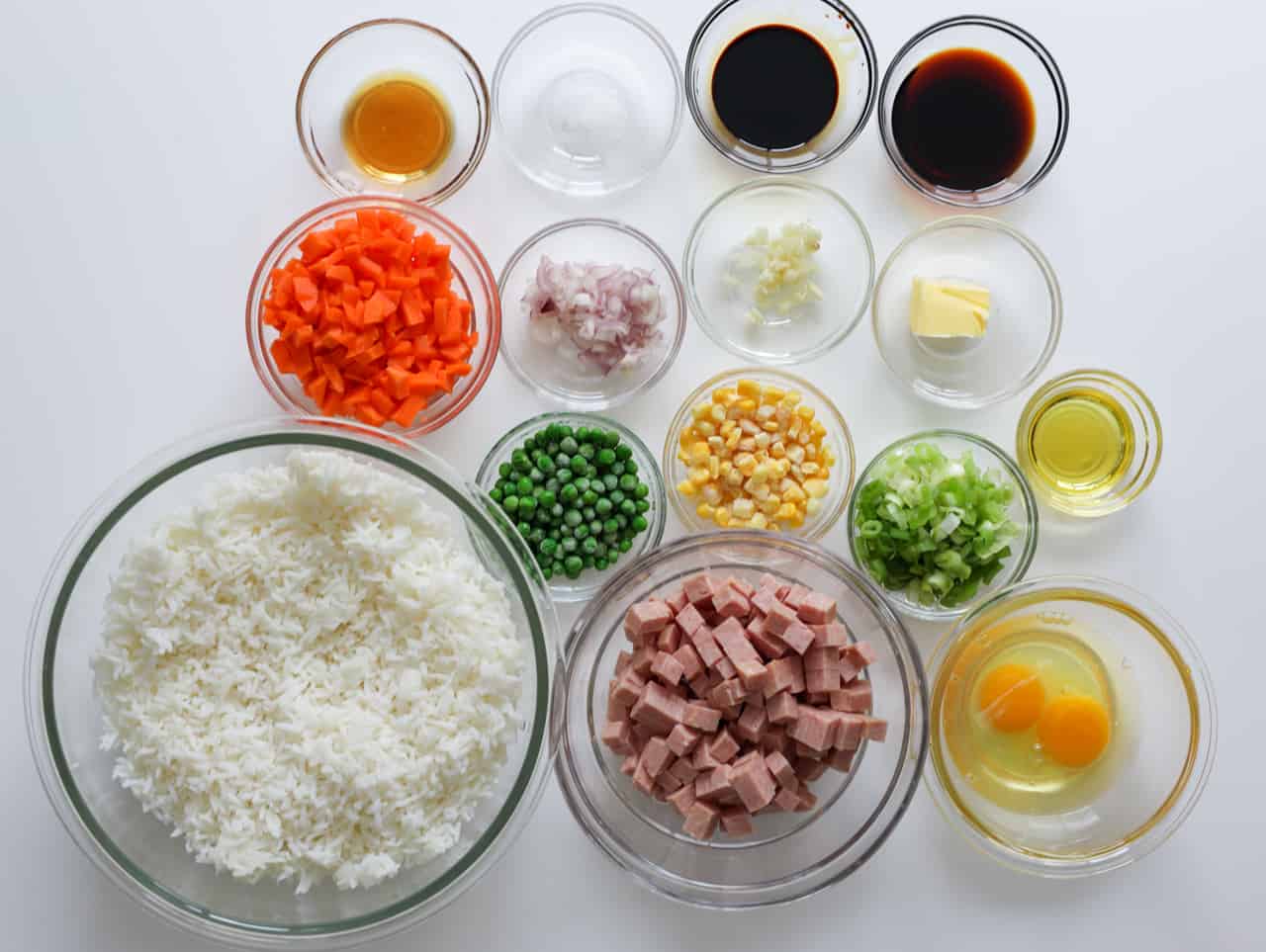 How to make Spam Fried Rice
Below are visuals to show you how to make this great meal. ***Please scroll down to the recipe card below to find full instructions and details***
Cooking Tips
Below are tips on making this easy spam fried rice:
Use a rice cooker for the best tasting rice
Most Asian households always use a rice cooker to steam their rice. That's how we get perfectly cooked rice and it also makes the clean up a breeze as the rice cooker pot is non-stick. However, if you don't own one, please feel free to use whatever method you're comfortable with to cook rice.
Use rice from last night
A great way to make your fried rice fluffy and delicious is by using leftover rice from last night or even up to couple of days before. This helps to dry out the rice making for separated granules unlike using fresh rice.
Dice spam into cubes
By dicing your block of spam cubes, this will help the meat incorporate better with the rice. It also allows for the cubes of spam to cook faster.
Prepare your ingredients in advance
By preparing all of your ingredients before you stir fry, this prevents overcooking and a more smoother cooking process.
Use a large skillet or wok
By using a wok or large skillet, it'll allow for you to easily toss the ingredients together in the center of the pan while maintaining at least medium heat without the rice ingredients spilling out of your pan. A steel wok also emits a smoky flavour from the combustion of oil over medium-high heat.
Sweep ingredients to the side
To prevent overcooking of our ingredients, you'll notice in my recipe card that I will indicate to sweep the ingredients to the side of the pan. By doing this, we are creating an empty space in the wok for the next batch of ingredients to fry in. This also prevents the other ingredients from overcooking.
Do not overcook the rice
Once your rice has been tossed with the ingredients and the every granule of rice is golden brown, remove it off heat. The longer you cook the rice, the more easily it will become soggy.
Oil is important
My recipe doesn't use a large amount of oil but it also doesn't use a little bit of oil - about 2 tablespoon oil. It is essential to a delicious fried rice. If you'd like to reduce the amount of oil, please use at least 1 tablespoon oil.
FAQ
Below are frequently asked questions about this easy dish:
Where can I find spam?
This can be found at most Western and Asian grocers in the canned section. You can use the regular version or the reduced sodium version for this recipe.
Can I use an instant pot to make this?
I would not recommend that as the ingredients may go soggy at the bottom of the pot.
Can I add other fresh ingredients?
Sure! Green beans, bell peppers, baby corn, or even broccoli could work in the recipe.
May I add sesame seeds?
Yes, but I wouldn't use it as a substitute for the sesame oil as sesame oil is more potent in flavour.
Can I use oyster sauce or fish sauce instead of soy sauce?
Yes, but I would add it to taste since fish sauce and oyster sauce is saltier.
How can I make this spicy?
A little drizzle of sriracha would make this spicier.
Can I add black pepper?
Yes, about ¼ teaspoon is suggested.
May I substitute with brown rice?
Yes, feel free to do that.
Other Recipes You May Like!
If you enjoyed this great recipe, you may liked these other fried rice recipes:
Chinese Chicken Fried Rice
Egg Fried Rice
Shrimp Fried Rice
Tomato Egg Fried Rice
Pineapple Chicken Fried Rice
Kimchi Egg Fried Rice
Pineapple Egg Fried Rice
Egg Tofu Fried Rice
I hope you give my Spam Fried Rice a try and enjoy it!
If you enjoyed my recipe, please share it with your family and friends or on social media! Take a picture of your re-creation and make sure to tag me @ChristieAtHome in your feed or stories as I would love to see it!
Christie
*This post contains affiliate links. As an Amazon Associate, I earn from qualifying purchases.
📖 Recipe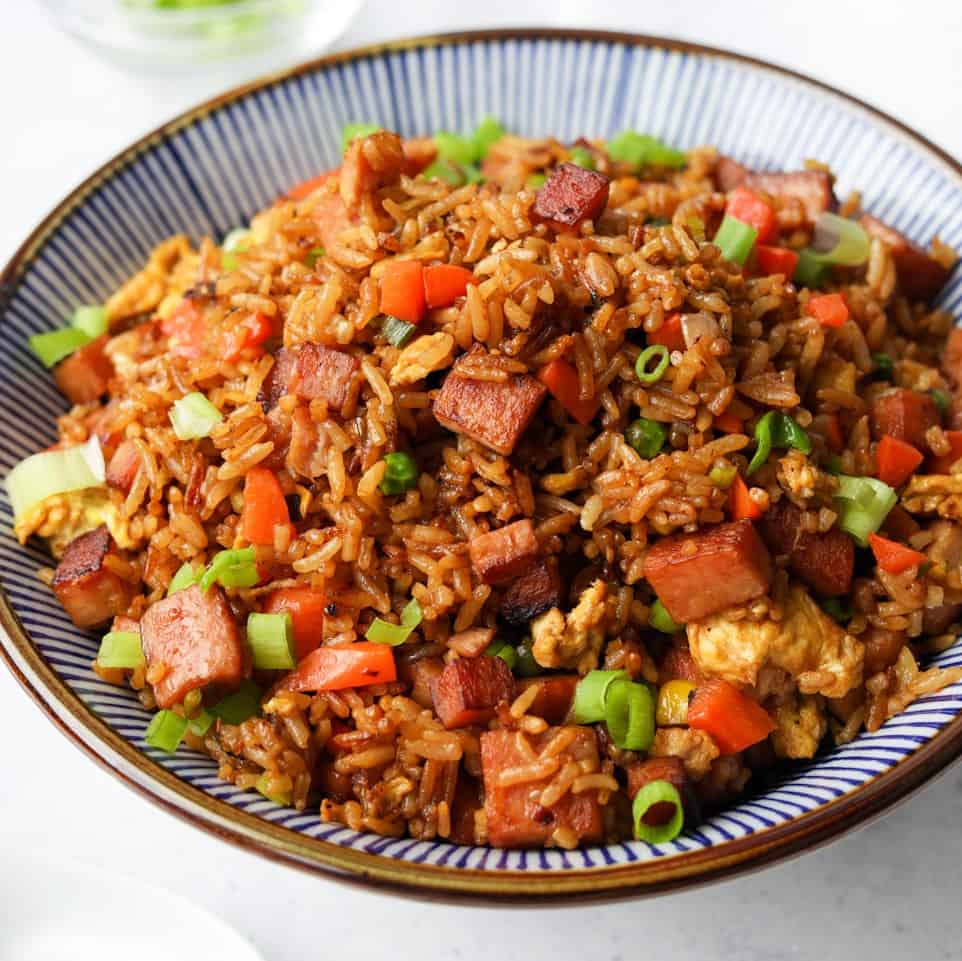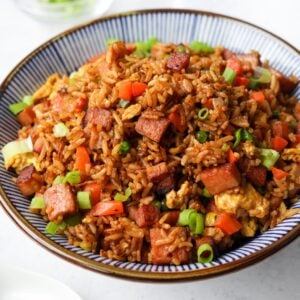 Easy Spam Fried Rice
Spam Fried Rice. Fluffy rice fried with diced spam, scrambled eggs, green peas, carrots, corn with soy sauce and butter. The perfect way to use up leftover rice. Ready in 30 minutes.
Ingredients
4

cups

cooked jasmine rice

day-old

1

can

spam

diced

2

eggs

beaten

1

cup

carrots

diced (feel free to use frozen kind for ease)

⅓

cup

frozen peas

⅓

cup

frozen corn

1

shallot

finely chopped

2

green onions

finely chopped

2

teaspoon

garlic

minced

2

tablespoon

avocado oil

(any neutral tasting oil)

2

tablespoon

regular soy sauce

1

tablespoon

dark soy sauce

1

tablespoon

butter

¼

teaspoon

salt

1

teaspoon

sesame oil
Instructions
In a wok or large pan on medium-high heat, fry your spam until golden brown on each side.

Toss in your shallots. Fry until the shallots have softened.

Add in avocado oil, green onions and garlic. Give this is a toss and push to the side of pan.

Add corn, peas and carrots. Toss with the other ingredients. Sweep everything to the side.

Pour in beaten eggs into empty space of pan. Allow this to cook and then break into bite size pieces. Push to the side.

Add in leftover rice, regular soy sauce, dark soy sauce, butter, and salt. Toss until the rice and other ingredients are well combined and evenly coated. Every grain should be brown.

Drizzle sesame oil over and mix. Remove off heat. Enjoy!
Enjoyed my recipe?
Please leave a 5 star review (be kind)! Tag me on social media @christieathome as I'd love to see your creations!
Suggested Equipment & Products
As an Amazon Associate, I earn from qualifying purchases.
Nutrition
Calories:
1101
kcal
|
Carbohydrates:
163
g
|
Protein:
31
g
|
Fat:
34
g
|
Saturated Fat:
10
g
|
Polyunsaturated Fat:
5
g
|
Monounsaturated Fat:
18
g
|
Trans Fat:
0.04
g
|
Cholesterol:
143
mg
|
Sodium:
2168
mg
|
Potassium:
840
mg
|
Fiber:
5
g
|
Sugar:
4
g
|
Vitamin A:
5624
IU
|
Vitamin C:
10
mg
|
Calcium:
95
mg
|
Iron:
3
mg