Silken Tofu with Onions and Garlic. Chilled silky tofu garnished with a flavourful Chinese soy onion sauce. Easy to make and ready in 10 minutes!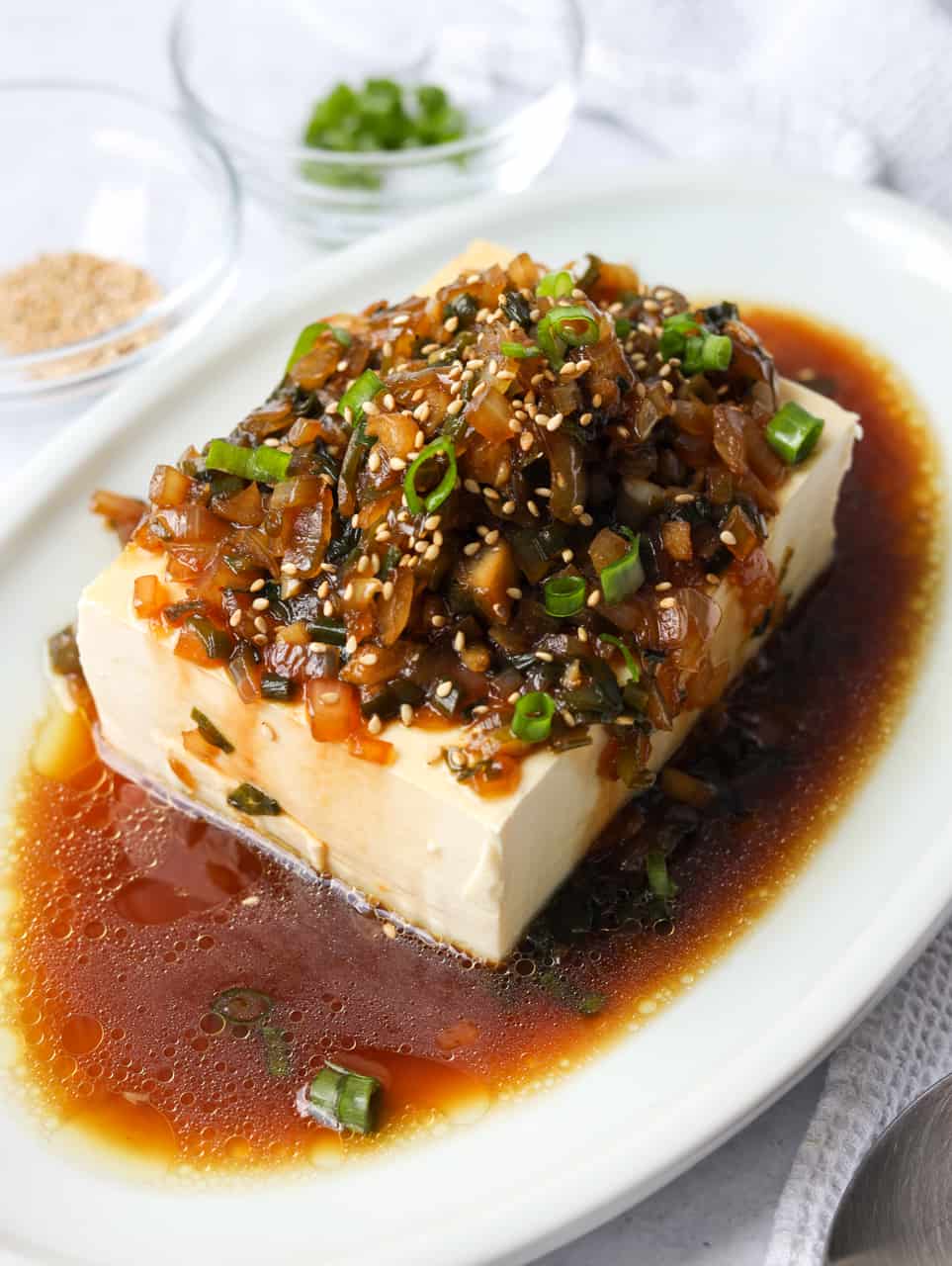 This silken tofu spring onion recipe is so easy to make and tastes amazing! The neutral taste of the silken tofu paired with the savoury sesame onion sauce is such a match made in food heaven!
Perfect for Hot Weather!
This is one of those silken tofu recipes that require no cooking at all as this dish is served chilled with a savoury onion garlic sauce! It tastes really good with some hot steamed rice and leafy greens.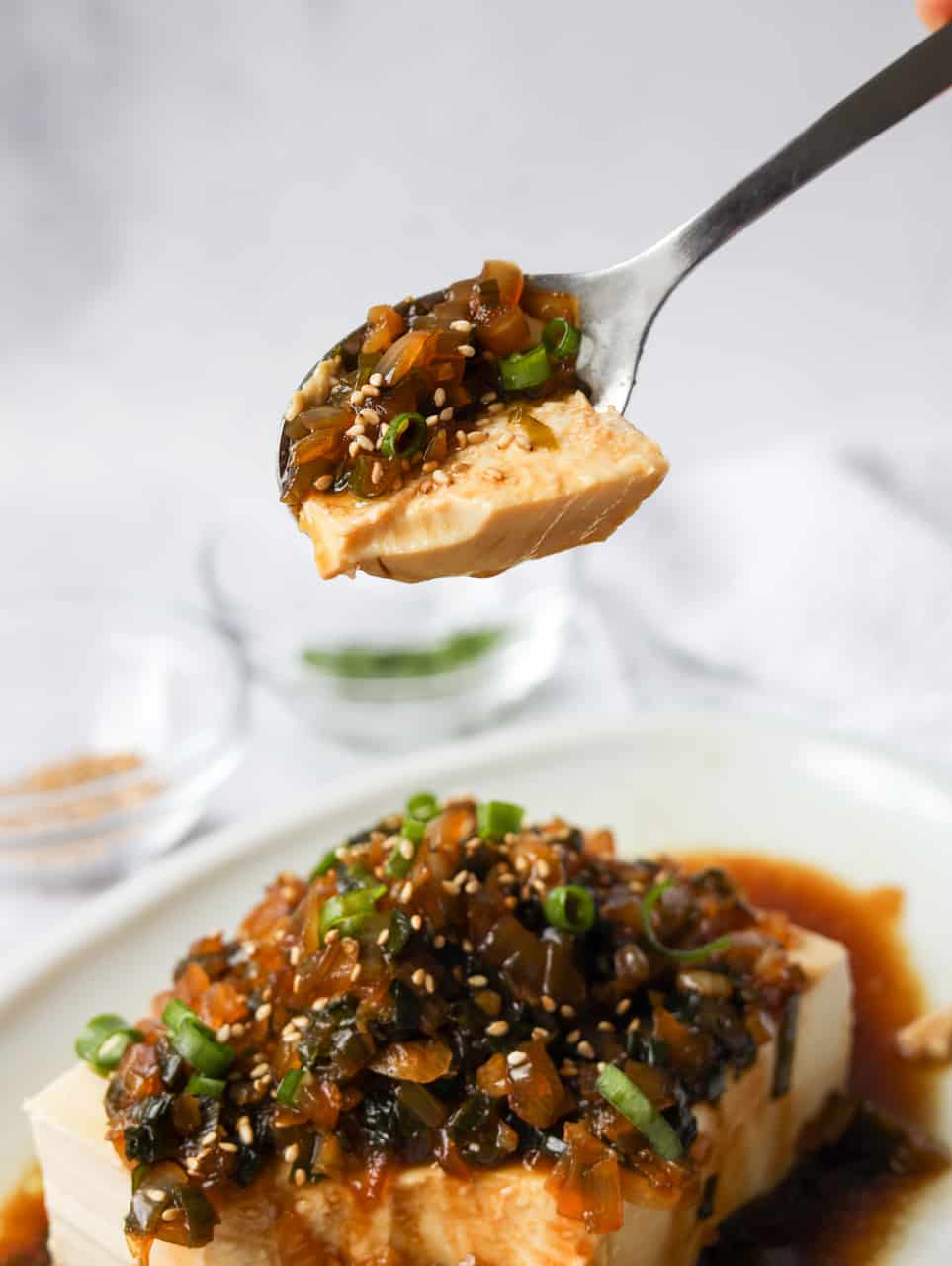 Vegan
It's also the perfect vegan dish for plant-strong diets as it's a protein-rich ingredient. It's a great meat substitute if you're looking to go meatless.
Super Easy
You're simply sautéing the spring onions, garlic and white onion in cooking oil mixing in soy sauce, sesame oil and sugar. Pour that sauce over your block of silken tofu and that's it! You really cannot mess this up!
What you'll Need
The following ingredients are required for this silken tofu recipe. ***Please scroll down to the below Recipe card for full measurements***
silken tofu, or sub with soft tofu
Sauce:
white onion
green onion
regular soy sauce
garlic
vegetable oil
sesame oil
sugar
Optional garnish: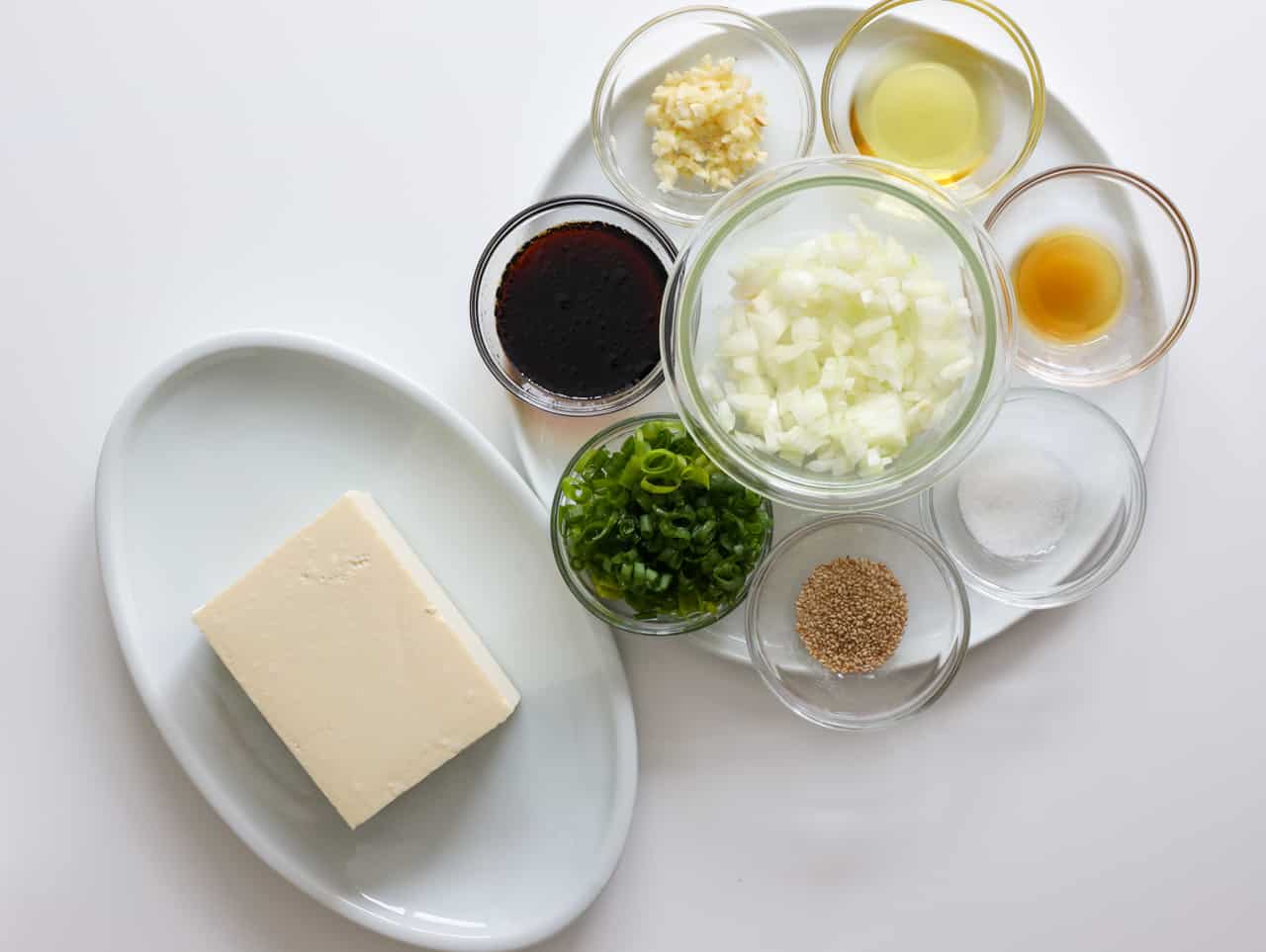 How to cook Silken Tofu
Below are visuals to show you how to make silken tofu. ***Please scroll down to the recipe card below to find full instructions and details***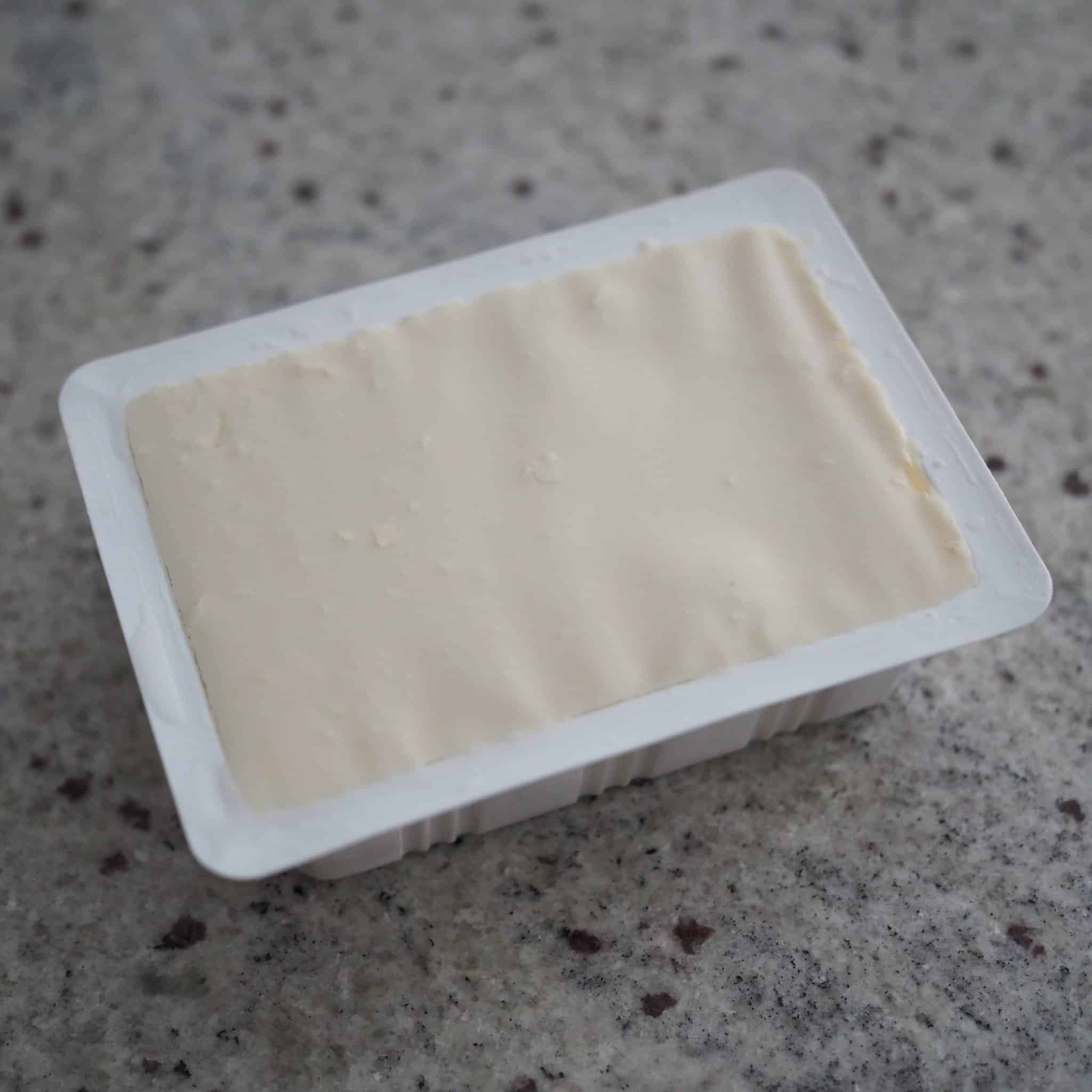 Cooking Tips
Below are some cooking tips to prepare this soft silken tofu:
Source fresh onions
Since the main aromatics of this dish are the green and yellow onions, make sure they are fresh and vibrant. Look for dark green onions and yellow onions with the skin intact.
Make sure it's Silken
There are many types of tofu available in the store. From extra firm to medium to soft. Make sure to choose the one that says "Silken" on the package label.
Check the Tofu Expiry Label
This should go without saying but I can't tell you the number of times I've seen expired tofu being sold. Because this ingredient is the main star of the dish, you don't want expired tofu as it has an odor.
Chop green onions and yellow onions finely
By chopping these ingredients finely, it'll make for a more pleasant sauce texture.
Prepare your ingredients before cooking
Since the cooking process is only 5 minutes, make sure your ingredients are all lined up ready to throw into the pot or pan. We don't want to overcook the onions!
Cook onions only translucent
This is important. If you don't cook the onions down until they are soft and translucent, you'll be biting into crunchy onions. So give this part at least 2-3 minutes on medium heat.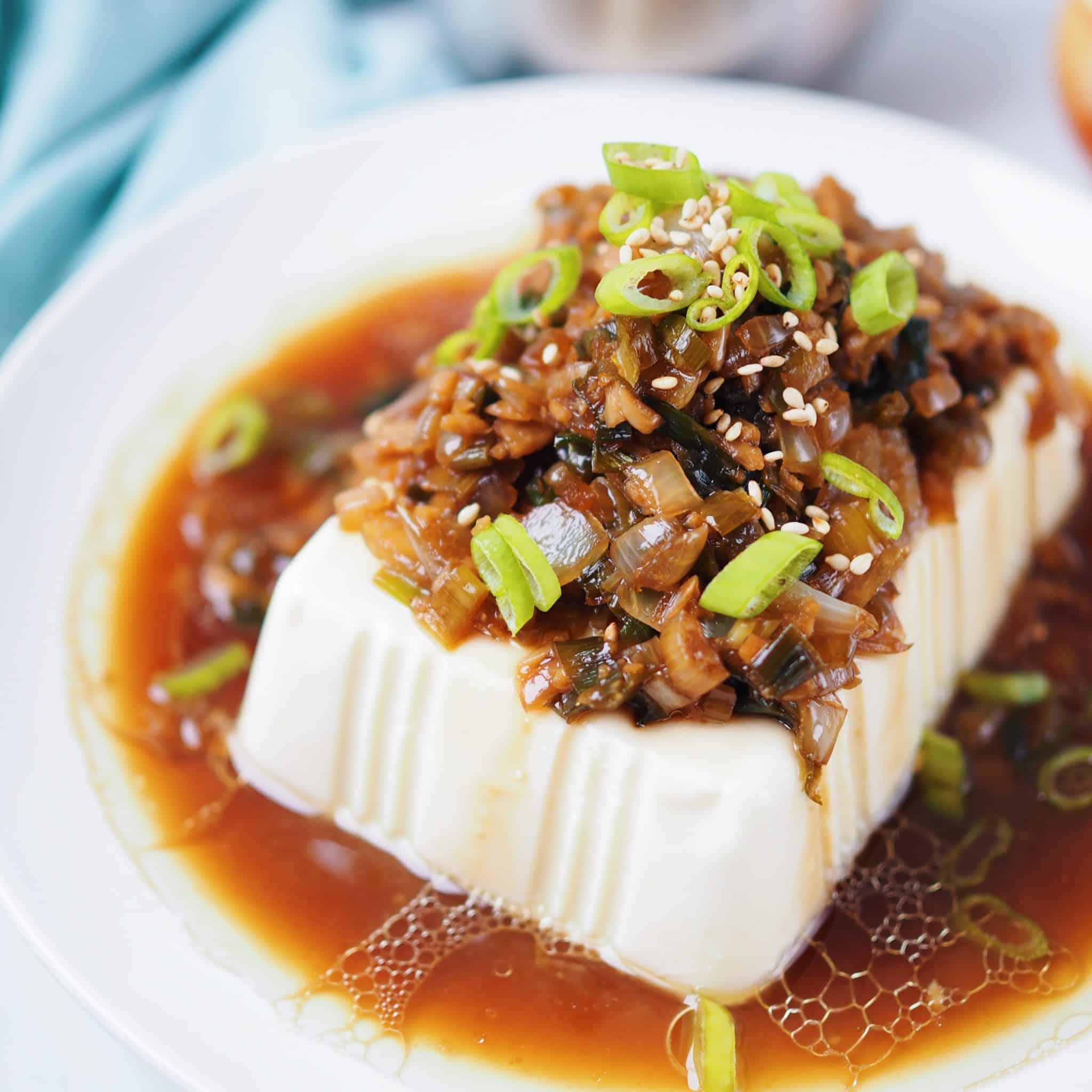 FAQ
Below are frequently asked questions about this Chinese-style tofu recipe:
What kind of tofu should I use?
There are many different types of tofu, but the one you want is of the silken variety. The type of silken tofu that is ideal for this recipe, is the super smooth one where the tofu is sticking to the square container.
Make sure it's not Sweet Silken Tofu
Some grocery stores sell a dessert silken tofu, make sure it's not this one. It should be labelled as "dessert tofu".
Is silken tofu the same as firm tofu or regular tofu?
No. Silken tofu has a very silky texture. You barely have to chew it and it is also used in Asian desserts as well!
Can I use extra-firm tofu or regular tofu?
Yes you may, but keep in mind that extra firm or regular tofu do not have the softer consistency.
What's the difference between silken tofu vs soft?
Silken tofu has a very soft consistency. Soft tofu is a bit more firmer than silken tofu. But if you cannot find silken tofu, you can use soft tofu as a a substitute.
Where can I buy silken tofu?
Most Western and Asian grocery stores will carry soft silken tofu and many different kinds of tofu. So make sure to check the package label for the tofu texture. There is also the variety of extra-firm silken tofu, which can be used as well. If you can't find silken tofu, opt for soft block tofu.
Should I bring this silken tofu to room temperature?
No, I would advise keeping it chilled until you're ready to pour the sauce on top.
How do I remove the tofu from the container?
Here's a great way to remove the tofu from the container:
Carefully peel away a corner of plastic film
Strain out the excess water using the plastic to keep the tofu from spilling out.
Use a clean paper towels to soak up any water.
Then place a plate with a flat surface over the tofu and turn it over.
Gently remove the plastic container.
Note: This type of tofu is very delicate so be careful when moving or touching the tofu, as it can easily break apart.
What if my onions begin to brown?
That's okay but lower the heat and continually stir the mixture to prevent burning.
Can I skip the sugar?
Yes you may, but I find the added sugar cuts the saltiness of this dish.
May I use dark or light soy sauce?
Yes you may, but I would add these ingredients to taste as light soy sauce is actually saltier than regular soy sauce. On the other hand, dark soy sauce is actually less saltier than regular.
Can I prepare the sauce in advance?
Yes, you'll just need to reheat it prior to serving.
May I heat up the tofu?
Yes, microwave on a microwave safe dish for 2-4 minutes until it's warm to touch.
How long will this dish last for?
It should last 1-3 days stored in an airtight container in the fridge.
Other delicious recipes you may like!
If you enjoyed this silky soft tofu recipe, you may like these other tofu dishes:
ASIAN BREADED TOFU NUGGETS
CHINESE SALT & PEPPER TOFU
SWEET AND STICKY TOFU
VEGAN KIMCHI TOFU STEW
SWEET SOY TOFU & VEGETABLES
TOFU KATSU
I hope you give my Silken Tofu with Onions and Garlic a try and enjoy it!
If you enjoyed my recipe, please share it with your family and friends or on social media! Take a picture of your re-creation and make sure to tag me @ChristieAtHome in your feed or stories as I would love to see it!
Christie
*This post contains affiliate links. As an Amazon Associate, I earn from qualifying purchases.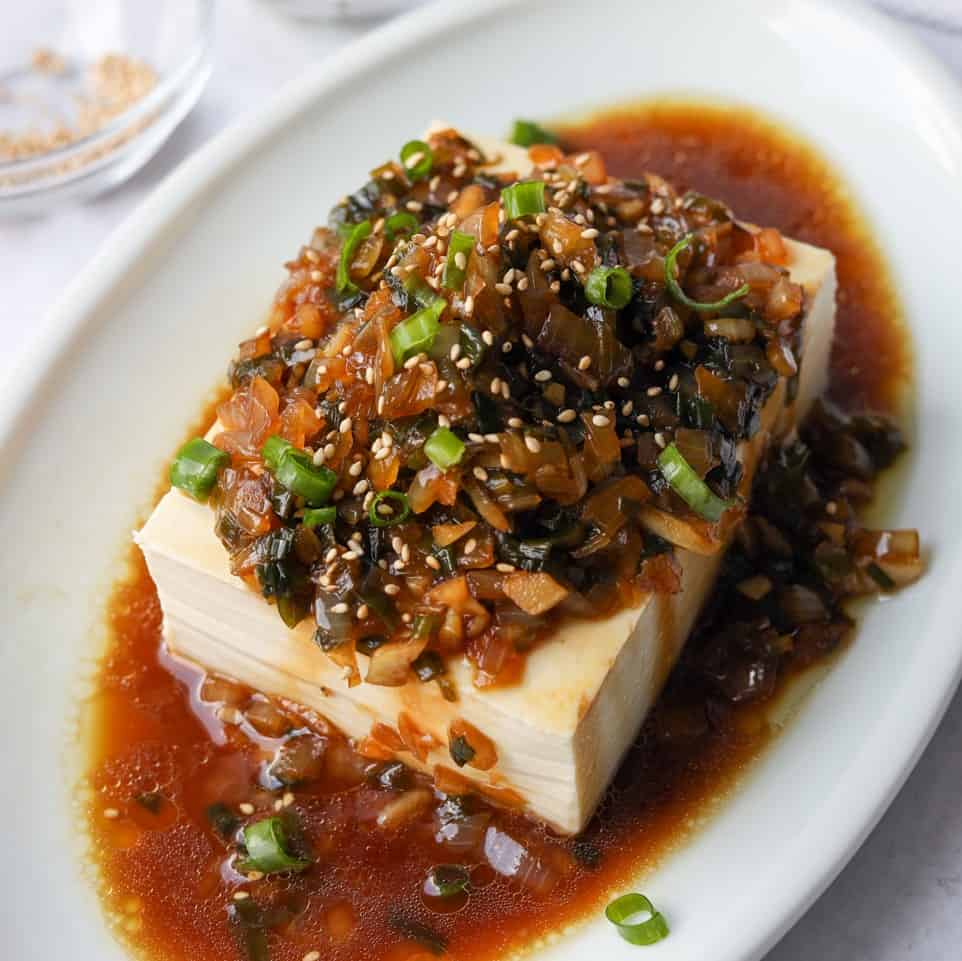 10-min. Easy Chinese Silken Tofu
Chinese Silken Tofu. Chilled silky tofu garnished with a flavourful Chinese soy onion sauce. Easy to make and ready in 10 minutes!
Ingredients
300

g

silken tofu

or sub with soft tofu
Optional:
¼

teaspoon

sesame seeds

1

tablespoon

green onion

finely chopped
Instructions
Carefully peel away a corner of the plastic seal on the silken tofu package. Hold the tofu in place and turn it upside down to drain the excess liquid over the sink. Place the tofu over a paper towel to soak up the liquid.

Next place a plate over top of the tofu package turning it over to transfer the tofu onto the plate.

In a small pot set over medium heat, add oil followed by white onion, green onion and garlic. Sauté for until onions are translucent, about 2-3 minutes.

Lower heat to low flame. Pour in the soy sauce, sugar and sesame oil and mix in with onions and garlic. Cook for 1 minute.

Pour the sauce over the silken tofu. Optional: garnish with sesame seeds and green onions. Enjoy!
Enjoyed my recipe?
Please leave a 5 star review (be kind)! Tag me on social media @christieathome as I'd love to see your creations!
Copyright Policy
Christie at Home owns all copyright to her blog content, photos and videos. Usage of any of these copyrighted materials on your website or social media channels is strictly prohibited. If you adapt my recipes, please provide a backlink to my website and re-write in your own words.
Suggested Equipment & Products
Silicone Spatula 3-Piece Set
Nutrition
Calories:
258
kcal
|
Carbohydrates:
17
g
|
Protein:
12
g
|
Fat:
17
g
|
Saturated Fat:
2
g
|
Polyunsaturated Fat:
5
g
|
Monounsaturated Fat:
9
g
|
Sodium:
1523
mg
|
Potassium:
508
mg
|
Fiber:
2
g
|
Sugar:
7
g
|
Vitamin A:
281
IU
|
Vitamin C:
11
mg
|
Calcium:
98
mg
|
Iron:
3
mg