Spicy Peanut Noodles. Chewy wide noodles smothered in a spicy, nutty savoury sauce. Ready in 10 minutes and vegan!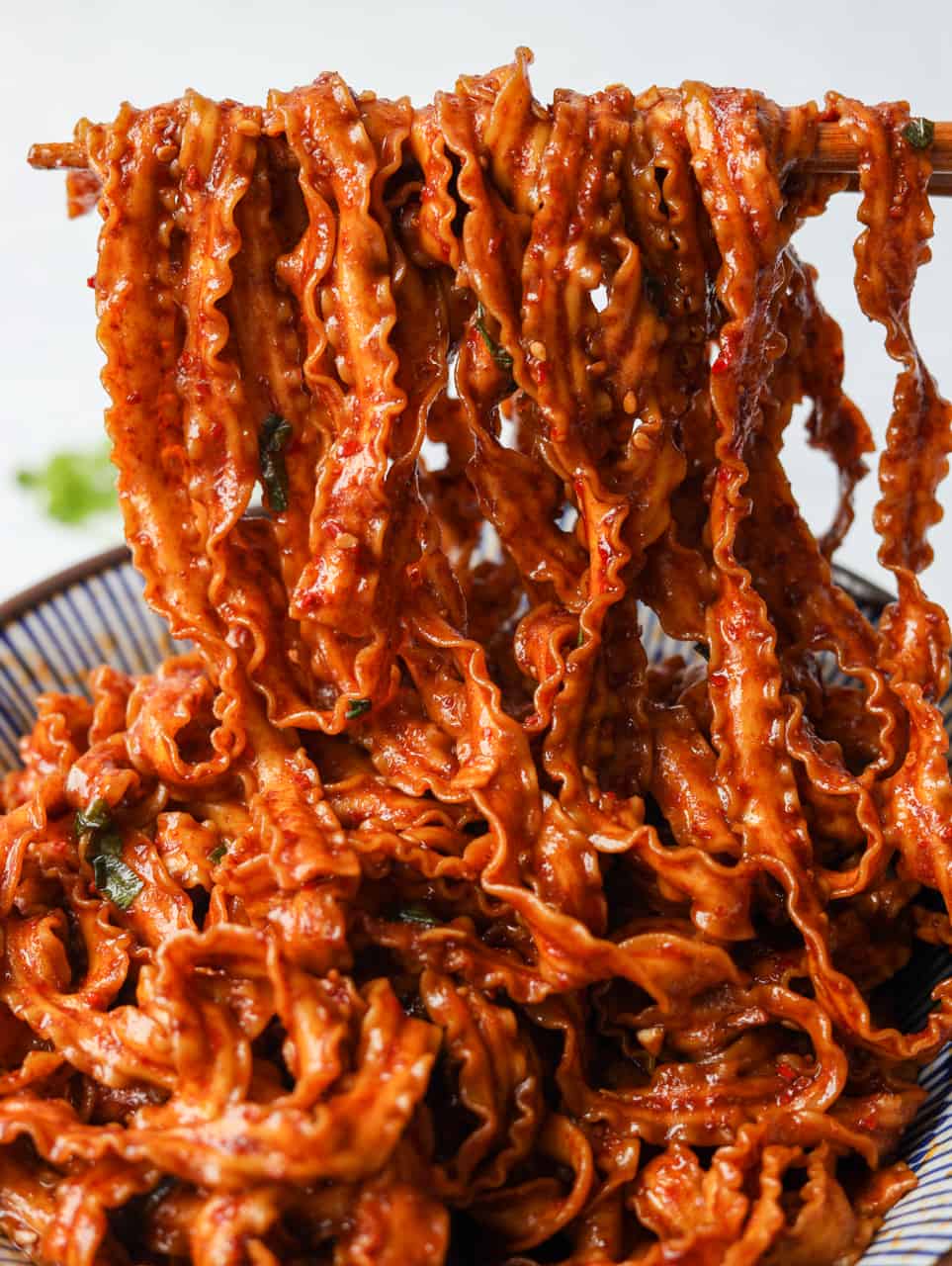 There is nothing like a good bowl of hot and spicy peanut butter noodles to cure any bad day! Give me a big bowl of these noodles and I'm a happy girl.
What does it taste like?
I love the spice to these noodles with the savoury taste from the garlic and the sweetness from the peanut butter. This dish is popular for good reason because the taste palate is very appeasing to many. It can also be served as cold spicy peanut noodles too!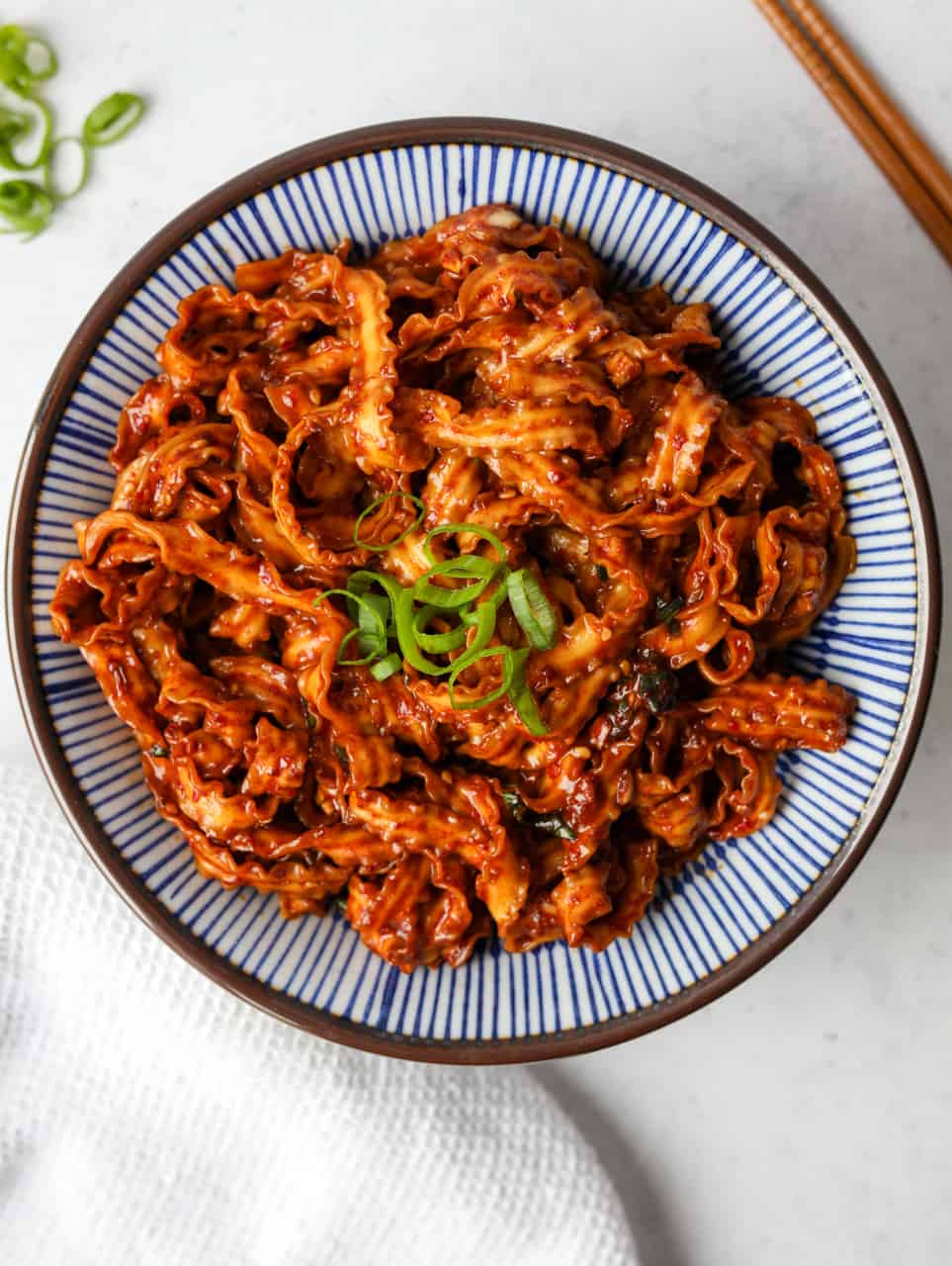 I love the taste of spicy sesame peanut noodles because its sweet and salty thanks to the sugar and the soy sauce. This dish really hits all of your taste buds and that's why this dish is so addictive.
Very Easy to make!
This spicy peanut noodles recipe is very easy to make! You are simply mixing your sauce ingredients into a large bowl and boiling your noodles until al-dente. Then mixing everything together in that same bowl! It is that simple!
I show you how to make these Chinese sweet and spicy peanut noodles if you scroll to the very bottom and click the video.
What You'll Need
You will need the following ingredients for my spicy garlic peanut noodles:
Spicy Peanut Sauce:
Gochugaru, or Sichuan Red Pepper Flakes
smooth peanut butter
regular soy sauce
dark soy sauce
Chinese black vinegar, omit if unavailable
green onion
garlic
sesame seeds
white granulated sugar
avocado oil, or any neutral tasting oil
How to make Spicy Peanut Noodles
What if I'm allergic to peanuts?
If you don't like peanuts or you're allergic to them, omit the peanut butter and you'll have simple Chili Garlic Oil Noodles!
Where can I find these noodles?
Any Asian grocer will carry them in the dried noodle aisle. If you don't have an Asian grocer nearby, feel free to substitute with any wheat noodles that you enjoy! They're also called "dough sliced wheat noodles".
Where can I find Gochugaru or Sichuan Red Pepper Flakes?
Most Asian grocers will carry them in the spice aisle. More specifically, Korean grocers will sell Gochugaru, aka Korean Red Pepper flakes and most Chinese grocers will sell Sichuan Red Pepper Flakes.
Alternatively, if you have dried whole red chilies, you can process them in a food processor until the flakes are small and use that.
Cooking Tips
Here are some cooking tips for my Spicy Asian Peanut Noodles recipe:
Make your sauce first and then boil the noodles. The heat from the noodles and residual moisture will allow for the noodles to mix thoroughly in the sauce.
Use good quality peanut butter. This will make a big difference in the taste of your sauce. But of course, if you don't have quality PB, use what you have on hand!
Don't overcook your noodles. Just boil them for only 3-5 minutes or less (monitor & taste) and immediately strain them.
Other recipes you may like!
If you enjoyed my asian spicy peanut noodles, you may like these recipes:
SICHUAN DAN DAN NOODLES
CHILI GARLIC NOODLES
CHINESE SCALLION OIL NOODLES
CHILI GARLIC RAMEN
STIR FRIED RAMEN FOR ONE RECIPE
QUICK SPICY RAMEN STIR-FRY
VEGAN ASIAN SESAME NOODLES
Try it!
Well, I hope you give my Spicy Peanut Noodles a try! It always excites me when you make my recipes and I hope this is one you try and most importantly, enjoy.
Sharing is caring
If you enjoyed my Spicy Asian Peanut Noodles, please share it with your family and friends or on social media! Take a picture of your re-creation and make sure to tag me @ChristieAtHome in your feed or stories as I would love to see it!
Did you enjoy it?
If you genuinely enjoyed my easy spicy peanut noodles, please leave a 5-star review. I would greatly appreciate it 🙂
Take care,
Christie
*This post for spicy peanut butter noodles recipe contains affiliate links. As an Amazon Associate, I earn from qualifying purchases. I also earn from qualifying purchases through additional affiliate programs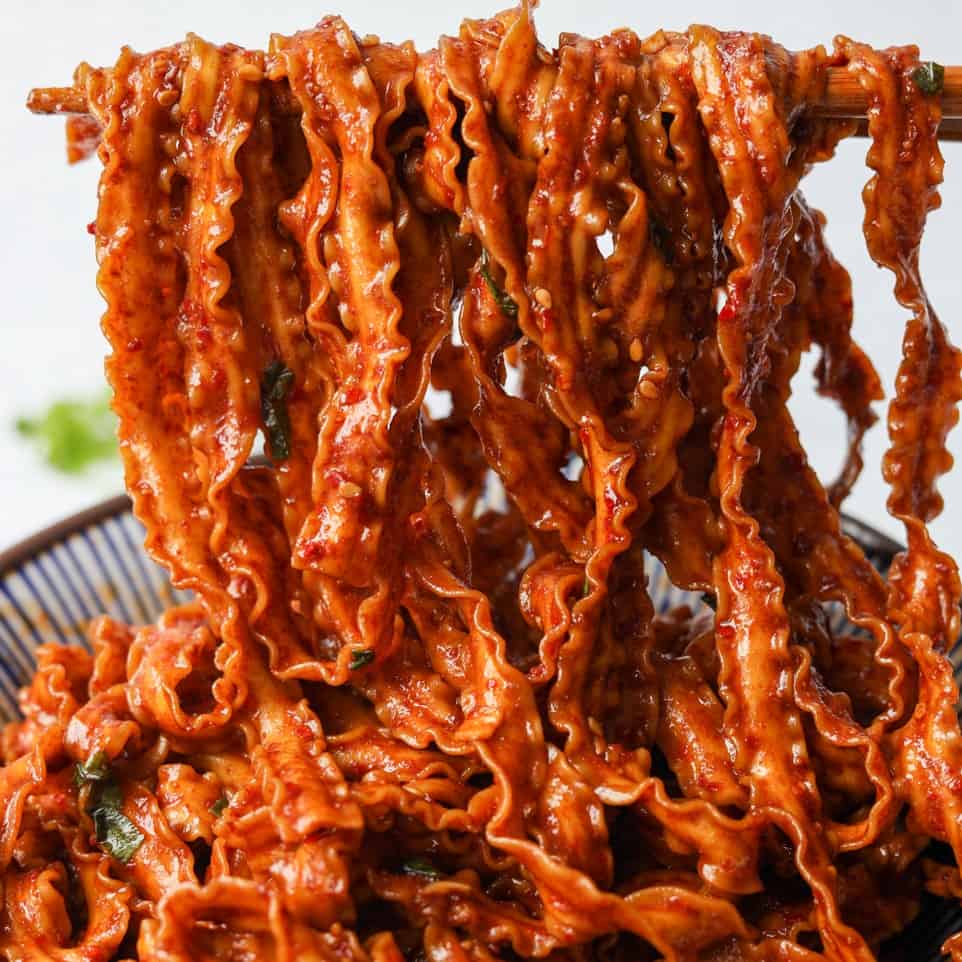 10-min. Easy Spicy Peanut Noodles
Spicy Peanut Noodles. Chewy wide noodles smothered in a sweet garlic peanut chili oil with green onions. Delicious with a spicy kick and easy to make in under 10 minutes! A wonderful side dish for lunch or dinner. This dish is vegan.
Instructions
In a large bowl, add all your sauce ingredients, except for the oil

Heat your oil in a sauce pan over medium heat. To check if it is hot enough, place a chopstick into the oil and watch for bubbles. Once you see bubbles, pour hot oil into the bowl with the sauce ingredients. Mix until well combined.

Boil noodles over medium high heat for 3-5 minutes until al dente. Strain immediately.

Transfer hot noodles into bowl with sauce and mix until each noodle is coated in sauce. Enjoy!
NOTES
The video below shows a portion for 1 serving not 2 as listed in the ingredients. 
Enjoyed my recipe?
Please leave a 5 star review (be kind)! Tag me on social media @christieathome as I'd love to see your creations!
Suggested Equipment & Products
Nutrition
Calories:
783
kcal
|
Carbohydrates:
97
g
|
Protein:
23
g
|
Fat:
39
g
|
Saturated Fat:
5
g
|
Polyunsaturated Fat:
7
g
|
Monounsaturated Fat:
24
g
|
Sodium:
729
mg
|
Potassium:
507
mg
|
Fiber:
3
g
|
Sugar:
4
g
|
Vitamin A:
1839
IU
|
Vitamin C:
2
mg
|
Calcium:
102
mg
|
Iron:
6
mg