Chicken Pad Thai. Delicious bouncy rice noodles stir fried in a sweet, tangy, savory sauce with juicy chicken, eggs, tofu and fresh vegetables.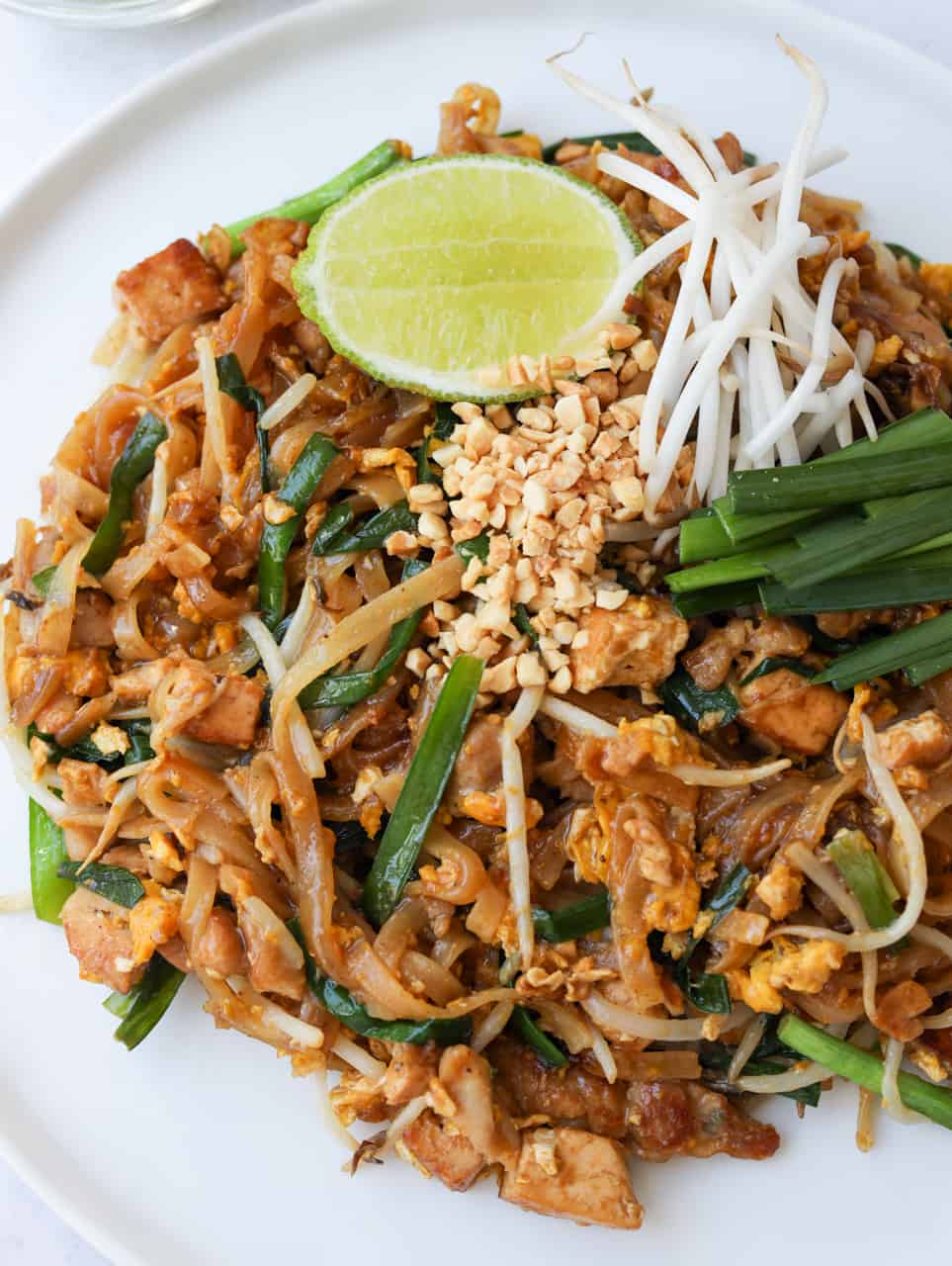 A popular dish served at Thai Restaurants that you can make at home.
Whenever I think of Thai food, Pad Thai is the first dish I think of. It's also my favorite Thai noodle dish thanks to its delicious balance of flavors that hits every note!
Authentic Pad Thai
There are many chicken pad thai recipes online but this one is the best because it's authentic, delicious and packed with flavour!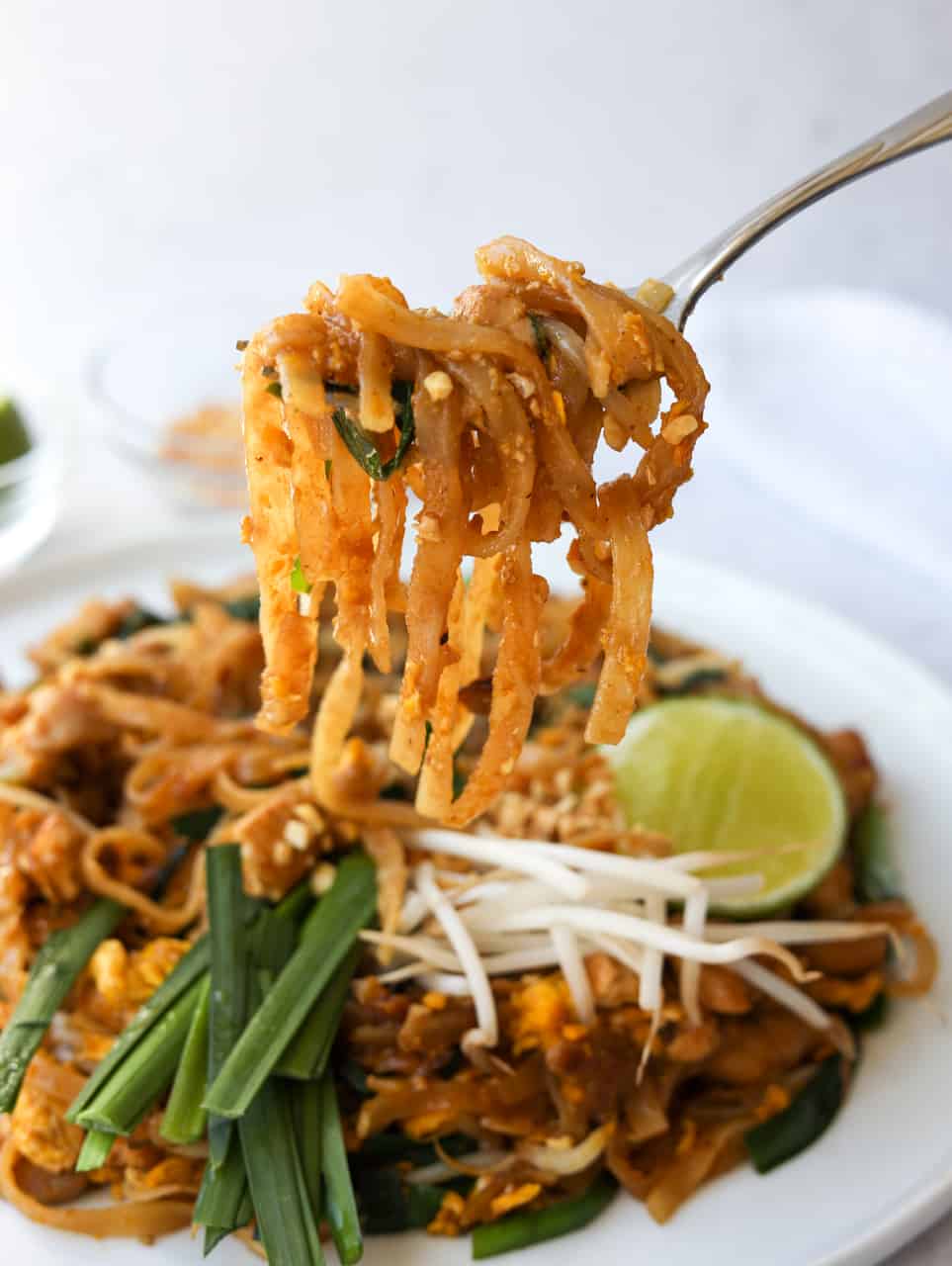 Easy Chicken Pad Thai Recipe
Many people think that pad thai is hard to make. But it's not! The preparation work takes the most time and effort which is just a lot chopping.
Once you get past that, it's all about cooking each ingredient in a large wok until your noodles are cooked to the right texture.
If this is your first time making pad thai, not to worry! I will show you step by step with visuals and a video on how to make this iconic Thai street food dish.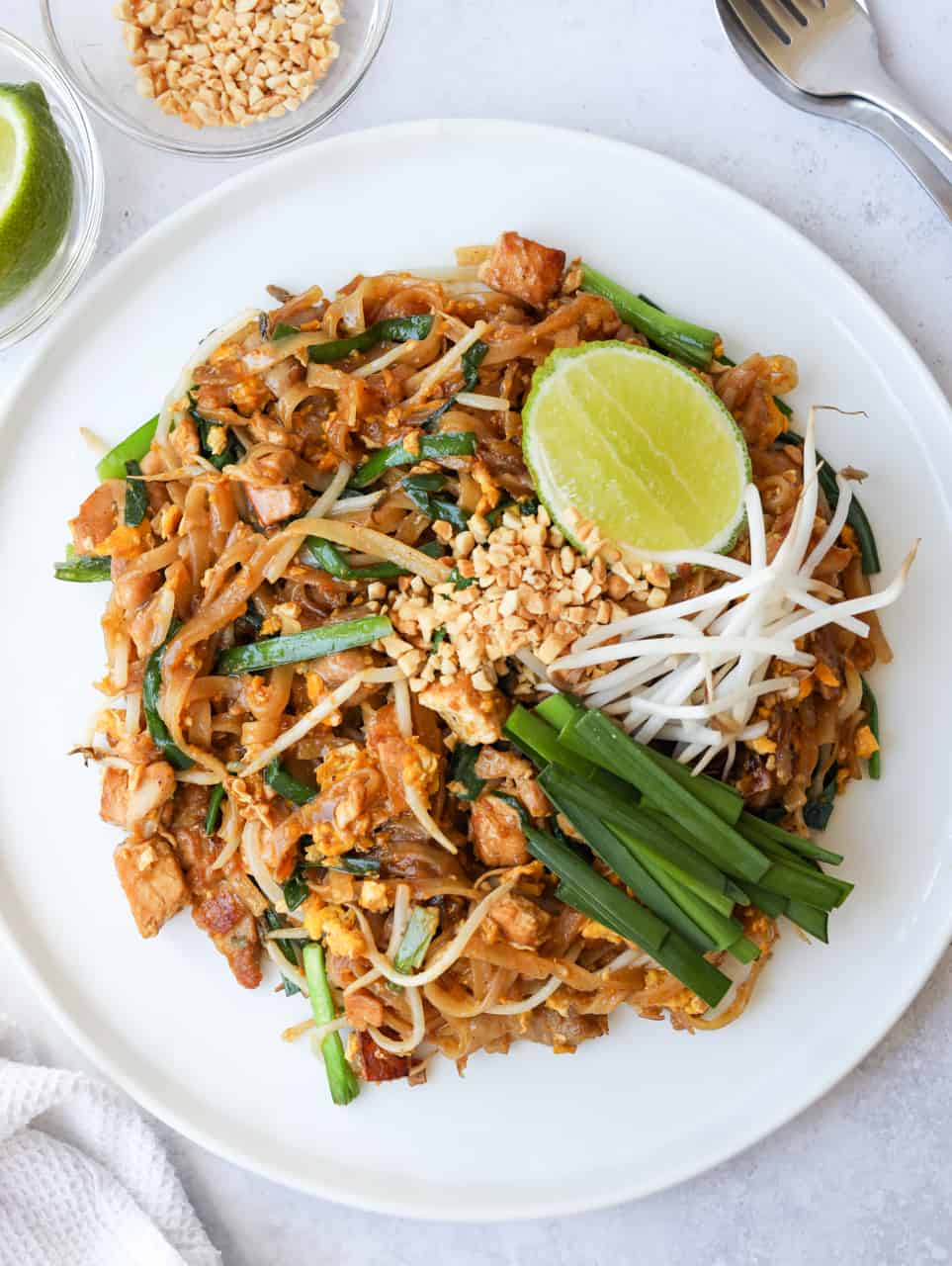 Pad Thai Ingredients
Authentic chicken pad thai is all about that sweet, tangy, savory sauce with a variety of proteins and vegetables. You'll need the below chicken pad thai ingredients.
***Please scroll down to the below Recipe card for full measurements***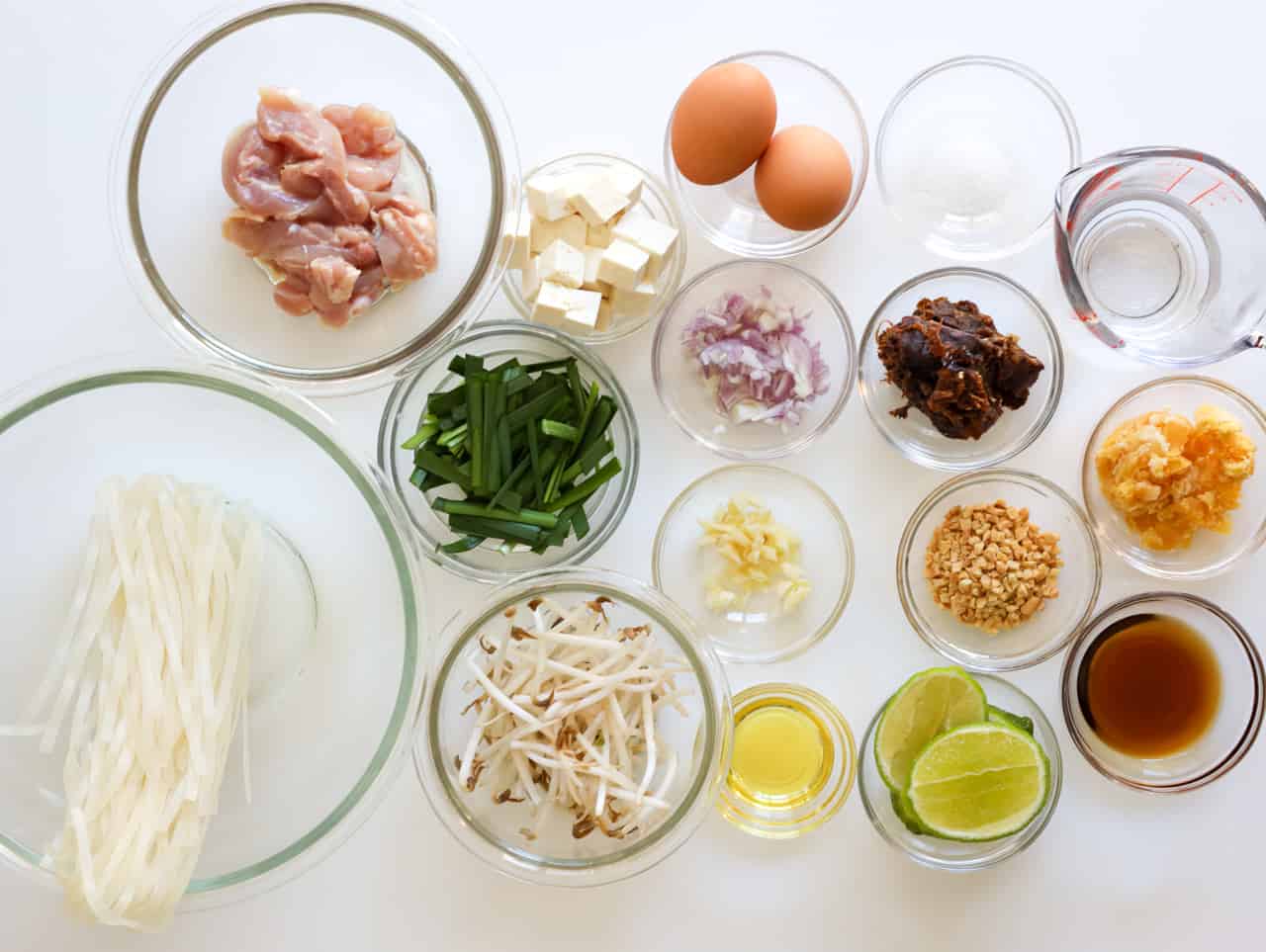 Dried thin flat white rice noodles: Most Asian grocers will carry this item. Sometimes you'll find them at the Western grocery store or online. Place flat rice noodles into a large bowl and pour boiling hot water over them. Then soak them for 5 minutes and strain them.
Do not follow package instructions and cook noodles in boiling hot water on the stove top. This will make them too soft. When we stir fry these soaked rice noodles in the pad thai sauce, they will be al dente.
Proteins
Boneless skinless chicken thighs: Feel free to sub with boneless skinless chicken breasts could work. Be sure to slice your thighs or breasts into thin strips.
Medium firm tofu: I find medium firm tofu to have the best texture for this dish because it's softer than firm. But if you can't locate this item, feel free to use firm tofu.
Eggs: Eggs are iconic to this dish but if you can't eat them, feel free to omit.
Vegetables
Bean sprouts: We are using mung bean sprouts (the ones without the yellow bean attached to it). These give any noodle stir fry dish a crunch. Sometimes your regular grocery store will carry this item. Asian grocers will often carry this ingredient.
Garlic chives: aka Asian chives or Chinese Chives. Asian grocery stores will carry this item. They offer a strong, pungent "garlicky" flavor unlike normal western chives. If you can't find this item, feel free to use green onions or spring onions.
Aromatics
Shallot: This aromatic is commonly used in Thai dishes for its strong oniony flavor. For their small size, they do pack a punch! Most Asian or Western grocers will carry this item.
Garlic: Garlic is one of those fresh ingredients that is always used in Asian cooking.
Avocado oil, or any neutral tasting oil: feel free to replace with any neutral tasting oil like peanut oil, grapeseed oil, vegetable oil, canola oil. But please do not use olive oil due to the slight scent and taste.
Salt: to season the chicken.
Cold Water: We will need some water to help cooked our noodles in the wok or large skillet.
Sauce ingredients
Palm sugar: Asian grocers will carry this item. It offers a mild caramel flavor. Often used in South-East Asian cooking. If you can't find this item at the grocer or online, sub with brown sugar.
Fish sauce: Asian grocers and some Western grocers will carry this ingredient. Used for those salty flavors and umami taste. You can also sub with soy sauce but please add to the Sauce to taste. I would suggest add half the specified item first and add more as you go
Tamarind pulp: Specific Asian grocers will carry this item in a clear package that looks like the below picture.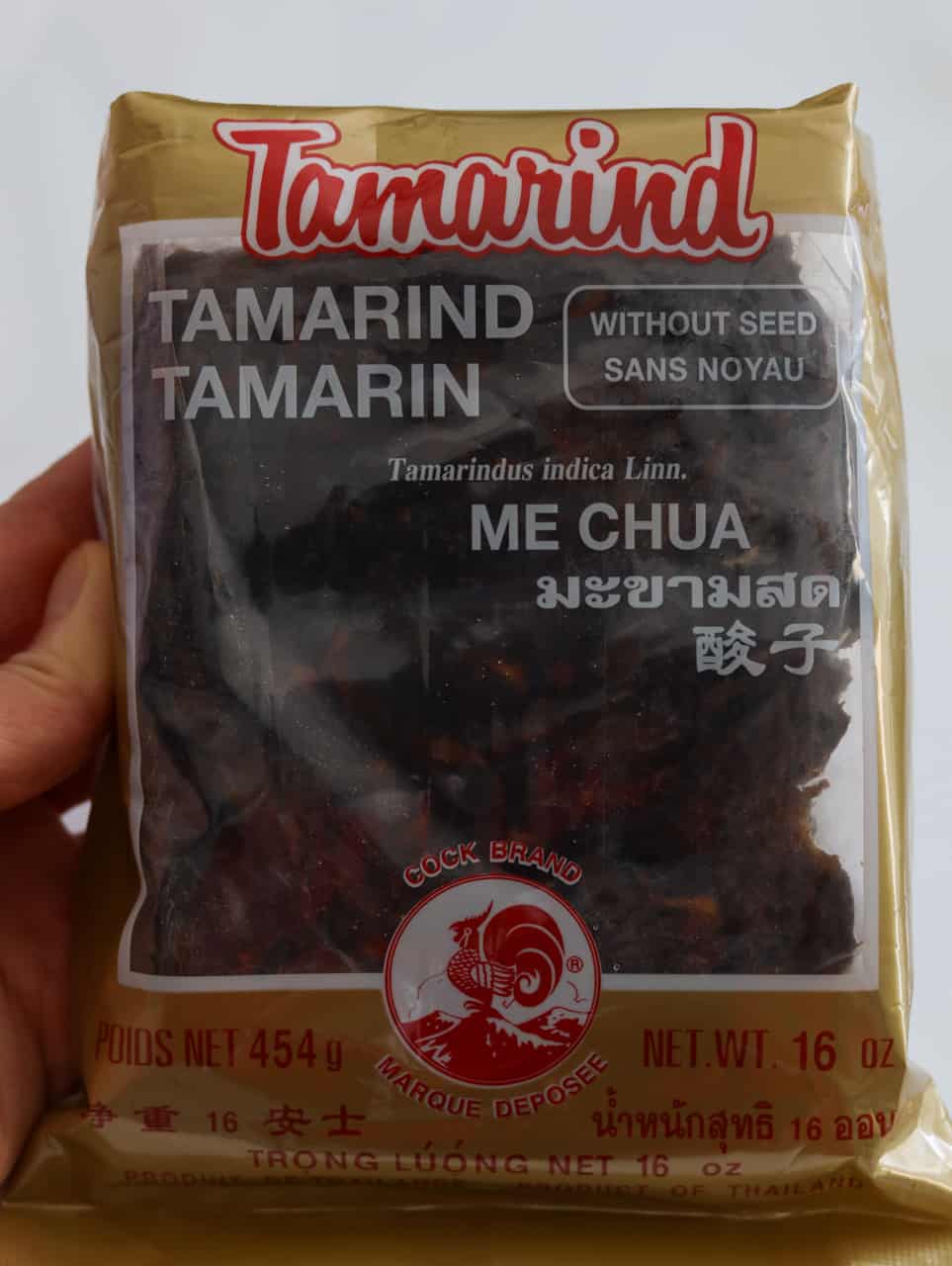 This ingredient is crucial to the recipe for that tangy flavor. With this ingredient, we will make tamarind paste or tamarind concentrate.
Hot boiling water: This will be used to soak the tamarind pulp so that it dissolves into a sour sauce.
Garnish
Lime wedges: The lime juice is highly recommended! It really adds an incredible refreshing tang to the dish.
Crushed peanuts: Crunchy peanuts that have been crushed will add great texture to your soft chewy noodles.
How to make Chicken Pad Thai
Below are visuals to show you how to make chicken pad thai.
***Please scroll down to the recipe card below to find full instructions and details***
Cooking Tips
Below are tips on making the best chicken pad thai recipe:
Making the Tamarind Paste
This is the fun part! Soak the tamarind pulp in hot boiling water for a few minutes. Then use your hands to mush and dissolve the pulp into a paste. Next run the paste through a sieve to remove any seeds or hard small pieces.
Caramelize the palm sugar
This is key for that caramel sweet flavor. It'll only take minutes for the sugar to melt and caramelize. Then we'll add our tamarind paste with fish sauce to create our pad thai sauce! Tip: You could also make this in a large batch for future pad thai!
Soak dried rice noodles in very hot boiling water
In my experience, soaking these noodles in very hot boiling water is the key. Soaked noodles are the trickiest part here so the key is to soak them for 5 minutes until they are limp, or you'll be spending at least 15-20 minutes cooking them on the stove top.
Brown the chicken in the same pan
Fry the chicken in the same pan you caramelized the palm sugar in. This offers extra flavour and helps brown your chicken. Once it's cooked, about 3-4 minutes, remove the chicken and set aside.
Bring out the flavour in the aromatics
Saute the garlic and shallots for 20-30 seconds until they are translucent and fragrant. Then mix in the cubed tofu which will help flavour that protein.
Have a small bowl of water nearby when stir-frying
Have ¼ - ½ cup water nearby to cook your rice noodles. First mix in ¼ cup water and allow noodles to cook for 6-7 minutes. Then taste the noodles and see if they are chewy and soft. If not, add another ¼ cup water and cook until your desired texture.
Cooking the eggs
Move everything to the side of the pan, add a little oil and pour in your eggs. Scramble them and then mix into your noodles over medium heat.
FAQ
Below are frequently asked questions about my chicken pad thai noodles:
Where can I buy most of these ingredients?
An Asian grocer is your best bet in finding the following ingredients:
rice sticks or rice noodles
garlic chives
palm sugar
fish sauce
tamarind pulp
The western grocer will carry the other common ingredients as listed above.
How can I make this gluten free?
You can sub the fish sauce (which may or may not contain gluten depends on the brand) with coconut aminos or tamari sauce.
How can I make this spicy?
Add some chili sauce or red pepper flakes into your sauce to taste before mixing into your noodles.
How long will this dish last?
Pad Thai is best consumed same day. Rice noodles tend to lose their chewy texture after being stored in the refrigerator overnight. If you choose to make it in advance, store it in an airtight container and reheat in the microwave or on the stovetop. It should last 3-4 days.
Other recipes you may like!
If you enjoyed this easy pad thai recipe, you may like these other Thai recipes:
Shrimp Pad Thai
Thai Garlic Shrimp
Thai Spicy Basil Fried Rice
Egg Pad See Ew
Thai Glass Noodle Stir Fry
I hope you give my Chicken Pad Thai a try and enjoy it!
If you think this is a great recipe, leave a star rating and share it with your family and friends or on social media! Take a picture of your re-creation and make sure to tag me @ChristieAtHome in your feed or stories as I would love to see it!
Christie
*This post contains affiliate links. As an Amazon Associate, I earn from qualifying purchases.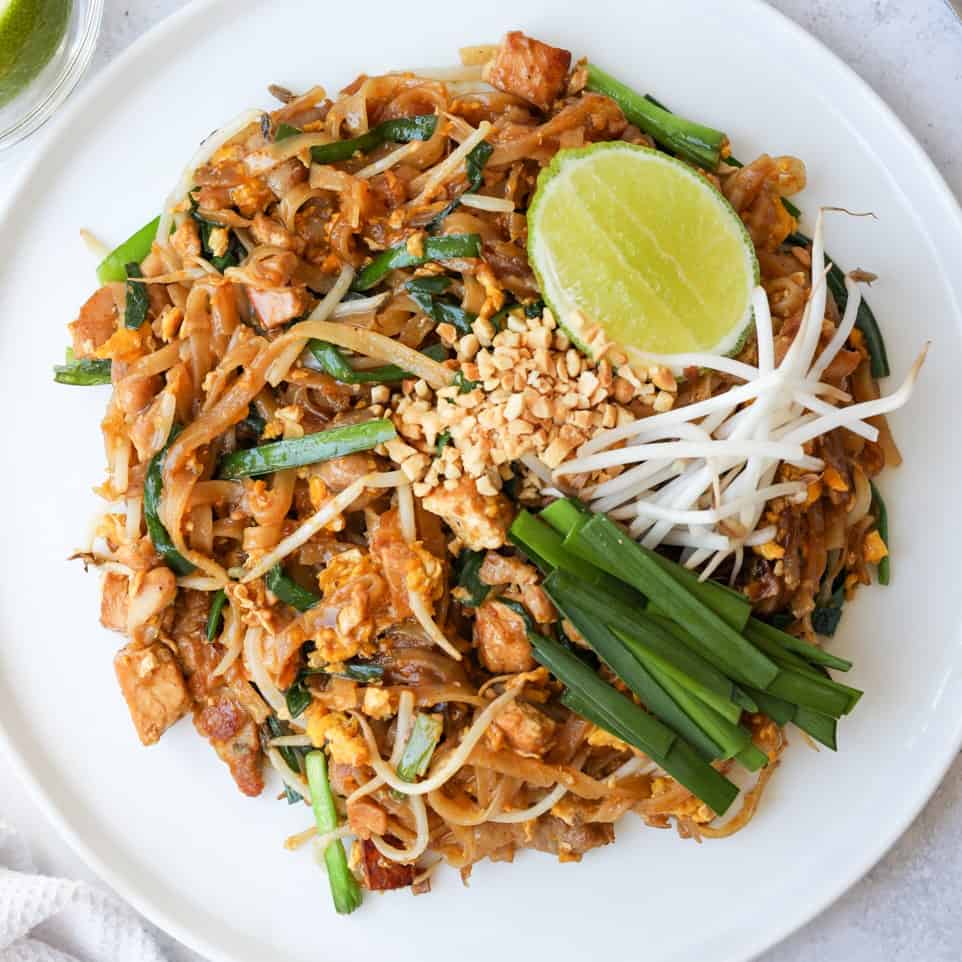 Chicken Pad Thai
Chicken Pad Thai. Bouncy rice noodles stir fried in a sweet, tangy, savory sauce with juicy chicken, eggs, tofu and fresh vegetables. A popular dish served at Thai Restaurants that you can make at home.
Ingredients
115

grams

dried thin flat rice noodles

180

grams

boneless skinless chicken thighs

sliced thinly

115

grams

tofu

medium firm, cubed

2

eggs

1

cup

bean sprouts

½

cup

garlic chives

chopped into 2 inch length

½

shallot

roughly chopped

2

garlic cloves

roughly minced

2

tablespoon

avocado oil

or any neutral tasting oil

¼

teaspoon

salt

to season chicken

¼

cup

water

or as needed
Garnish
1

lime

sliced into wedges

¼

cup

roasted peanuts

crushed for garnish
Instructions
Season sliced chicken thighs with salt. Set aside.
Sauce:
To make your tamarind concentrate: submerge tamarind pulp in ⅓ cup hot boiling water and soak for 3 minutes.

Allow for it to cool and then with your hands, squeeze and massage the pulp as best you can, until it dissolves in the water.

Strain as much as the tamarind paste through a fine sieve, discarding the seeds keeping the paste. This is your tamarind paste.

In a non stick wok on low medium heat, pour in palm sugar. Allow this to caramelize for 2-3 minutes.

Mix tamarind paste with caramelized. Then mix in fish sauce. Remove sauce from wok and set aside in a small bowl.
Stir-Fry:
Soak your rice noodles in very hot boiling water for 5 minutes (no more) until limp. Strain immediately. Set aside.

Over medium heat, add 2 teaspoon avocado oil and your chicken. Fry chicken until cooked. Remove from heat and set aside.

Add 2 teaspoon of oil. Fry shallots and garlic for 20-30 seconds.

Add firm tofu and cook for 1-2 minutes.

Toss in rice noodles and sauce mixing everything together.

Add ¼ cup of water and mix with noodles. Cook for 7 minutes. After the 7 minute mark, taste noodles to check if they are chewy and soft. If not, add another ¼ cup water and cook until noodles are to your liking.

Mix in chicken, then push everything to the side.

Add remaining oil into the empty space of wok. Pour in eggs. Scramble them first and then mix in with noodles.

Mix in bean sprouts and garlic chives for 20 seconds. Remove off heat.

Optionally serve with limes and crushed peanuts. Enjoy!
Enjoyed my recipe?
Please leave a 5 star review (be kind)! Tag me on social media @christieathome as I'd love to see your creations!
Suggested Equipment & Products
Nutrition
Calories:
988
kcal
|
Carbohydrates:
137
g
|
Protein:
46
g
|
Fat:
32
g
|
Saturated Fat:
6
g
|
Polyunsaturated Fat:
7
g
|
Monounsaturated Fat:
17
g
|
Trans Fat:
0.03
g
|
Cholesterol:
249
mg
|
Sodium:
1730
mg
|
Potassium:
873
mg
|
Fiber:
10
g
|
Sugar:
35
g
|
Vitamin A:
735
IU
|
Vitamin C:
35
mg
|
Calcium:
232
mg
|
Iron:
7
mg