Hong Kong Tomato Macaroni Soup. An easy, hearty and satisfying macaroni soup that only takes 15 minutes to make. Serves perfectly for lunch or dinner. Made with pantry friendly and freezer ingredients.
This Hong Kong tomato macaroni soup recipe is SUPER easy. You literally throw everything except the dried macaroni into your soup pot and bring it to a boil!
All you need for this recipe is macaroni, any broth of choice, hot dogs, mixed frozen vegetables, pureed tomatoes, ketchup, potato and a fried egg (optional). You probably have most of these ingredients in your house already and that's why this is an easy recipe!
You can also save the remaining hot dogs for another time, that's what I usually do and they taste fine!
It's actually the perfect recipe to make during this time when everyone is at home thanks to the Coronavirus. So I hope you enjoy my Hong Kong macaroni tomato soup recipe!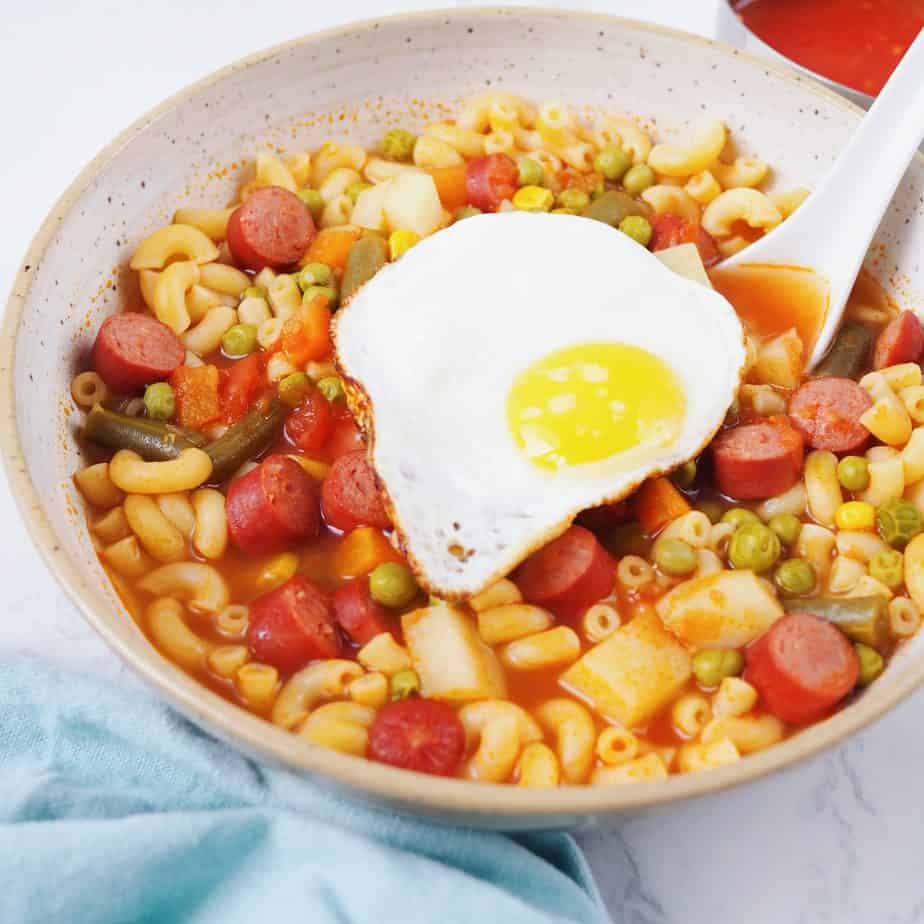 Other recipes you may like!
Dill Cheese Pasta for One
Tuna Pasta Salad
6-ingredient tomato basil pasta
Creamy Arrabiata Pasta
.
Why is this dish called Hong Kong style tomato macaroni soup?
In Hong Kong, this is actually a popular breakfast or brunch meal. You'll see it eaten often at HK cafes as it's usually on the menu. You can even find many HK style cafes in Ontario, Canada especially in Markham or Richmond Hill.
There's two variations - one with tomato broth and one with just plain meat broth. Both are super delicious!
What if I'm vegan or I don't like hot dogs?
For my Hong Kong style tomato macaroni soup recipe, if you are vegan you can swap it for vegan hot dogs. But add it in at the very end so they don't turn to mush!
Also, you can omit the hotdog and eggs while swapping the broth for veggie broth.
If you're not a fan of hotdogs, you can always swap it for ham, sausage or any meat of your choice for this HK Macaroni soup recipe.
Pin for later!
On a Personal Note
How is everyone doing? I hope you're all healthy, taking good care and practicing social distancing during these concerning times. Who knew we would ever experience a virus this infectious causing countries to go into lockdown mode? I mean SARS was bad enough!
But with every dark cloud comes a silver lining. With the reduced air and ground travel, companies and non-essential businesses being closed temporarily, this has forced workers to stay home or spend some time outdoor in nature. As a result, the pollution levels has decreased, especially in the most infected areas like Italy and China. Check out this article by CNBC for more.
I am thankful....
That our Prime Minister is doing is his best to protect Canadian citizens. At the start of last week, he had all non-essential restaurants, bars, and cinemas close and encouraged companies to allow staff to work from home which most have adapted to. He also has closed the borders to non-Canadian citizens and urged all Canadian travelers to return home immediately and self-quarantine for 14 days. Today "Trudeau says that provinces and local governments continue to take steps to restrict people's movements and the federal government stepping in is a last resort." Source: Global News.
It is unfortunate that small businesses have been so heavily impacted by this. My hope is that all Canadians can continue to do their part by social distancing and staying home. I know it's not pleasant to be cooped up at home - trust me, I work from home full time so I know what it's like to experience cabin fever. But this is important. We all have to do our part so we can flatten the pandemic curve and stop it from spreading. The more people who cooperate the faster we can flatten it, the faster we can all escape our homes haha!
I do want to thank those who are cooperating and doing their best. It's also so amazing to see more people cooking at home on social media! I hope this whole experience teaches us that cooking isn't that hard and can be really fun.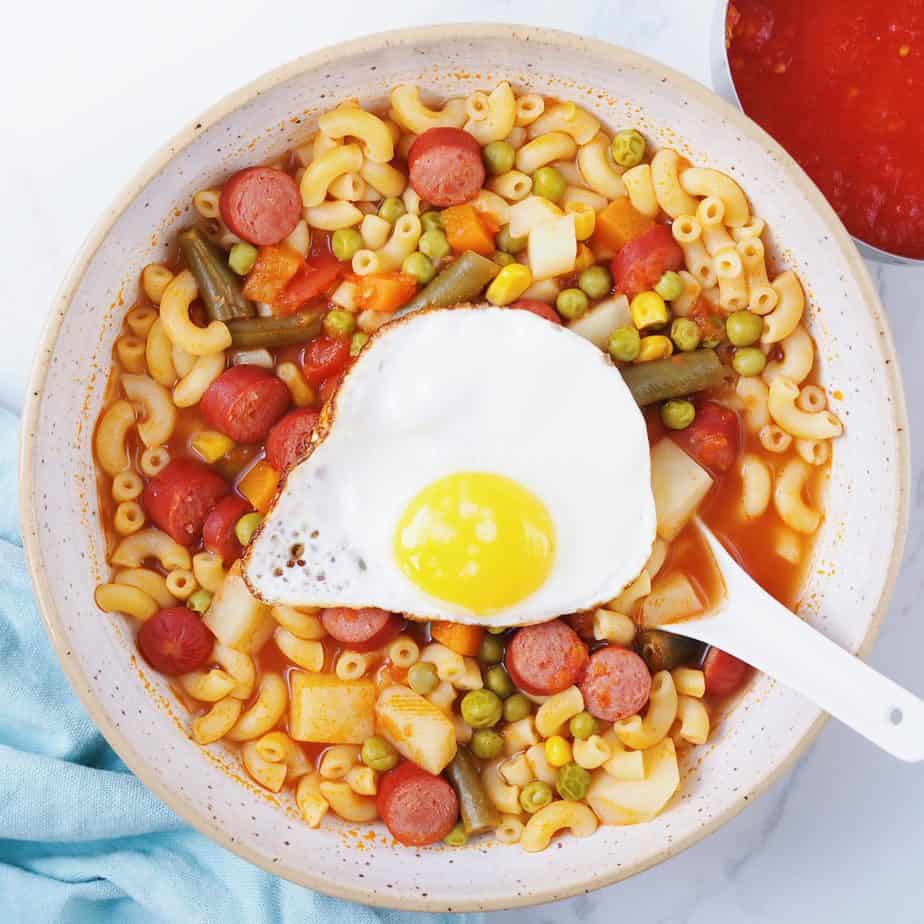 Give it a try!
Well I hope you give my Hong Kong Tomato Macaroni Soup recipe a try! It always excites me when you guys make my recipes and I hope this is one you try.
Thanks for visiting my blog! If you enjoyed this Hong Kong macaroni tomato soup, please share it with your family and friends or on social media! Take a picture if you've made my recipe and tag me on Instagram @christieathome in your feed or stories so I can share your creation in my stories with credits to you!
Made this recipe and loved it?
If you could leave a star rating, I would greatly appreciate it 🙂 Thanks so much!
Take care,
Christie
*This post contains affiliate links. As an Amazon Associate I earn from qualifying purchases. I also earn from qualifying purchases through additional affiliate programs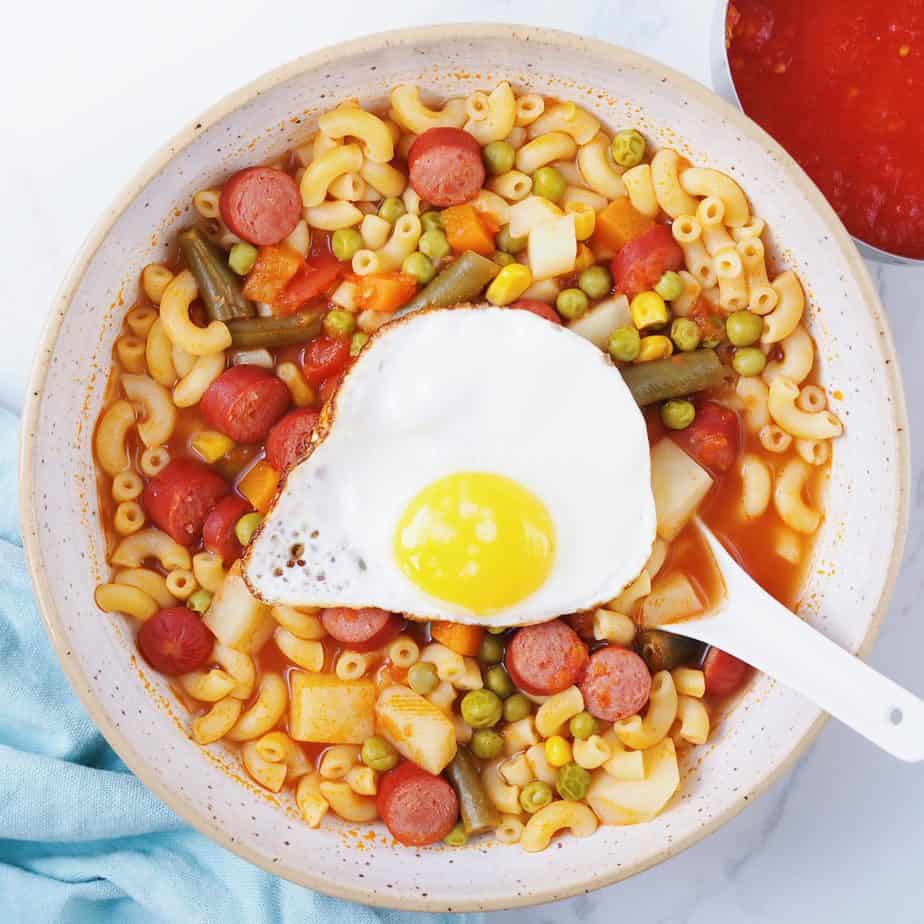 HK Tomato Macaroni Soup (15-min. Recipe)
An easy, hearty and satisfying macaroni soup that only takes 15 minutes to make. Serves perfectly for lunch or dinner. Made with pantry friendly and freezer ingredients.
Ingredients
Instructions
Boil your macaroni to Al Dente according to package instructions. Once cooked strain pasta.

Meanwhile in another pot, add chicken broth, puréed tomatoes, potatoes, ketchup, salt, hotdogs, and frozen vegetables. Bring to a boil.

Reduce heat to a rolling simmer. Cover with a lid. Cook for 7 to 10 minutes until your hotdogs and potatoes are cooked.

Optional: In the meantime, fry your egg(s).

Stir in the cooked macaroni and serve. Place egg overtop. Enjoy!
Enjoyed my recipe?
Please leave a 5 star review (be kind)! Tag me on social media @christieathome as I'd love to see your creations!
Suggested Equipment & Products
Nutrition
Calories:
342
kcal
|
Carbohydrates:
49
g
|
Protein:
16
g
|
Fat:
12
g
|
Saturated Fat:
4
g
|
Cholesterol:
30
mg
|
Sodium:
2575
mg
|
Potassium:
1416
mg
|
Fiber:
8
g
|
Sugar:
11
g
|
Vitamin A:
5383
IU
|
Vitamin C:
56
mg
|
Calcium:
109
mg
|
Iron:
6
mg
Suggest Equipment