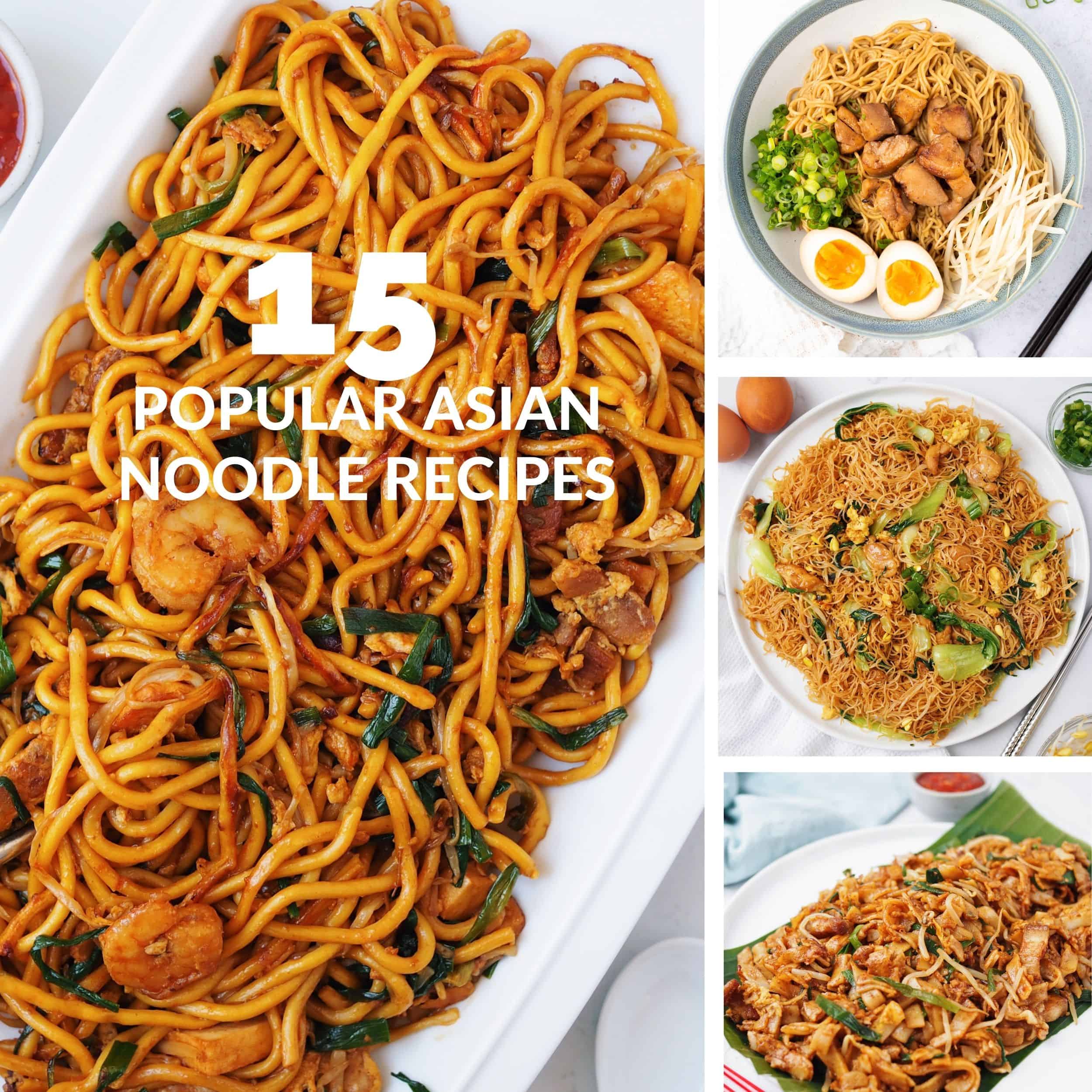 I'm sharing 15 Popular Asian Noodle Recipes from Thailand, Malaysia, Korea, Japan, Indonesia and China! These are the top asian noodle recipes on my blog from around the world.
Noodles are great! They really come together quickly in usually less than 30 minutes so they are perfect for a quick weeknight meal! And that's why I had to share this round up of the many famous Asian noodle dishes from pan-Asian cuisine!
I will be sharing them in order of my favourite recipes starting with #1 as the top! But quite honestly, they're all delicious and it was incredibly difficult picking only one to be No.1 of my top Asian noodles recipes!
#1. Char Kway Teow (South-East Asia)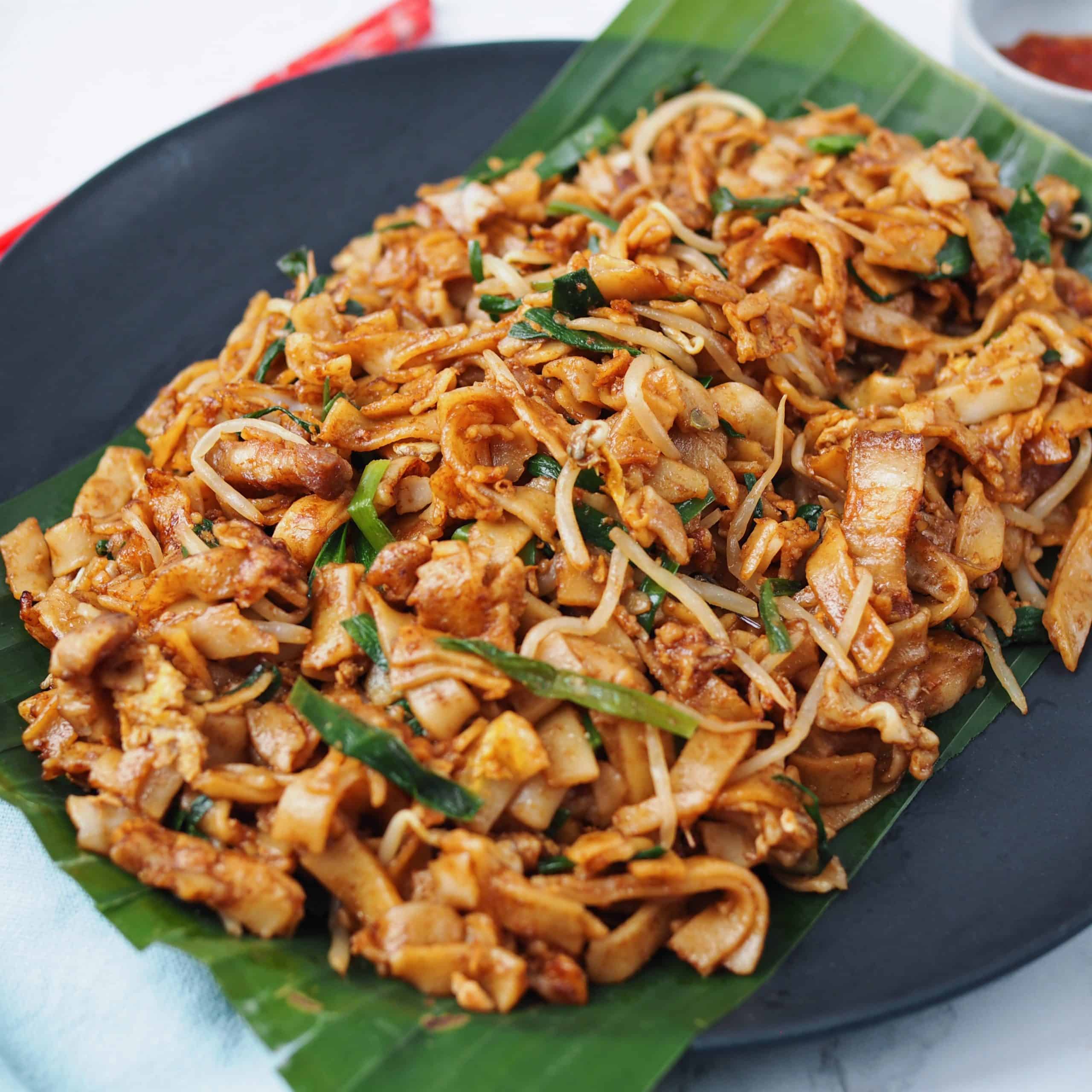 Char Kway Teow. Savoury, flavourful flat wide rice noodles coated in a salty sweet soy sauce. Paired deliciously with pork belly, beansprouts, Chinese chives, garlic and egg. A perfect meal for dinner or lunch. This recipe only takes 30 minutes.
These noodles are my ALL-time flavourite in the world. They originate from South-East Asian and it's a controversial noodle as Malaysia, Indonesia and Singapore all claim to have their own version and that their version is the best.
#2. Jajangmyeon or Jjajangmyeon (Korea)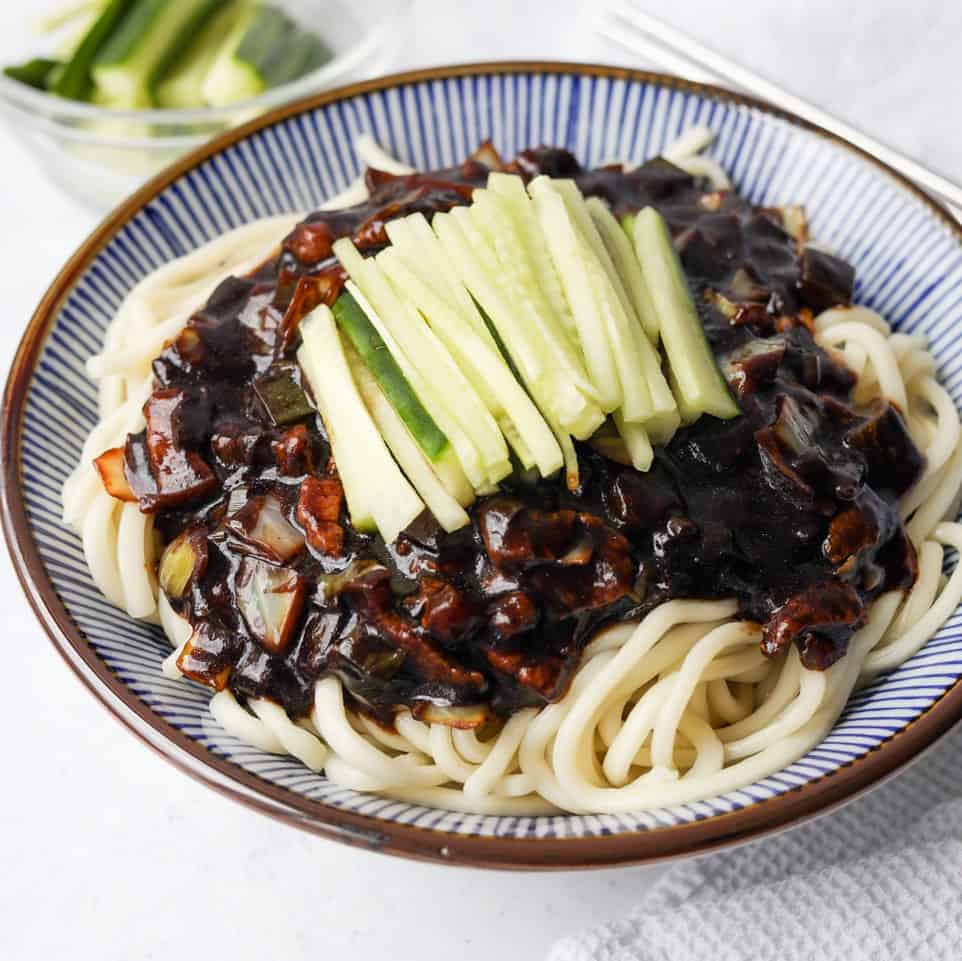 Jajangmyeon Black Bean Noodles. Thick wheat noodles smothered in a heavy black bean sauce with either pork or chicken, cabbage and onions. Sometimes the sauce can include zucchini and potatoes. A popular delicious Korean noodle dish and in China too as the black bean paste is a popular ingredient use in both countries. This dish comes together in 30 minutes!
#3. Chicken Ramen Bowl (Japan)
Ramen is a very popular noodle dish that many of us are familiar with! It originates from Japan and there are many ways to cook it. From having it in a soup broth, stir frying, to mixing it with your favourite ingredients in a warm savoury sauce like this Soy Chicken Ramen Bowl. Ramen noodles smothered in a sweet soy sauce paired with tender juicy marinated chicken with a soy sauce egg, green onions and beansprouts. A delicious meal idea for dinner or lunch. Ready in 35 minutes.
#4. Chicken Pad Thai (Thailand)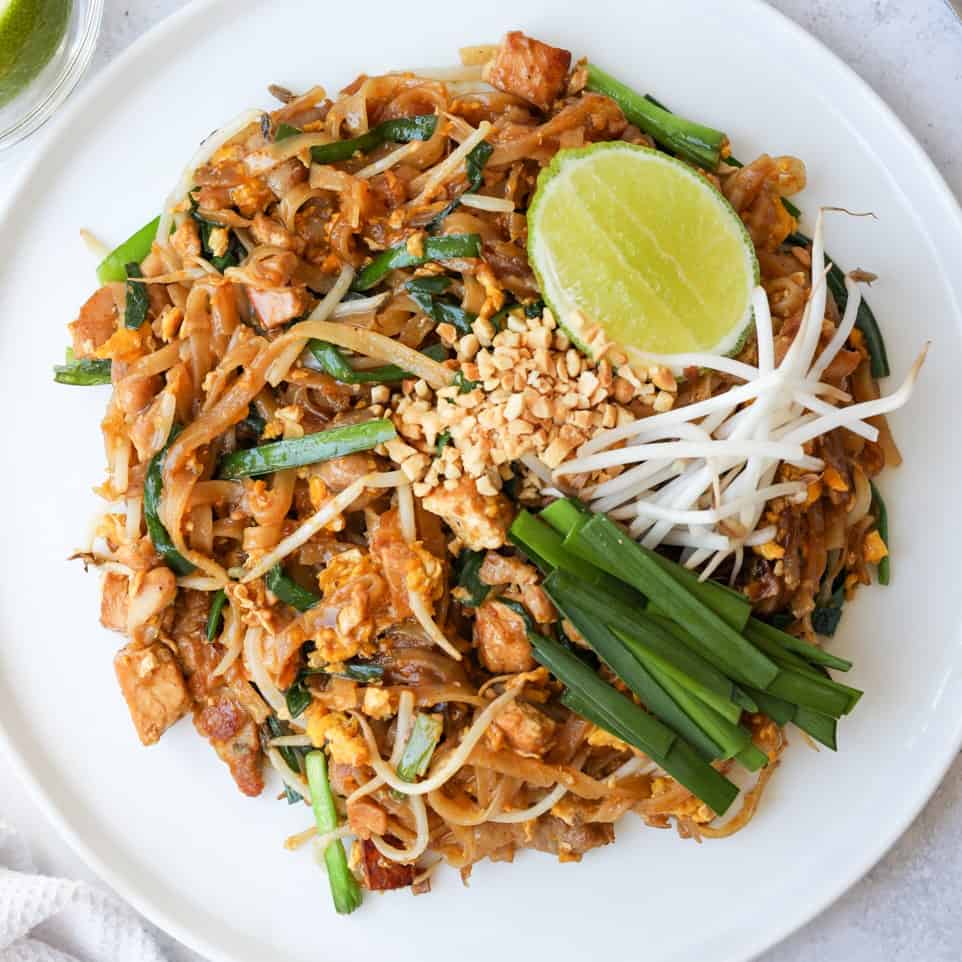 Chicken Pad Thai. A delicious, savoury, sweet and sour stir-fried noodle dish that will keep you coming back for more! Made in less than 30 minutes. Perfect for dinner or lunch! One of my all-time favourite meals in Thai cuisine. There are many versions online that use ketchup as the sauce base but this one is authentic using tamarind paste!
#5. Hokkein Mee (South-East Asia)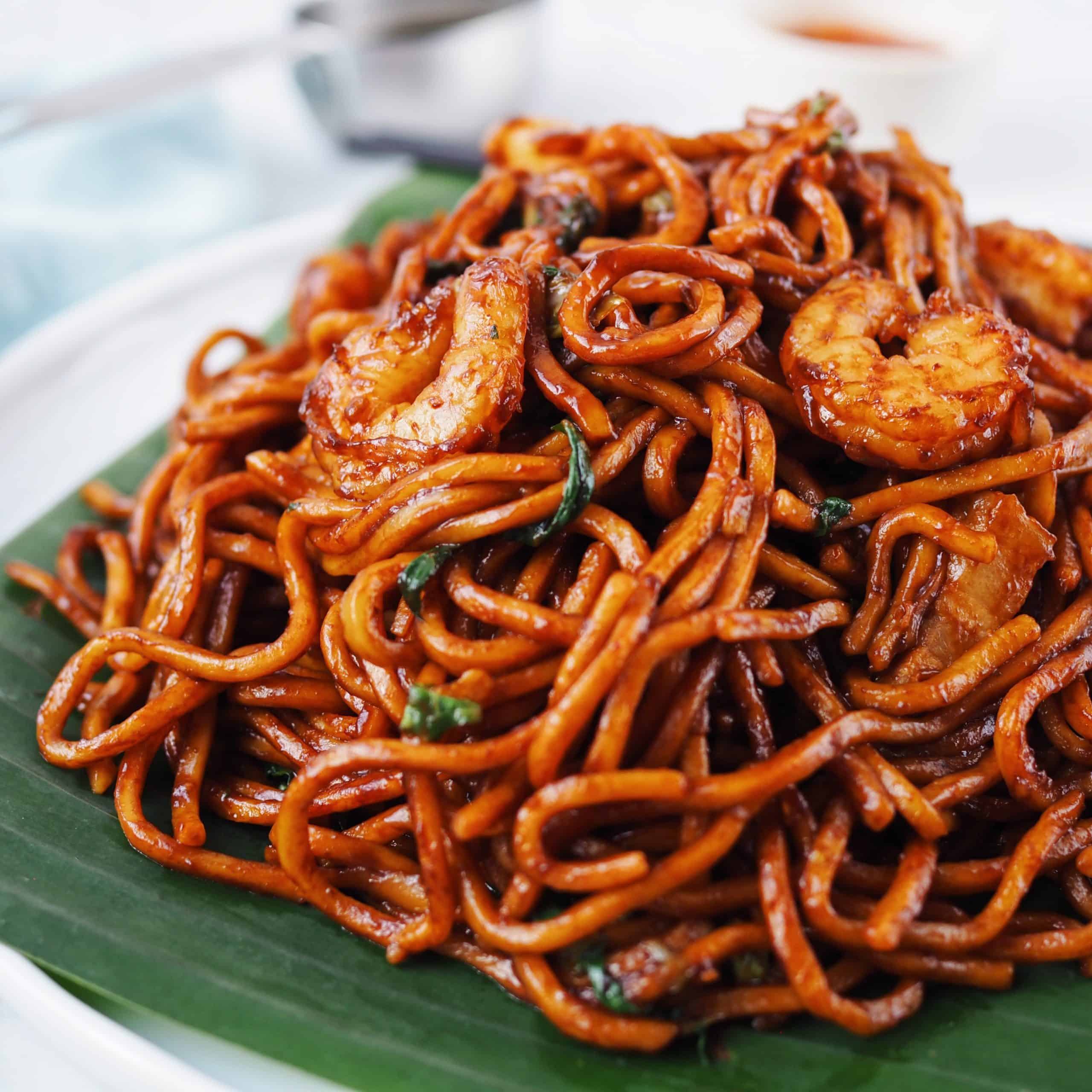 KL Hokkein Mee. Savoury thick chewy egg noodles smothered in a brown sweet and salty soy sauce accompanied with prawns, pork belly, cabbage, and gai-lan. The perfect meal for dinner or lunch. Ready in 30 minutes! This version is cooked Malaysian style hence the name "KL Hokkein Mee" with the KL standing for "Kuala Lumpur". This dish originates from Singapore, invented by two brothers. It has become so popular that it is well known in Malaysia and most of Asia.
#6. Mee Goreng (Indonesia)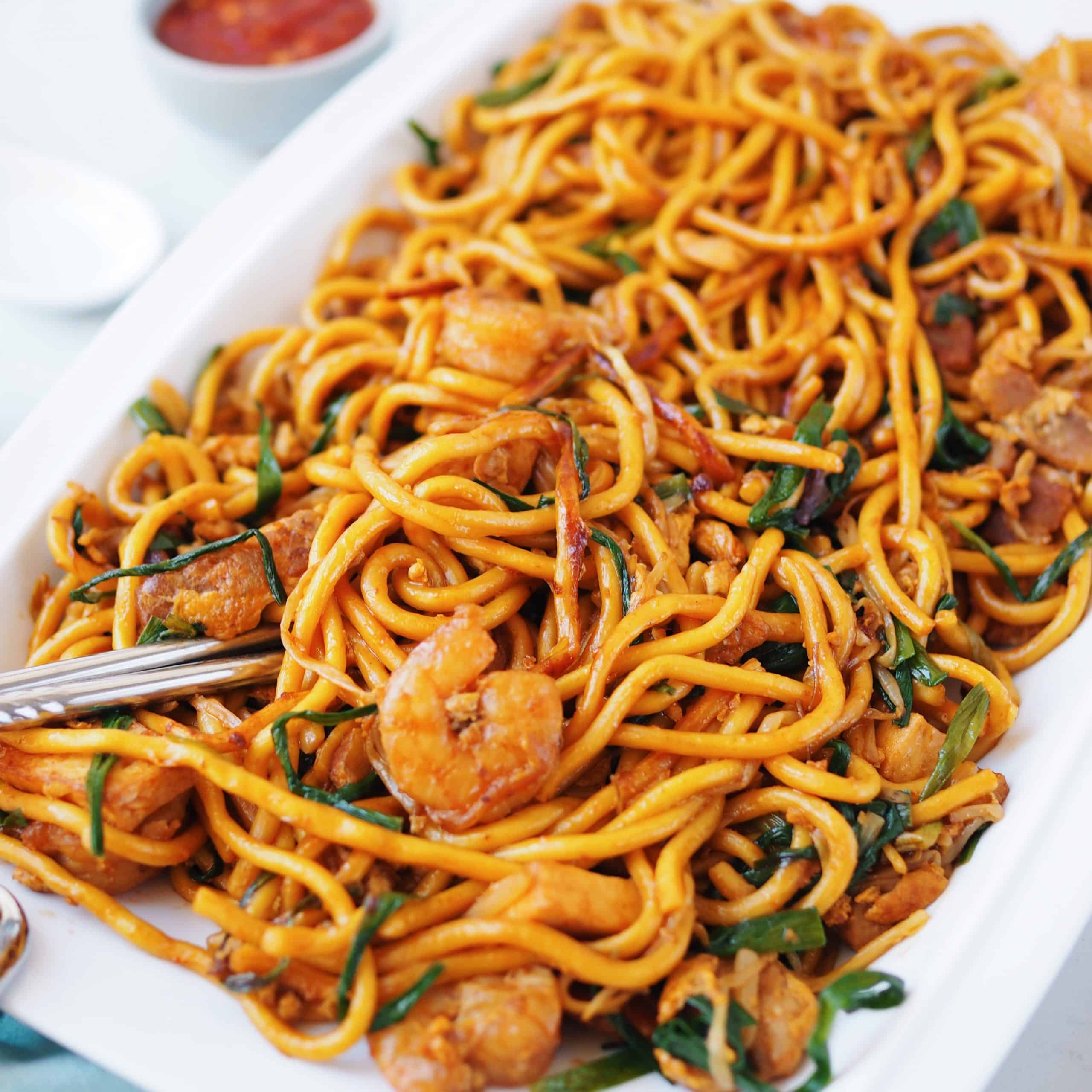 Mee Goreng. Thick chewy egg noodles smothered in a glossy, sweet and savoury sauce with pork belly, shrimp, fish cakes, Chinese chives and beansprouts. Ready in 30 minutes and great for dinner or lunch. Mee goreng noodles originates from Indonesia and has popularly spread to Malaysia, Singapore and Brunei. It's so popular in South East Asia they created an mee goreng instant noodles so people could easily have it at home.
#7. Pad Woon Sen (Thailand)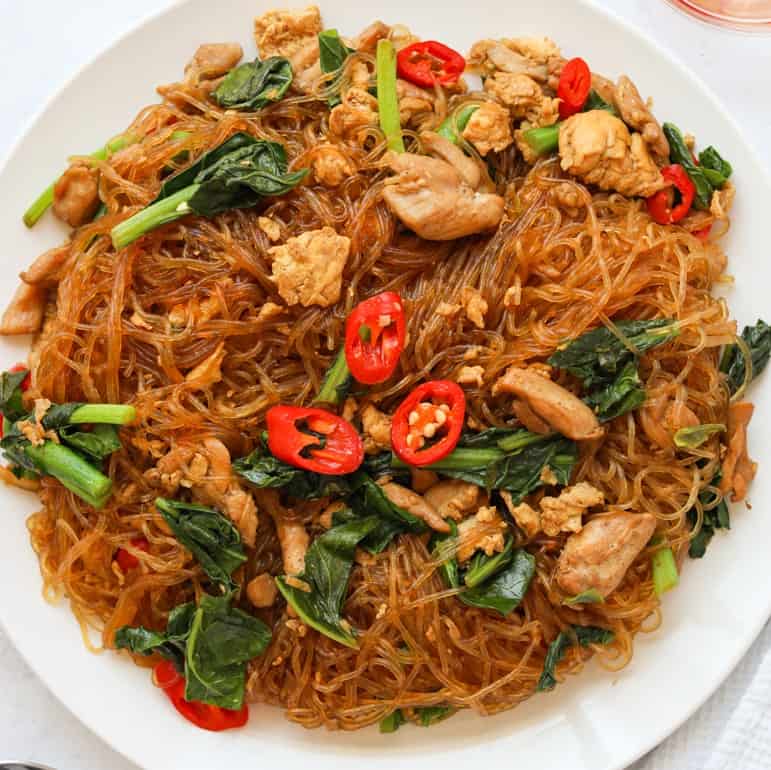 Pad Woon Sen aka Pad Woon Sen. Delicious, chewy glass noodles covered in a soy oyster sauce accompanied with chicken, leafy greens and a red chilli vinegar that is so easy to make at home! These pad woon sen noodles only take 30 minutes or less to make and are perfect for lunch or dinner. This dish originates from Thailand and is popularly available at most Thai restaurants!
#8. Sichuan Dan Dan Noodles (Sichuan, China)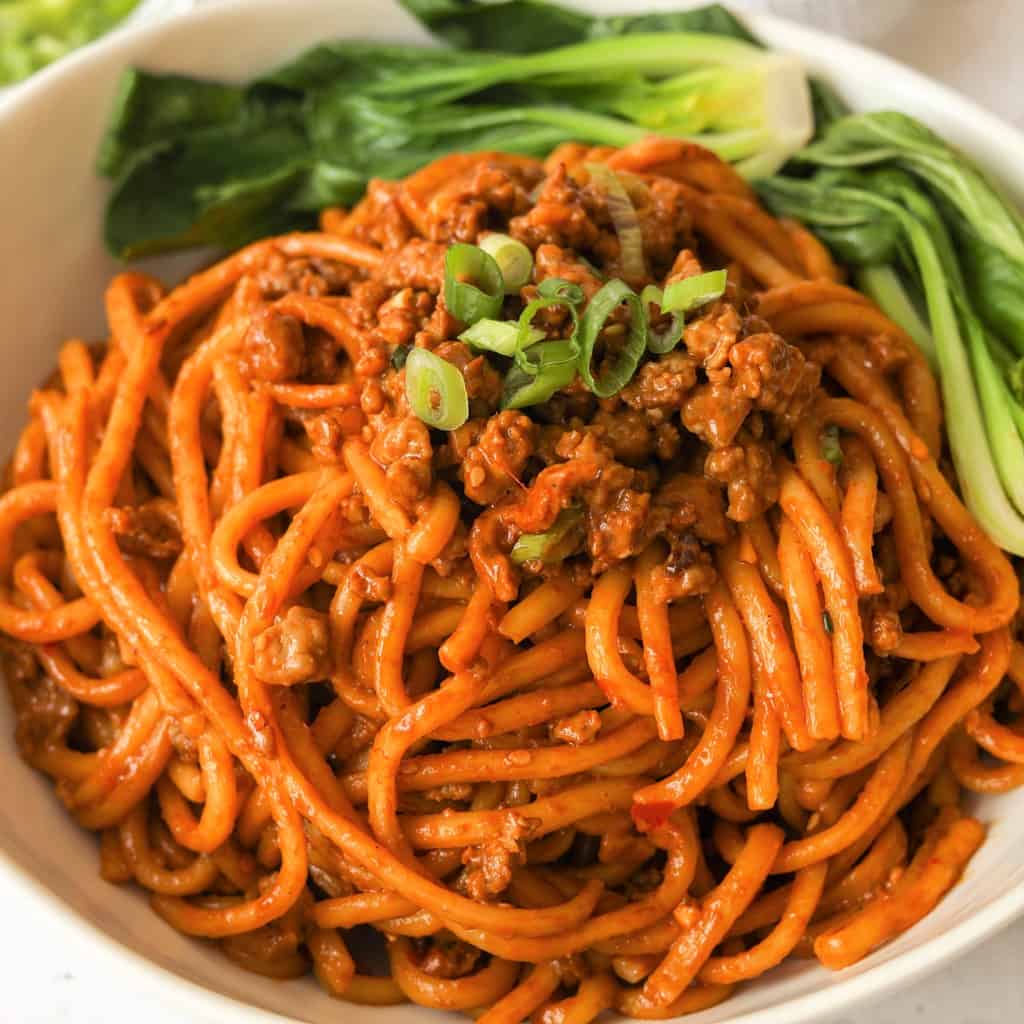 Sichuan Dan Dan Noodles. Noodles smothered in a mala spicy chili oil, accompanied with hoisin flavoured pork and tangy preserved mustard greens. A delicious dish for dinner or lunch that will truly hit the spot. Ready in 30 minutes with prepared chili oil.
Sichuan chili noodles is a very popular dish that originated as a street food dish in Sichuan, China. It's very popular because it's so flavourful, delicious, addictive and satisfying! What makes this dish so addictive is the mala chili oil that uses Sichuan Pepper Powder. Once you have a bite you cannot stop!
#9. Chicken Chow Mein (China)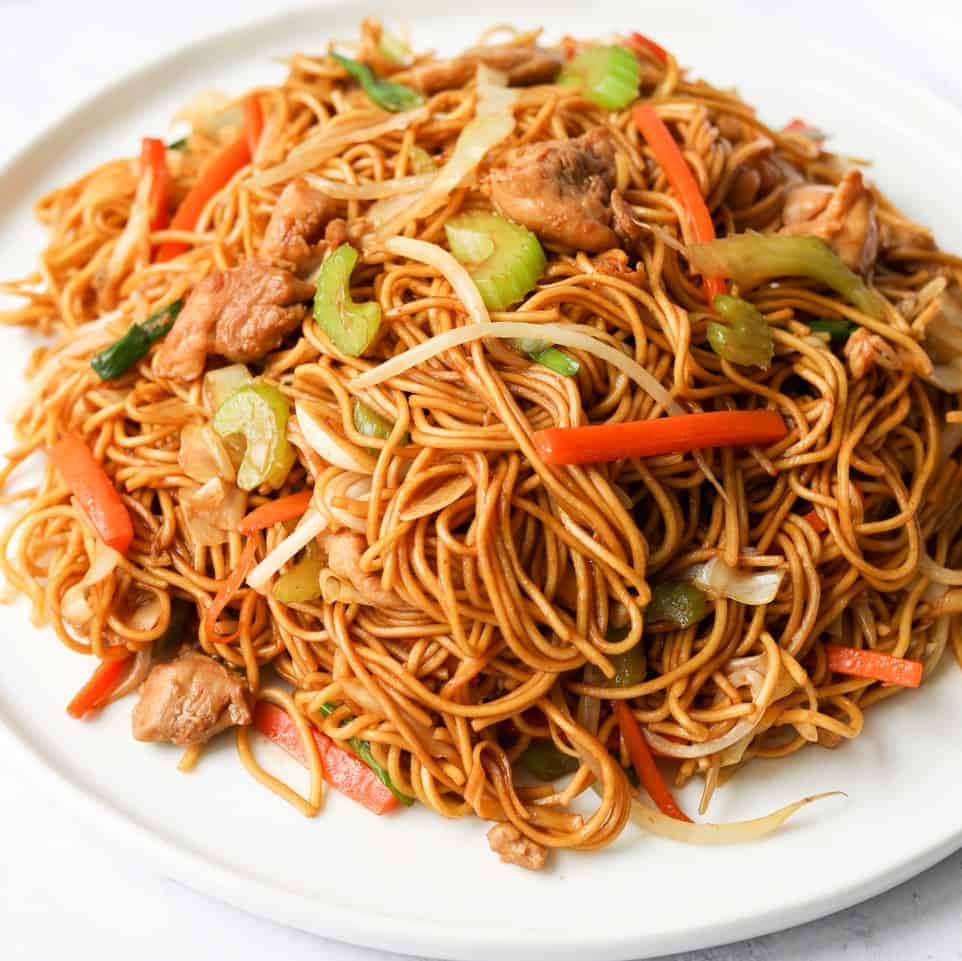 Cantonese Vegetable Chow Mein. Chow mein noodles smothered in a thick glossy sauce accompanied a variety of veggies and a protein. Great for dinner, lunch or leftovers. Ready in 20 minutes. The chow mein noodles are fried in oil and as a result, become so crispy! But when they are topped off with that luscious thick vegetable stir fry sauce, it's pure heaven in your mouth! This noodle dish originates in China and is popularly found at most Asian restaurants.
#10. Bihun Goreng (Indonesia)
Bihun Goreng Fried Vermicelli, also known as Bee Hoon Goreng. A popular stir fried vermicelli noodle dish that originates from Indonesia and is commonly eaten in South East Asia. Bihun Goreng consists of chewy springy vermicelli noodles fried with leafy greens, tender chicken, egg, bean sprouts, and garlic. Seasoned with a sweet soy sauce for the perfect flavour.
#11. Thai Drunken Noodles (Thailand)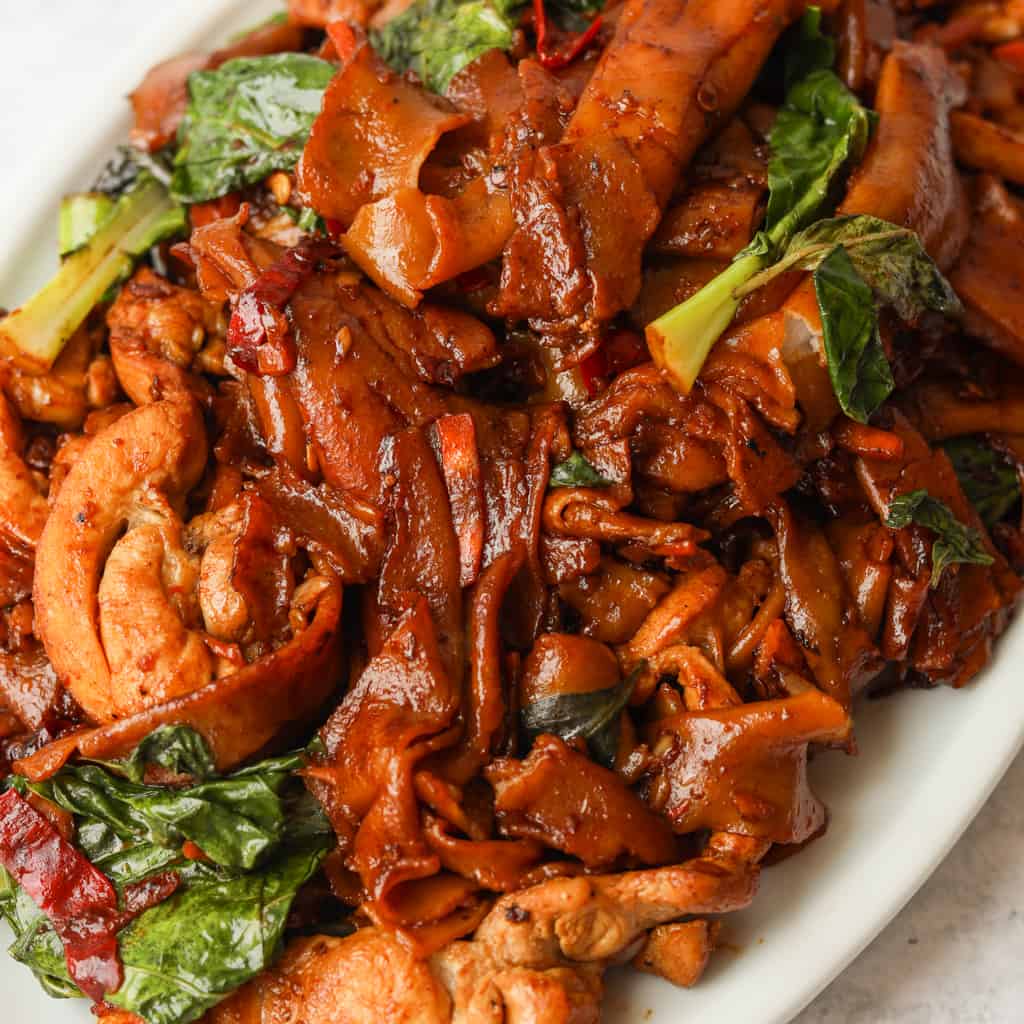 Thai Drunken Noodles aka Pad Kee Mao. Savoury, flavourful noodles with a hint of spice and a wonderful taste of basil. Perfect for dinner or lunch. Ready in 30 minutes. There are many ways to cook Thai Drunken Noodles or Pad Kee Mao Drunken Noodles as you can alternate between the proteins and the noodles types.
#12. Janchi Guksu (Korea)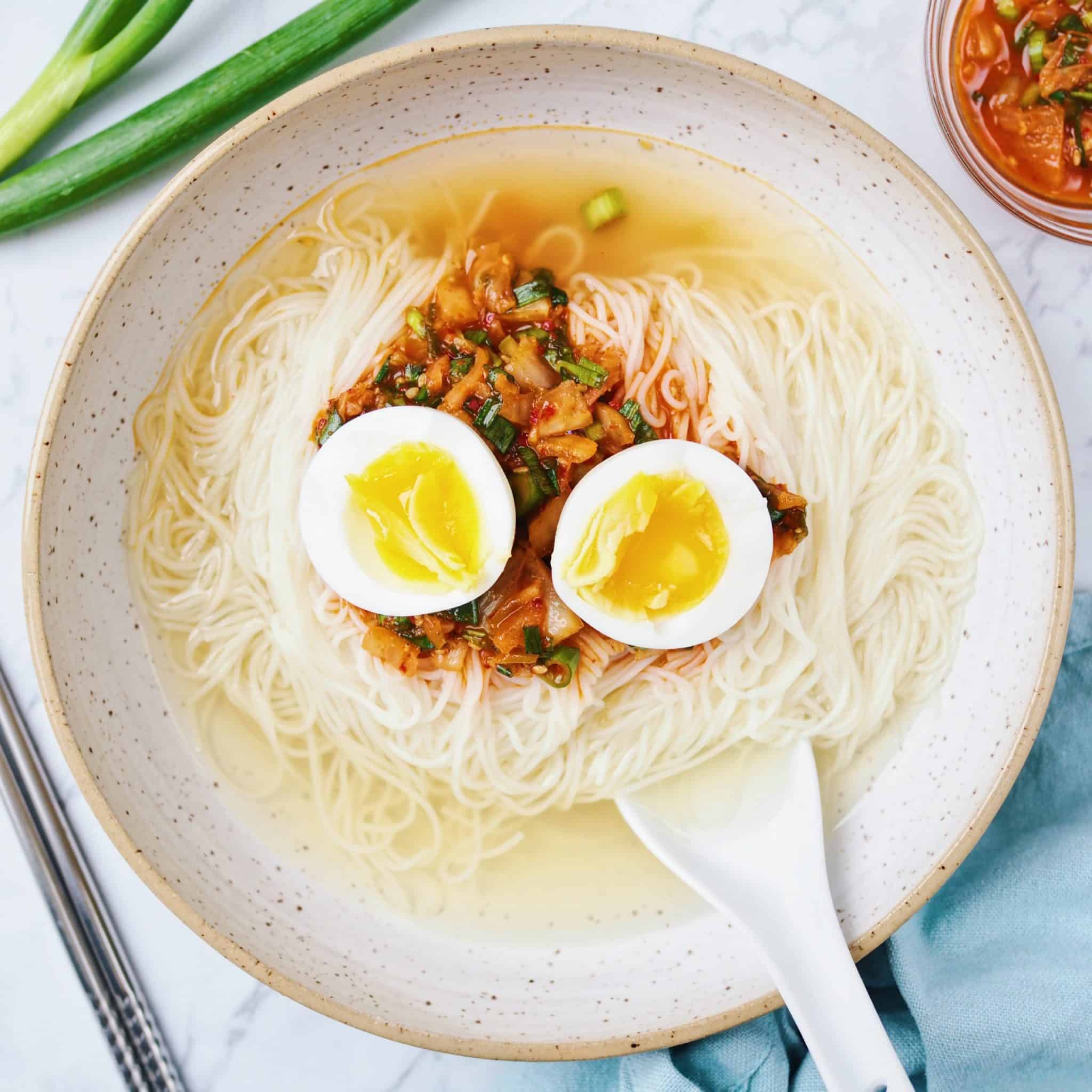 Janchi Guksu (Warm Korean Noodles). A delicious comforting bowl of thin chewy noodles with soft boiled egg on top and a spicy kimchi sauce. Perfect for lunch or dinner. A popular warm noodle dish in Korea that is served in many Korean restaurants. Easy to make at home as well!
#13. Bibim Guksu (Korea)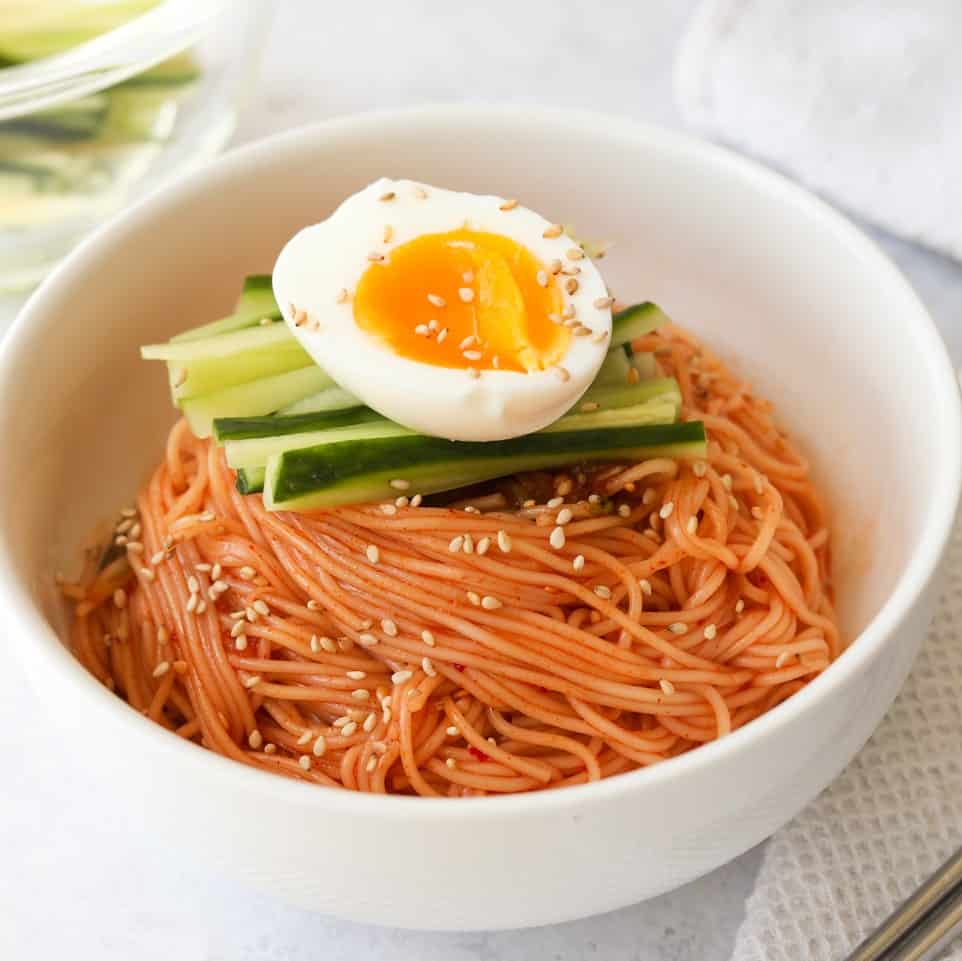 Korean Kimchi Bibim Guksu. Delicious chewy cold noodles mixed in a spicy, vinegary and sweet sauce! Perfect for a quick dinner or lunch as it only takes 10 minutes to make! When I first heard about this dish, I was so fascinated by it. Mainly because the noodles were served cold but they have this delicious chewy texture. This one is SUPER easy to make as it only requires your noodles to be mixed in the same bowl that you made your sauce. A popular dish served in Korean restaurants when the weather is hot and you need a cooling but filling meal!
#14. Singapore Curry Vermicelli (South-East Asia)
This Singapore curry vermicelli recipe is a very popular dish in South East Asia! It's one that you will find often on menu in Asian restaurants. It actually originates from Hong Kong even though the name suggests otherwise. My version of singapore curry rice vermicelli is so flavourful, not spicy but carries that curry flavour that we all know and enjoy. It's packed with snap peas, red bell peppers, chicken, egg, garlic and red onion! You can really swap out the veggies and protein with whatever you desire. The sauce is what really gives these noodles their flavour.
#15. Wonton Noodle Soup (China)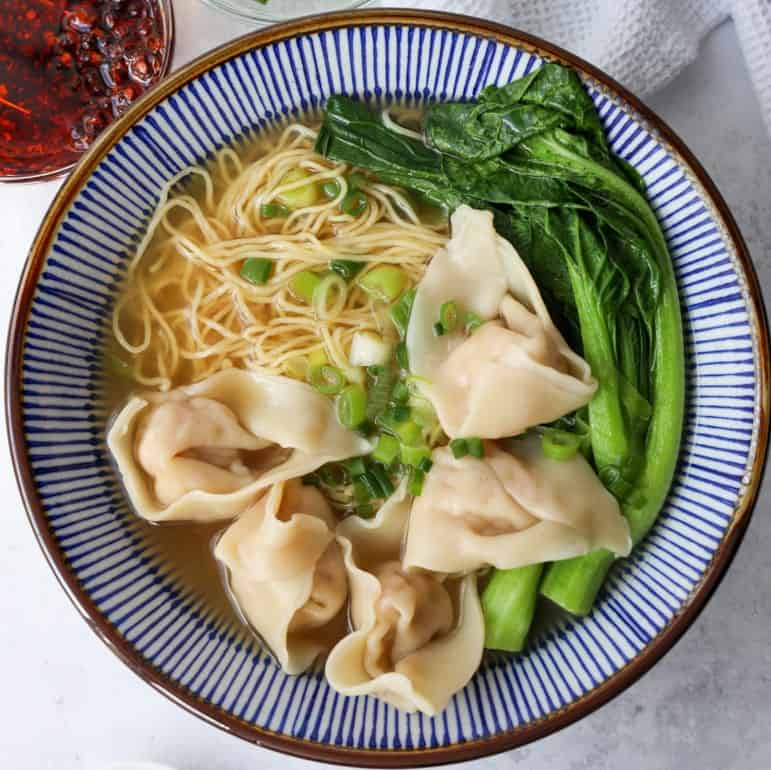 Wonton Noodle Soup. Thin chewy egg noodles swimming in a chicken broth paired with pork wontons and leafy greens. Warm, comforting and a total classic when it comes to Chinese cuisine. Popularly found at many Cantonese restaurants.
Bookmark or share!
I hope you enjoy my list of popular Asian noodle bowls and give them a try! If you do, bookmark it for later as you never know when you may need it! Also please share my blog post of most popular Asian noodle dishes with your friends and family! You never know when they may have a big noodle craving!
Thanks for reading my 15 Popular Asian Noodle Recipes!
I hope you enjoyed this roundup of the most popular Asian noodle bowls in Asia! In addition, I hope you also learned something new! It's my goal to showcase and share noodle dishes that you may have never seen or heard of before on this blog to bring light to the wonderful cuisine of these pan-Asian countries.
Give these best Asian noodles a try!
Well I hope you enjoyed my list of 15 Popular Asian Noodle Recipes! I hope you give at least one of the recipes a try because they're all so tasty!
Thanks for visiting my blog! If you enjoyed this roundup for my top rated Asian noodle recipes please share it with your family and friends or on social media!
Take a picture if you've made any of my asian noodle recipe from scratch and tag me on Instagram @ChristieAtHome in your feed or stories so I can share your creation in my stories with credits to you!
Made one of these recipes and loved it?
If you could leave a star rating for any of my recipes or a comment for my 15 Popular Asian Noodle Recipes, I would greatly appreciate it 🙂 Thanks so much!
Take care,
Christie
*This post for 15 Popular Asian Noodle Recipes contains affiliate links. As an Amazon Associate I earn from qualifying purchases. I also earn from qualifying purchases through additional affiliate programs