Wonton Noodle Soup. A soup noodle dish that is warm, comforting and a total classic when it comes to Chinese cuisine.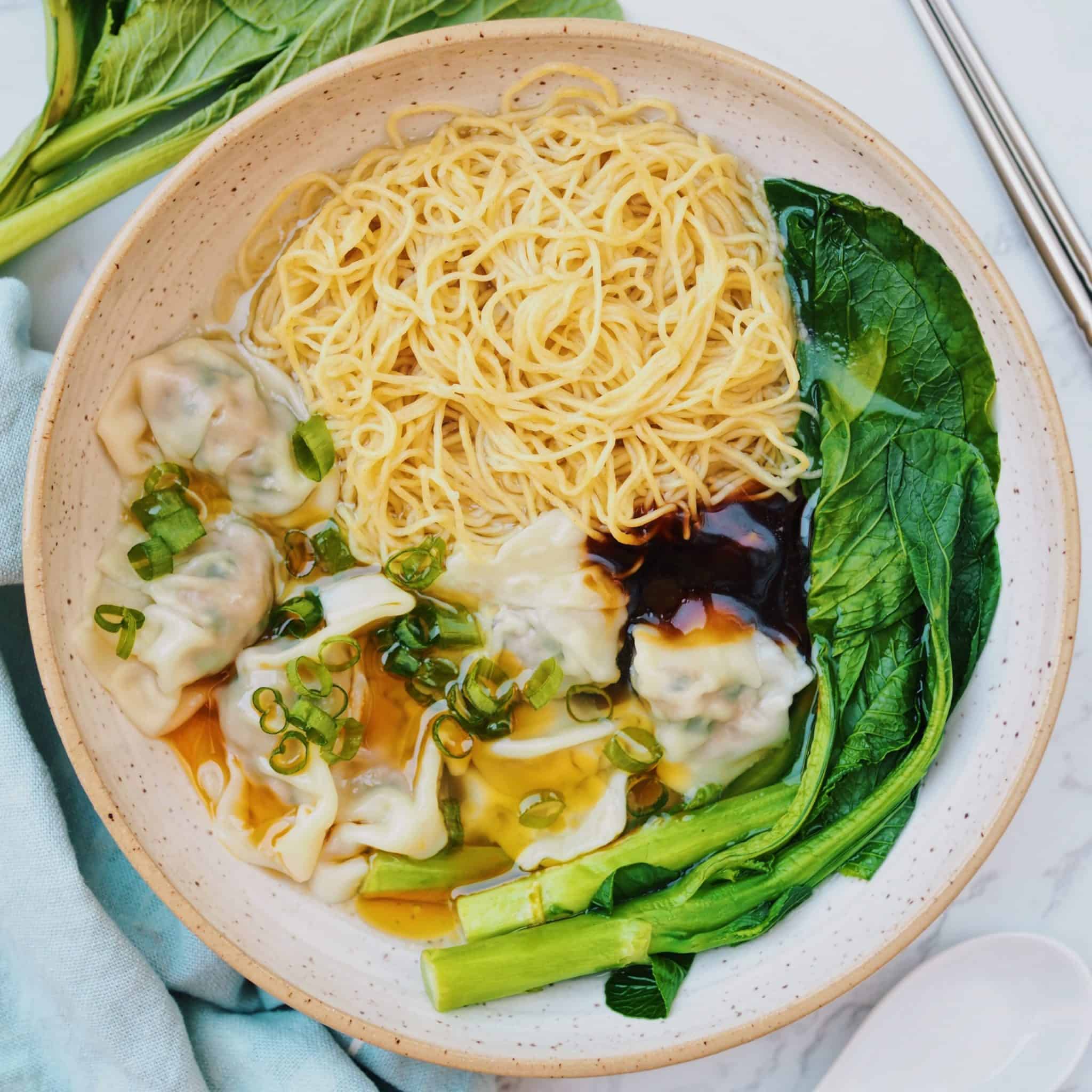 It may be hot right now but sometimes I cannot deny myself a bowl of wonton mein! It's just one of my favourite soup noodles ever.
I was born and raised off of wonton soup noodles I want to share with you my EASY version! It's very simple but it's healthy and tastes amazing and I'm going to share how to make wonton noodle soup step by step!
This Hong Kong wonton noodle soup is a classic dish that you can order at any Chinese restaurant and it tastes so good! At most Asian restaurants, they create a more complex broth using seafood, such as shrimp shells and fish but let's be honest, sometimes it's timely to be brewing a broth using all sorts of ingredients. Especially when you're already hand making wontons on top of tat! So this broth is very simple and instead we're going to use seasoning elements to elevate the soup.
Also, A LOT of the restaurants use MSG to flavour the wonton noodle soup broth making it not so healthy. Now I'm not always healthy, I like my bag of chips every now and then but I'm not a huge fan of chemicals in my food. So this is my version of a healthy wonton noodles soup recipe!
So I'm going to share with you an easy wonton noodle soup recipe from scratch! Which I have a recipe for if you click here. This will require you to make some wontons ahead of time or you may use store-bought to make things easier for yourself but just note that a lot of store bought wontons do contain preservatives.
Other recipes you may like!
Pork Chive Wontons
Pork Shrimp Wontons
Dry Wonton Noodles
Vegetable Dumplings
Pork Cabbage Dumplings
Pork Chive Dumplings

For my Wonton Mein recipe
You will need the following ingredients for my wonton egg noodle soup:
Wonton Noodle Soup Ingredients:
85 grams wonton noodles or 2x the portion if you like a lot of noodles
8 wonton Pork Chive Wontons (add more as desired) or try my Pork Shrimp Wontons
2 cups chicken broth
4 stalks of Yu choy or Lettuce
1 tbsp oyster sauce
½ stalk green onions
½ tsp chili oil or sauce (optional)
Where can I buy some of these ingredients?
Wonton noodles can be bought at any Asian grocer like T&T in the refrigerated section. They usually look like the below and they are not to be confused with cantonese chow mein noodles which are for frying.
Oyster sauce can be bought at Asian grocers in the sauce aisle.
Yu choy can be bought at Asian grocers and looks like the below.
Chili Sauce can be bought at Asian grocers. I usually like this brand and I mix it with some sesame oil.
Give it a try!
Well I hope you give my Wonton Noodle Soup recipe a try! It always excites me when you guys make my recipes and I hope this is one you try.
Thanks for visiting my blog! If you enjoyed this wonton noodle recipe, please share it with your family and friends or on social media! Take a picture if you've made my recipe and tag me on Instagram @christieathome in your feed or stories so I can share your creation in my stories with credits to you!
Made my Wonton Mein and loved it?
If you could leave a star rating for my noodles in wonton soup, I would greatly appreciate it 🙂 Thanks so much!
Take care,
Christie
*This post for my wonton noodles recipe contains affiliate links. As an Amazon Associate I earn from qualifying purchases. I also earn from qualifying purchases through additional affiliate programs
Wonton Noodle Soup
Wonton Noodle Soup. A soup noodle dish made with a chicken broth base that is warm, comforting and a total classic when it comes to Chinese cuisine. For this recipe I teach you how to make a homemade broth with homemade wontons, which will take more time. Alternatively to cut down on time, you may use store bought wontons and broth.
Ingredients
Broth (10 cups)
2

chicken legs

with skin and bone in

10

cups

water
Noodle Soup (1 serving)
85

grams

wonton noodles

or double the portion if you like a lot of noodles

8

wontons

1.5

cups

chicken broth

for homemade broth please read recipe below

4

stems

Yu choy

or leafy greens of choice

1

tbsp

oyster sauce

½

stalk

green onion

½

tsp

Chinese chili oil

optional

1

tsp

regular soy sauce

1

tsp

sesame oil
Instructions
Broth:
In a large pot filled with 10 cups of water, add your chicken legs. Boil this for at least 3 hours over a rolling simmer or medium-low heat covered. If you have an instant pot, cook this on "Slow Cook" on Normal Mode for 2 hours with the seal on.

Once boiled, remove the legs, skim the fat and any bits. Run it through a sieve to clear any bones. Reserve some of your wonton soup. Season with salt if needed.

Freeze or refrigerate the rest for later
Wontons:
In a mixing bowl (or if you have a food processor), combine your filling ingredients except the chives. Mix the ingredients so well that the meat becomes a paste. I would suggest using a food processor to make things quicker

Then to your pork paste, mix in your chives by hand. I would not suggest adding the chives to the food processor as it'll make your filling look green and you'll lose the crunch of the chives when you eat them.

Then on a clean working surface, lay your wonton wrapper down and wet the edges with your fingers or a brush.

Scoop ½ tbsp (no more) into the middle of the wonton.

Fold the wonton wrapper over and seal the edges tightly. It's important to squeeze them together so they stick or they will come apart when you boil them.

To fold it in a fancy way, push the middle of the wonton down with a chopstick.

Fold both sides inward and seal the flaps together with more water.

To cook, boil your dumplings in hot boiling water for 5 minutes or until the dumplings float to the top and are cooked
Noodle soup:
Blanch your wonton noodles for 1 minute over medium high heat. Strain immediately and run under cold water. This keeps the noodles chewy. Then transfer to a bowl.

Blank your yu choy for 2 minutes in hot boiling water.

Prepare your bowl by adding your noodles, boiled dumplings, yu choy, green onions and oyster sauce. Add your soup. Enjoy with some chili oil if desired.
Enjoyed my recipe?
Please leave a 5 star review (be kind)! Tag me on social media @christieathome as I'd love to see your creations!
Copyright Policy
Please do not copy and paste my recipes or use my photos in your own site/blog or social media. If you use my recipe for adaptation, please provide a link back to my recipe and re-write in your own words. Thank you.
Suggested Equipment & Products
Nutrition
Calories:
2664
kcal
|
Carbohydrates:
219
g
|
Protein:
130
g
|
Fat:
137
g
|
Saturated Fat:
40
g
|
Trans Fat:
1
g
|
Cholesterol:
483
mg
|
Sodium:
6853
mg
|
Potassium:
2074
mg
|
Fiber:
6
g
|
Sugar:
19
g
|
Vitamin A:
368
IU
|
Vitamin C:
28
mg
|
Calcium:
321
mg
|
Iron:
17
mg
Suggested Equipment