Beef Chow Fun. A popular Chinese dish made of thick chewy rice noodles with tender marinated beef, bean sprouts, green and white onion. This dish is easy to make at home and ready in just 30 minutes. Great for dinner or lunch!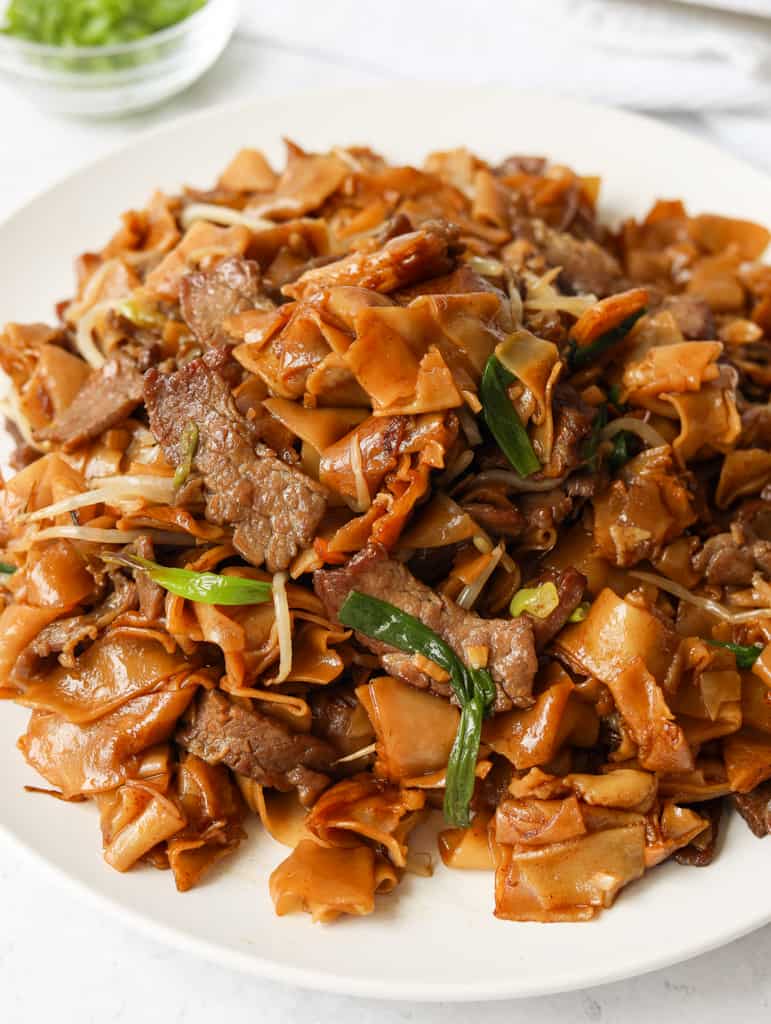 What is in beef ho fun?
Beef Ho Fun is made of thick wide rice noodles, marinated beef, bean sprouts, green onions, and white onion fried in oil. The noodles are seasoned with soy sauce, oyster sauce and black pepper.
The beef marinade calls for soy sauce, sesame oil, Shao Tsing wine, cornstarch, baking soda and water.
How does Chow Fun taste?
Beef chow hor fun tastes like savoury smoky chewy rice noodles that are slightly charred. Accented with the tender chew of beef, bean sprouts with the sharp aromatics of green and white onion.
Easy to make!
My beef hor fun recipe is very easy to make at home. Most of the time goes towards preparing your ingredients, like chopping and rinsing the bean sprouts and aromatics to marinating your beef. The cooking part only takes about 10 minutes.
You can watch my video on how to make beef chow fun below.
Non-stick Wok vs. Carbon/Stainless Steel Wok
Chinese restaurants will usually use very hot woks made of carbon or stainless steel. These woks can withstand high heat giving those noodles that smoky taste.
However, if you use a non-stick that cannot withstand very high heat, the smoky taste will not be present due to the lack of heat.
Therefore if you are comfortable cooking with a carbon or stainless steel wok, I would highly recommend doing that for this dish.
However, if you're not comfortable or haven't had experience using one, I would strongly recommend a non-stick pan or wok for this dish to prevent the rice noodles from sticking.
Tips for the Best Beef Hor Fun Noodles
Below are tips on making my chow fun recipe:
Preparation is important. Firstly, before you begin cooking, please prepare your ingredients ahead of time. This not only allows for a smooth cooking process but prevents your noodles from overcooking
Cut the flank steak thinly. A tip I learned is to actually freeze your flank steak for 30 minutes and this allows for you to cut your beef very thinly. However, if you're short on time, skip this step.
Do not use brisket beef for this recipe or any meat that is very chewy, it will result in very chewy beef that is unpleasant to eat. Use flank steak or even grilling steak (with the thick fat around it sliced off).
Marinate your beef first prior to doing anything else. The beef will require a good 20-30 minutes to tenderize.
Make sure to strain the beef of its marinade liquid prying to frying.
Remove any residual beef liquid in the pan. We need the pan dry to cook the remaining ingredients.
Make sure to rinse your bean sprouts and dry well. Bean sprouts usually have a bit of a slight odor that comes through in cooking if you don't wash it.
Have your noodle sauces ready, apart from the video, I've instructed to pre-mix it before cooking. This ensures your noodles do not overcook in the wok.
FAQ
Below are frequently asked questions about this chow hor fun recipe:
What is the difference between chow mein and chow fun?
Chow mein is made of egg noodles usually and chow fun is made with rice noodles.
Where to buy chow fun noodles?
Chow fun noodles can be found at most Asian supermarkets in the refrigerated section. Sometimes they come in bags like this.
Beef chow fun dry vs wet?
There are actually two types of chow fun. The first one is dry (which is what I'm teaching in this recipe). The second kind is "wet". It is made with a heavy luscious glossy sauce that is lighter in colour.
How do you say beef hor fun in Chinese?
This dish is pronounced as "gon chow ngau hor" in Cantonese.
What type of rice noodles should I use?
Traditionally, fresh rice noodles or Cheung fun (aka rice noodle rolls sliced into noodles) are used. On the other hand, if you can't find this specific ingredient, use dried wide rice noodles.
Furthermore, fresh rice noodles are found in the refrigerated section of most Asian supermarkets and will still require you to soak in warm water to loosen the noodles.
What kind of beef should I use?
Flank steak is highly recommended, or a grilling steak with any thick fat surround it sliced off. In addition, do not use beef brisket chuck or any beef that is tough.
Where do I find oyster sauce?
Any Asian supermarket will carry this item.
Why do you use baking soda to marinate your beef?
The baking soda alkalinizes the outer surface of the beef, breaking the proteins down and creating a very tender and velvety beef. It is commonly done in Chinese cooking.
What kind of bean sprouts should I use?
Mung bean sprouts are traditionally used and highly recommend. However, if you can't find this item, you may use soybean sprouts, but I would suggest removing the yellow heads unless you enjoy eating them (like I do and like how it's shown in these pictures).
The only thing with soybean sprouts is that they have a more pronounced soy-like taste.
Other recipes you may like!
If you enjoyed this chow how fun, you may enjoy these other rice noodle recipes:
PORK BELLY HOR FUN
AUTHENTIC CHICKEN PAD THAI
MALAYSIAN CHAR KWAY TEOW
CHICKEN PAD SEE EW
BIHUN GORENG FRIED VERMICELLI
EGG PAD SEE EW
THAI GLASS NOODLE STIR-FRY
CHINESE BEEF NOODLE STIR-FRY
THAI DRUNKEN NOODLES
SINGAPORE CURRY VERMICELLI NOODLES
Try it!
Well, I hope you give my Beef Chow Fun a try!
Thanks for visiting my blog! If you enjoyed my recipe for beef hor fun, please share it with your family and friends or on social media!
Take a picture if you've made my stir fry beef hor fun noodles and tag me on Instagram @ChristieAtHome in your feed or stories so I can share your creation in my stories with credits to you!
Made this recipe and loved it?
Please leave a star rating for my beef chow hor fun, I would greatly appreciate it 🙂 Thanks so much!
Take care,
Christie
*This post on How to Cook Beef Hor Fun contains affiliate links. As an Amazon Associate, I earn from qualifying purchases. In addition, I earn from qualifying purchases through additional affiliate programs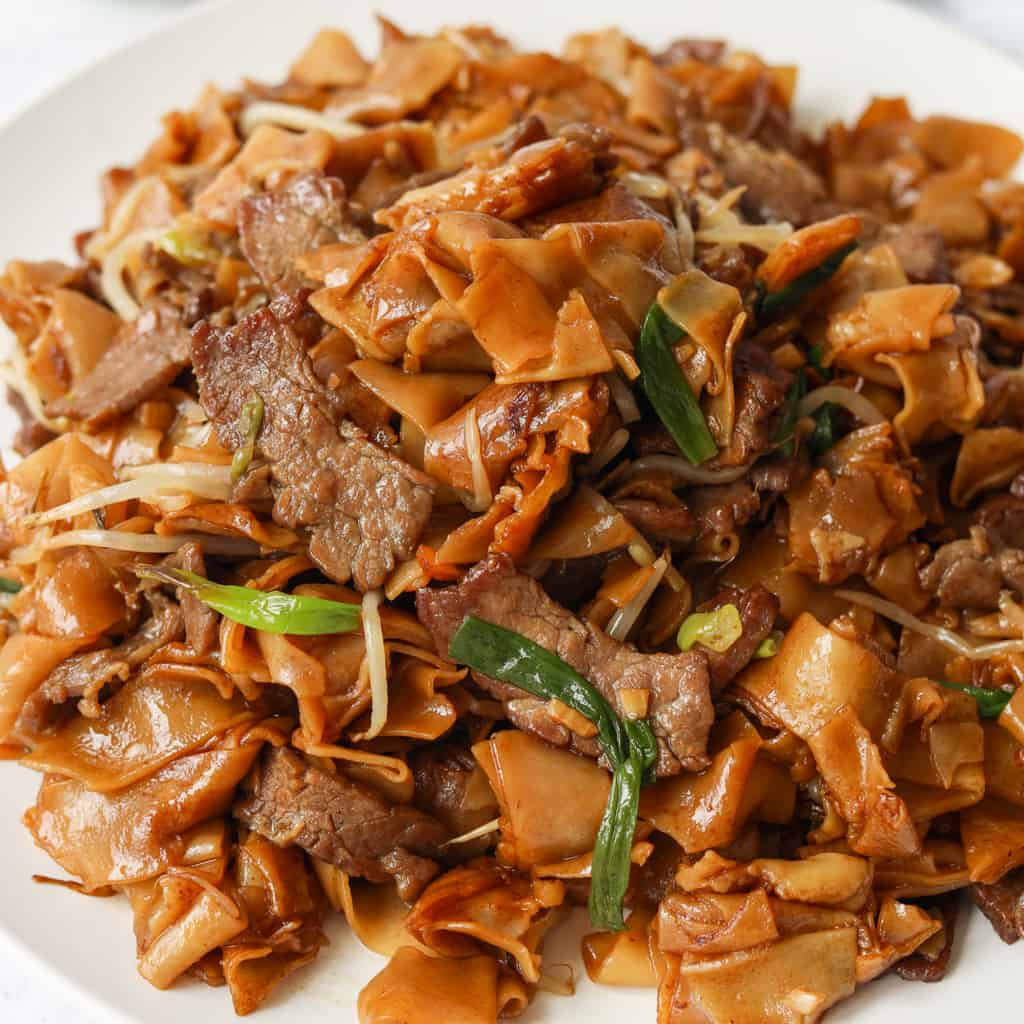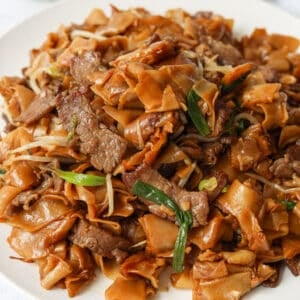 30-min. Beef Chow Fun
Beef Chow Fun. A popular Chinese dish made of thick chewy rice noodles with tender marinated beef, bean sprouts, green and white onion. This dish is easy to make at home and ready in just 30 minutes. Great for dinner or lunch and perfect for families.
Ingredients
900

grams

dried wide flat rice noodle

soaked in warm water

1

cup

white onion

sliced thinly

1

cup

Green onion

cut into 1-inch-long pieces

300

grams

Flank steak

sliced thinly

3

tablespoon

Avocado oil

or any neutral tasting oil that can withstand high heat

200

grams

Bean sprouts

rinsed (mung bean sprouts are traditionally used)
Instructions
Slice your flank steak thinly and against the grain. Marinate with your marinade ingredients (see above) for 20 minutes at room temperature. Once marinated, strain the beef of any residual liquid.

At the same time, soak rice noodles in warm water (about 15-20 mins) until they have loosened and strain completely of water. You may need to help gently break them apart with your fingers.

Wash your bean sprouts and strain until dry.

In a small bowl, whisk together your Noodle sauce ingredients (see above).

Over the medium high heat, heat 2 tablespoon of avocado oil. When the oil is glistening, add marinated beef and let this cook 80% of the way. Using tongs, remove beef from wok and shake off any excess liquid. Transfer to a plate to set aside.

Clean your wok of the residual liquids from the beef.

In a clean wok, add 1 tablespoon avocado oil. When it glistens, add white onion and brown the edges, about 2 mins.

Quickly add strained bean sprouts, cooked beef, strained rice noodles and noodle sauce. Swiftly mix everything together.

Once mixed, quickly add in chopped green onion. Mix again and remove off heat immediately. Serve & enjoy!
Notes
Please see above blog post for tips and tricks on how to make the best Beef Chow Fun!
Enjoyed my recipe?
Please leave a 5 star review (be kind)! Tag me on social media @christieathome as I'd love to see your creations!
Copyright Policy
Please do not copy and paste my recipes or use my photos in your own site/blog or social media. If you use my recipe for adaptation, please provide a link back to my recipe and re-write in your own words. Thank you.
Suggested Equipment & Products
Nutrition
Calories:
874
kcal
|
Carbohydrates:
160
g
|
Protein:
23
g
|
Fat:
13
g
|
Saturated Fat:
3
g
|
Polyunsaturated Fat:
2
g
|
Monounsaturated Fat:
8
g
|
Cholesterol:
36
mg
|
Sodium:
1983
mg
|
Potassium:
472
mg
|
Fiber:
5
g
|
Sugar:
5
g
|
Vitamin A:
209
IU
|
Vitamin C:
11
mg
|
Calcium:
80
mg
|
Iron:
3
mg