Mushroom Udon Stir Fry. Bouncy, chewy udon stir fried with mushrooms and napa cabbage in a savoury sauce. Ready in 30 minutes!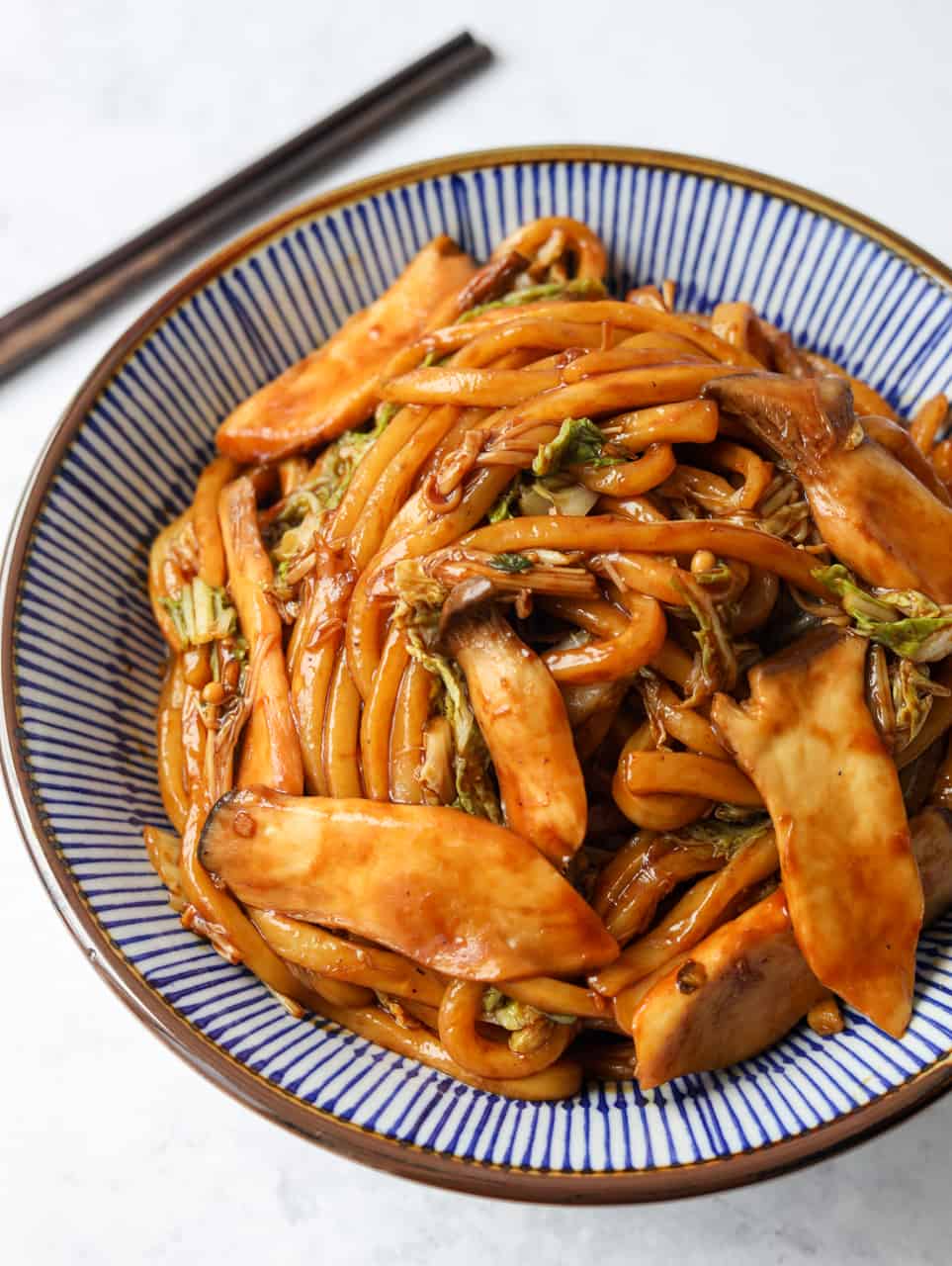 This is the best udon stir fry recipe for those looking to eat more vegetables! It's also so filling thanks to the udon!
Easy to make!
This mushroom udon noodle stir fry is so easy to make and only requires 30 minutes of your time! It's a great meatless meal idea that works well for leftovers too! You're simply combining your sauce, blanching the udon noodles just until loosened and stir frying it with the mushrooms, aromatics and sauce.
What you'll need
For this mushroom udon noodles recipe, you'll need the following ingredients:
frozen udon noodles
enoki mushrooms
king oyster mushrooms
napa cabbage
green onion
garlic
avocado oil, or any neutral tasting oil
Sauce:
regular soy sauce
dark soy sauce
oyster sauce, or vegetarian stir fry sauce for a vegan version
sesame oil
Chinese black vinegar, or sub with rice vinegar
black pepper
How to make Mushroom Udon Noodles
Below are brief steps with visuals to show you how to make mushroom udon stir fry and noodles. Please scroll down to the recipe card below to find full instructions and details.
Cooking tips
Use frozen udon noodles for best texture
These have the best bounciest texture unlike the vacuum sealed kind that are stored at room temperature. The latter breaks off easily and have a denser texture.
Only blanch udon until loosened – do not boil
We are simply warming up the noodles to loosen them. Don't forget we are frying them over medium high heat later.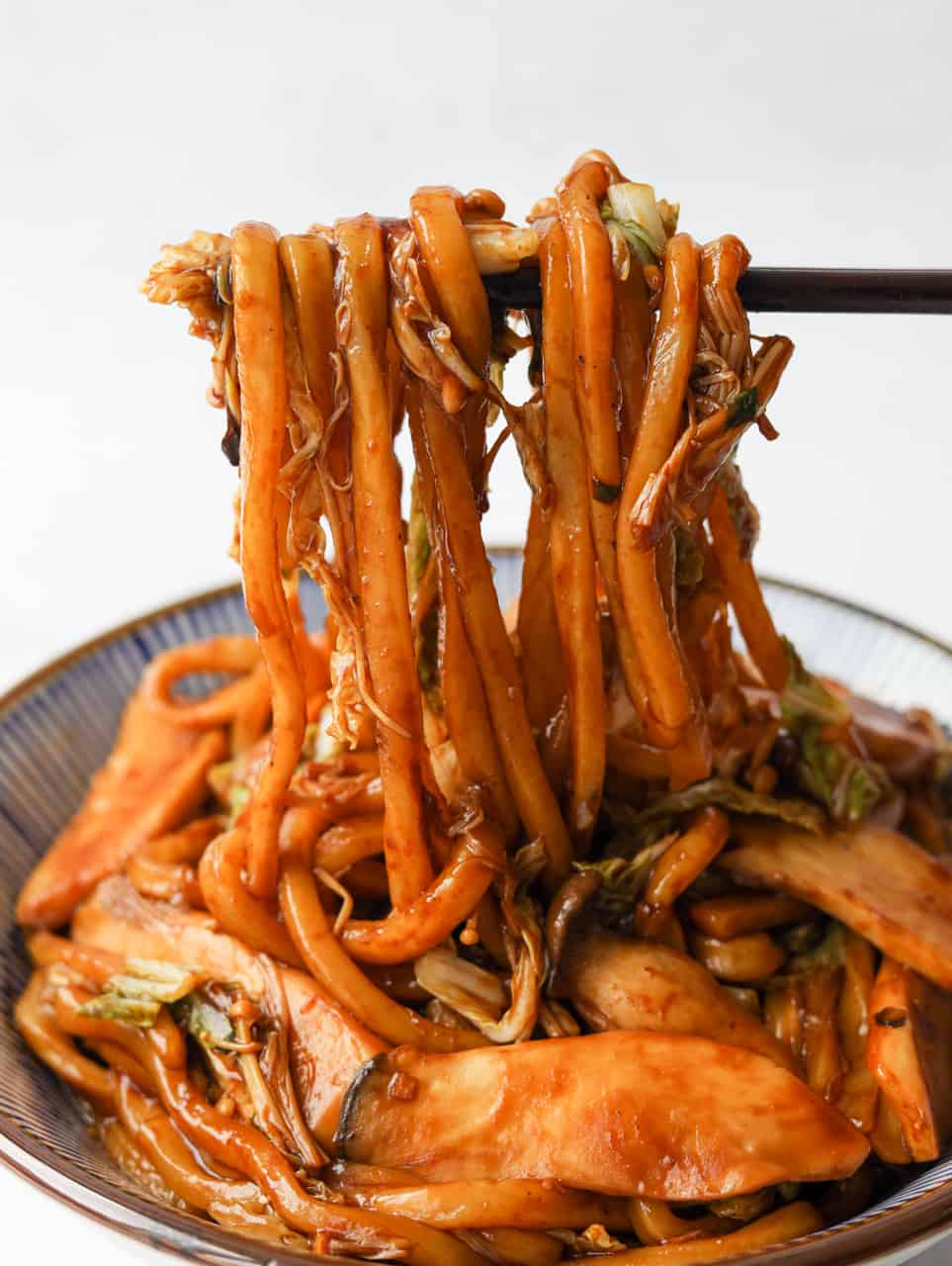 FAQ
Below are frequently asked questions about this mushroom udon stir fry at home:
Where can I buy oyster sauce or vegetarian stir fry sauce?
I like the brand by Lee Kum Kee, and it's sold at most Asian grocers in the sauce aisle. You can also find it online.
Where do I find frozen udon noodles?
These can be found at most Asian grocers, like T&T if you reside in Canada.
Can I substitute the mushrooms? I'm not a fan of them.
Yes, feel free to replace with any of the below ingredients.
What to put in udon stir fry?
If you're not a fan of mushrooms, I can suggest these other vegetables or plant-based ingredients you can add to your stir fry:
Bell peppers
carrots
edamame
regular cabbage
bok choy
extra firm fried tofu
fried tofu balls
celery
Can I replace the oyster sauce with hoisin sauce?
No, I wouldn't recommend that as they both have very different tastes.
Where can I buy Chinese Black Vinegar?
Any Asian grocer will carry this item.
Can I sub the Chinese Black Vinegar with another vinegar?
Rice vinegar will work as a replacement.
Other recipes you may like!
If you enjoyed this mushroom udon stir fry dish:
Mushroom Udon Noodles
Garlic Butter Shrimp Udon
Udon Carbonara
Stir Fried Vegetable Tofu Udon
Japanese Yaki Udon
Mushroom Broth Udon
Sesame Sausage Udon Stir-Fry
Try it!
Well, I hope you give my Mushroom Udon Stir Fry a try! It always excites me when you make my recipes and I hope this is one you try and most importantly, enjoy.
Sharing is caring
If you enjoyed my easy mushroom udon, please share it with your family and friends or on social media! Take a picture of your re-creation and make sure to tag me @ChristieAtHome in your feed or stories as I would love to see it!
Did you enjoy it?
If you genuinely enjoyed my recipe, please leave a 5-star review. I would greatly appreciate it 🙂
Take care,
Christie
*This post contains affiliate links. As an Amazon Associate, I earn from qualifying purchases. I also earn from qualifying purchases through additional affiliate programs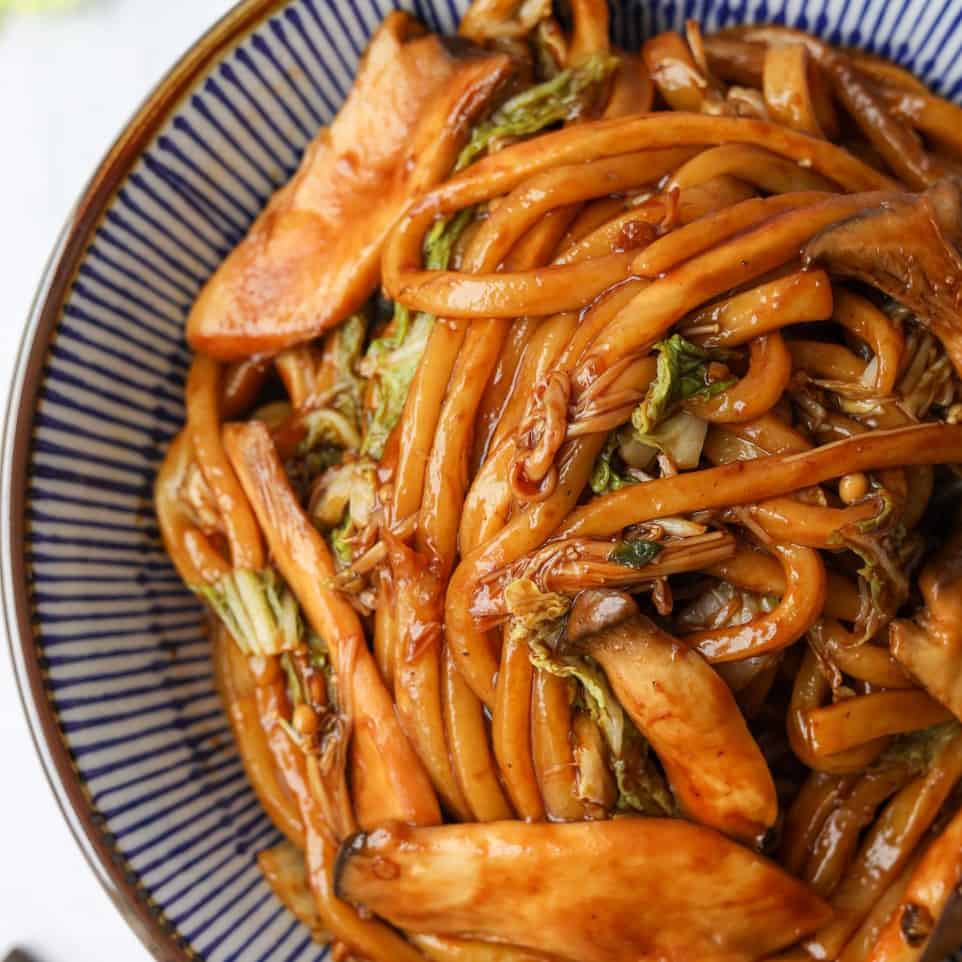 Easy Mushroom Udon Stir Fry
Mushroom Udon Stir Fry. Bouncy, chewy udon stir fried with mushrooms and napa cabbage in a savoury sauce. Ready in 30 minutes. This is the best udon stir fry recipe for those looking to eat more vegetables!
Ingredients
750

g

frozen udon noodles

1 ½

cups

enoki mushrooms

ends chopped off and chopped in half

3

cups

king oyster mushrooms

washed and sliced lengthwise

3

cups

napa cabbage

chopped

3

tablespoon

green onion

finely chopped

1 ½

teaspoon

garlic

minced

2

teaspoon

avocado oil
Instructions
In a bowl combine sauce ingredients and set aside.

Fill your wok halfway with water and bring to boil. Blanch frozen udon noodles just until loosened and strain immediately.

In a wok over low heat, add oil followed by garlic and green onions. Cook until fragrant, about 15 seconds.

Increase heat to medium high, add king mushrooms and enoki. Fry until king mushrooms have softened.

Add strained udon noodles and sauce. Mix well.

Then mix in cabbage and cook until it wilts a bit. Remove off heat. Enjoy!
Enjoyed my recipe?
Please leave a 5 star review (be kind)! Tag me on social media @christieathome as I'd love to see your creations!
Copyright Policy
Christie at Home owns all copyright to her blog content, photos and videos. Usage of any of these copyrighted materials on your website or social media channels is strictly prohibited. If you adapt my recipes, please provide a backlink to my website and re-write in your own words.
Suggested Equipment & Products
Nutrition
Calories:
1523
kcal
|
Carbohydrates:
285
g
|
Protein:
73
g
|
Fat:
18
g
|
Saturated Fat:
1
g
|
Polyunsaturated Fat:
3
g
|
Monounsaturated Fat:
3
g
|
Trans Fat:
1
g
|
Sodium:
5829
mg
|
Potassium:
2018
mg
|
Fiber:
32
g
|
Sugar:
40
g
|
Vitamin A:
626
IU
|
Vitamin C:
33
mg
|
Calcium:
118
mg
|
Iron:
6
mg