Thai Drunken Noodles, aka Pad Kee Mao. Savoury, spicy noodles coated in sauce, with chicken, gai-lan, garlic, red chili, and holy basil.
Ready in 25 minutes or less and fantastic for dinner or lunch. These noodles do not contain alcohol despite the name.
What do Thai drunken noodles taste like?
My Thai drunken noodles with chicken taste like chewy rice noodles coated in a spicy, savoury umami-based sauce. In every bite, you'll taste that tender chicken and crunchy gai-lan! You'll also experience the fragrant taste of basil every now and then.
Easy to make
This is a delicious Thai dish that is easy enough to make at home and I'm going to show you how to make Pad Kee Mao. Most of the ingredients are accessible except for holy basil, which can be replaced with normal basil. If you have Thai basil, that works well too!
No alcohol
There is no alcohol in these noodles despite the name. If you're curious as to why this dish is given the name it has, read under my Frequently Asked Questions.
Many ways to make Pad Kee Mao
There are many ways to cook Thai Drunken Noodles or Pad Kee Mao Drunken Noodles as you can alternate between the proteins, greens and the noodle types. I love this version because it's simple, accessible and just delicious!
Other sources of protein
Other sources of protein that can be used are:
You can even switch up the greens to whichever leafy green you desire. But usually gai-lan or Chinese broccoli is traditionally used.
What You'll Need
You will need the following pad kee mao ingredients:
dried rice noodles
chicken thighs (or protein of choice)
gai lan
large red chili
holy basil leaves, or sub with Thai basil or Italian basil leaves
garlic cloves
vegetable oil
water
Noodle sauce:
oyster sauce
regular soy sauce
dark soy sauce
fish sauce
sugar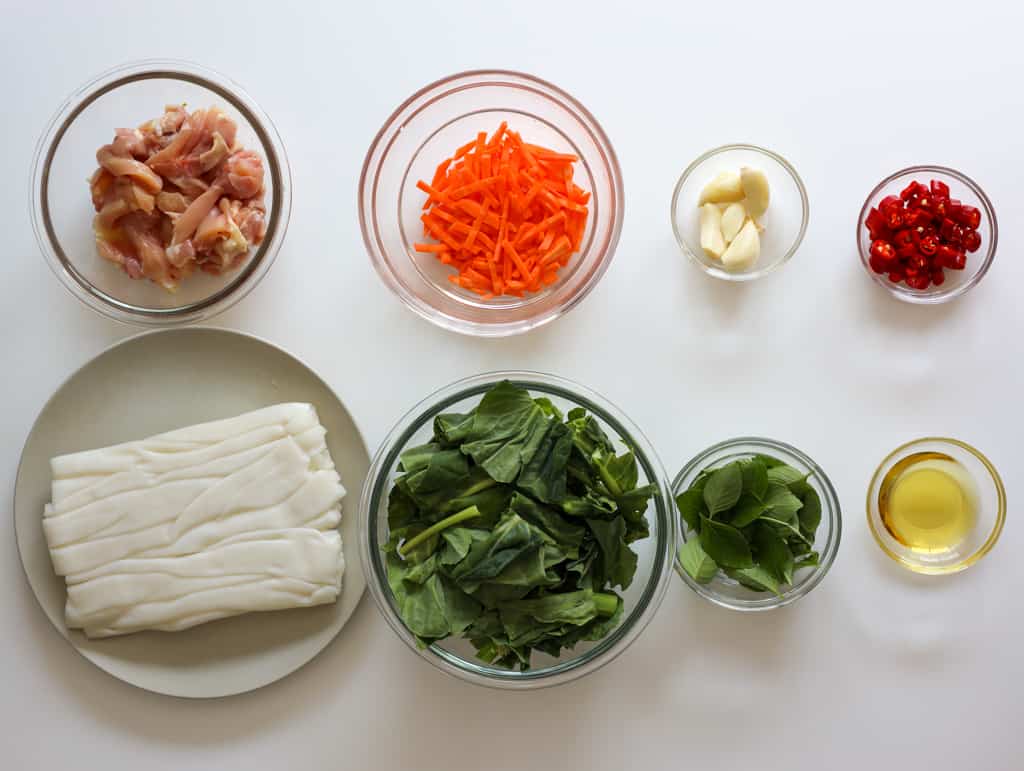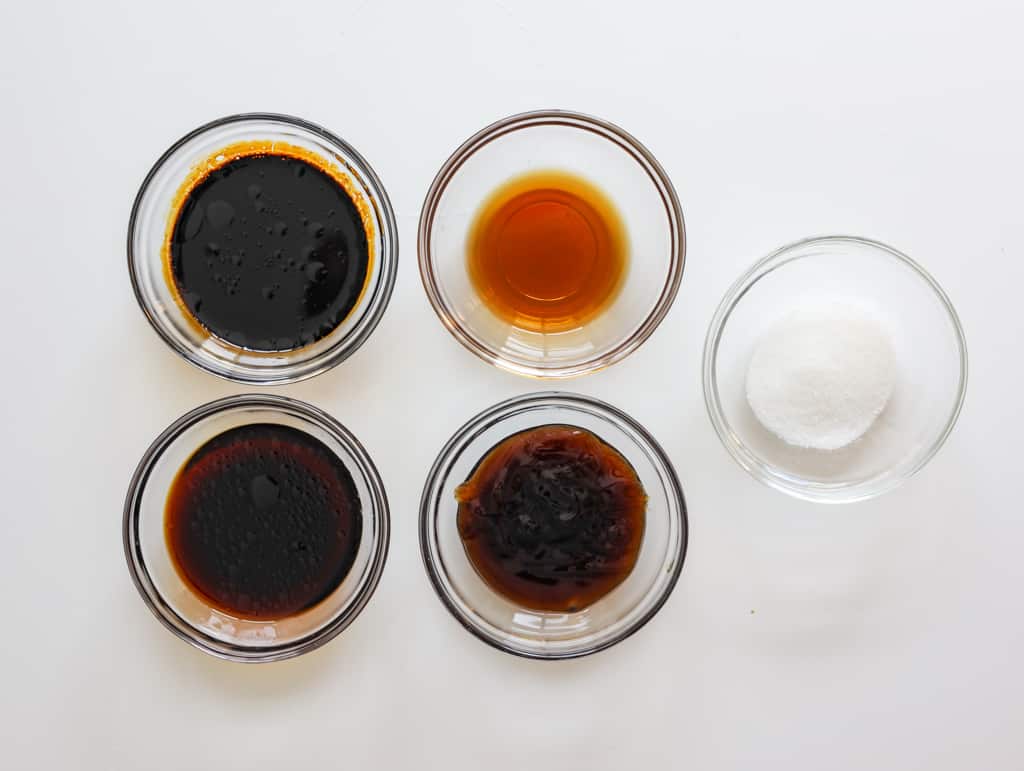 Cooking Tips
Below are tips on making my easy Thai drunken noodles recipe:
Feel free to use a protein you enjoy!
Feel free to use shrimp, sliced beef or pork, tofu or eggs! You don't have to use sliced chicken for this recipe.
Soak your rice noodles ahead of time
Ensure your dried rice noodles are soaked in hot (not boiling) water ahead of time for 5 minutes before straining.
Peel any noodles that are stuck together
If you notice any of your noodles are clumped together, peel them apart otherwise you'll be chomping on hard clumps of noodles.
Prepare your ingredients ahead of time
Be sure to prepare ALL of your ingredients ahead of time. I can't stress this enough. The cooking process is very fast, less than 5 minutes in a ripping hot wok and we want to avoid overcooking any of our ingredients.
Be gentle when stir frying rice noodles
Since rice noodles have an easy tendency to break apart under high heat, be very gentle you can stir fry scooping the noodles from underneath and over. Alternatively, if you're strong enough, twirling your wok to mix the noodles with the other ingredients is a great method.
FAQ
Below are frequently asked questions about my spicyThai drunken noodles:
What makes drunken noodles drunken?
Despite the name, there is no alcohol in these Thai drunken noodles. It's named this way because after a night out of drinking, people will usually eat these spicy noodles to cure their hangover.
What are Thai drunken noodles made of?
Traditionally they're made of wide rice noodles, protein of choice, gai-lan (Chinese broccoli), garlic, red chili, soy sauce, oyster sauce, fish sauce and a bit of sugar to balance out the saltiness.
Does drunken noodles have egg?
Sometimes it does. It all depends on whether you'd like to add it to your dish.
Do Thai drunken noodles have alcohol?
No, they do not, despite the name.
Can I make this dish not spicy?
Yes, feel free to omit the red chili.
Are Thai drunken noodles gluten free?
No, since soy sauce, fish sauce and some oyster sauces contain gluten. However, some brands offer gluten free versions which you can find at certain Asian grocers or online.
Can I use normal basil?
Yes! Feel free to use normal or Italian basil for this dish if you can't find holy basil. Thai basil works too!
Can I use fresh rice noodles?
Sure, but be forewarned that these are very tricky to work with and break apart easily in the wok if you're constantly moving them around with a metal wok spatula.
Dried rice noodles recommended though not traditional
Traditionally wide fresh rice noodles are used but these can be very tricky to work with if you read above. Therefore, I highly recommend dried rice noodles especially for beginner or intermediary cooks.
Other recipes you may like!
If you enjoyed this recipe for Thai drunken noodles, you may enjoy these other Thai recipes:
AUTHENTIC CHICKEN PAD THAI
SHRIMP PAD SEE EW
EGG PAD SEE EW
THAI GLASS NOODLE STIR-FRY
THAI RAILWAY FRIED RICE
GARLIC FRIED SHRIMP
PAD SEE EW WOON SEN
TOFU EGG PAD THAI
THAI SPICY BASIL FRIED RICE
Try it!
Well, I hope you give my Thai Drunken Noodles a try! It always excites me when you make my recipes and I hope this is one you try.
Thanks for visiting my blog! If you enjoyed my recipe, please share it with your family and friends or on social media!
Take a picture if you've made my easy pad kee mao and tag me on social media @ChristieAtHome in your feed or stories so I can share your creation in my stories with credits to you!
Made this recipe and loved it?
If you could leave a star rating for my recipe, I would appreciate it 🙂 Thanks so much!
Take care,
Christie
*This post for my pad kee mao noodles recipe contains affiliate links. As an Amazon Associate, I earn from qualifying purchases. I also earn from qualifying purchases through additional affiliate programs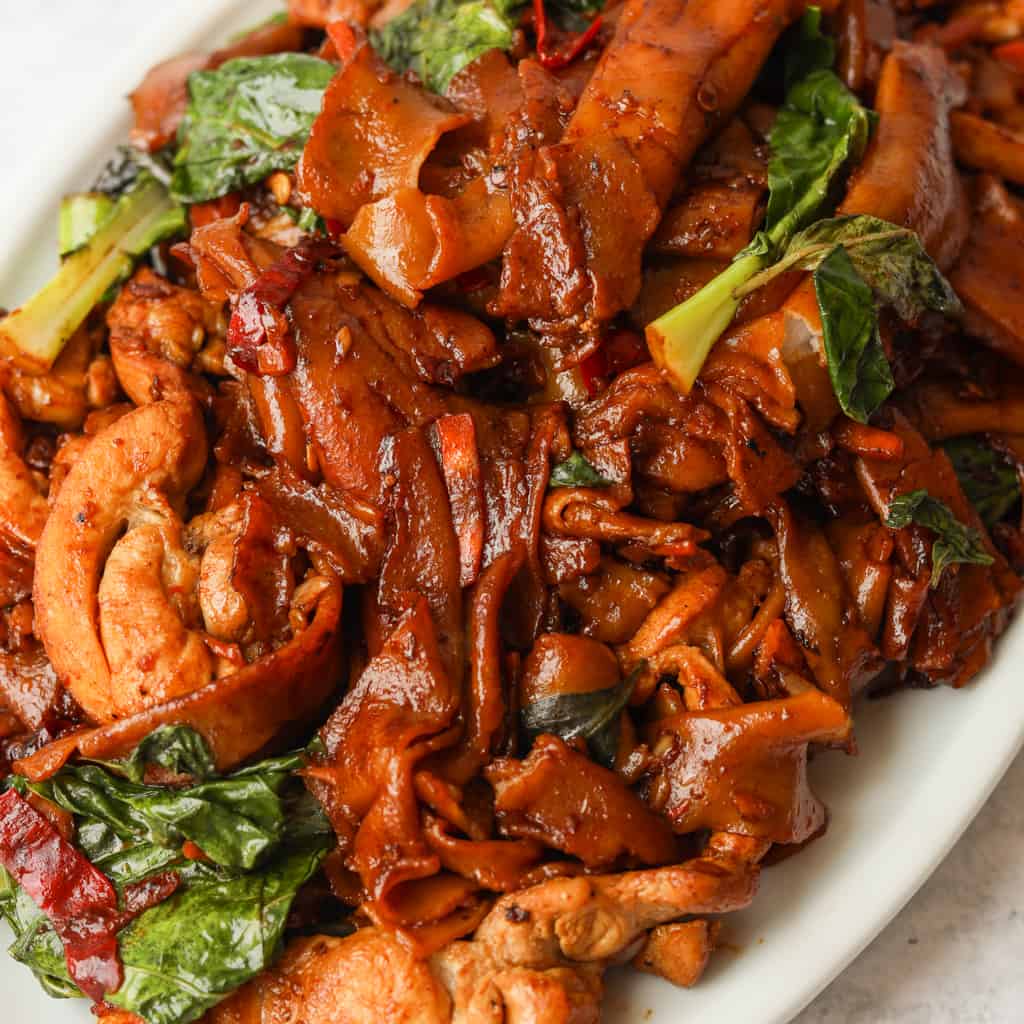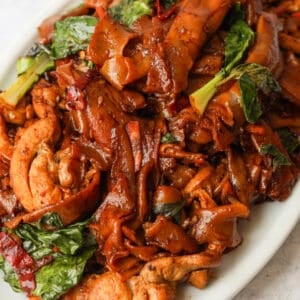 Easy Thai Drunken Noodles - Pad Kee Mao
Thai Drunken Noodles, aka Pad Kee Mao. Savoury, flavourful noodles coated in a soy and oyster-based sauce with tender chicken thigh and crunchy gai-lan accented with the lovely aroma of holy basil. Ready in 25 minutes or less and fantastic for dinner or lunch. These noodles do not contain alcohol despite the name.
Ingredients
200

grams

dried wide flat rice noodle

150

grams

boneless skinless chicken thighs

sliced thinly

175

grams

Chinese broccoli aka Gai-Lan

chopped into 1 inch long pieces

1

large

red chili pepper

chopped

½

cup

holy basil

(or sub with Thai basil or Italian Basil)

3

cloves

garlic

or 1 tbsp

1

tablespoon

vegetable oil

2

tablespoon

water
Instructions
First soak dried rice noodles in hot (not boiling) water for 5 minutes as you prepare the rest of ingredients. Once they have soaked, strain the water and rinse under cold water leaving them to strain again. Peel apart any noodles that have clumped together.

In a bowl, combine noodle sauce ingredients. Set aside.

In a mortar and pestle or food processor, grind garlic and chopped red chili into a chunky paste.

As your pan gradually warms to medium high heat, add oil into hot wok followed by chili garlic paste and cook for 20-30 seconds. Do not burn. Careful not to inhale the smoke as it can cause a coughing fit.

Add in sliced chicken thighs and spread apart quickly. Fry until 80% cooked.

Throw in rice noodles and noodle sauce. GENTLY mix just until noodles are coated in sauce.

Add water and gai-lan. Stir fry until gai-lan has wilted.

Lastly throw in basil and give it one final mix. Serve hot and enjoy!
Enjoyed my recipe?
Please leave a 5 star review (be kind)! Tag me on social media @christieathome as I'd love to see your creations!
Copyright Policy
Please do not copy and paste my recipes or use my photos in your own site/blog or social media. If you use my recipe for adaptation, please provide a link back to my recipe and re-write in your own words. Thank you.
Suggested Equipment & Products
Nutrition
Calories:
604
kcal
|
Carbohydrates:
98
g
|
Protein:
21
g
|
Fat:
14
g
|
Saturated Fat:
4
g
|
Polyunsaturated Fat:
3
g
|
Monounsaturated Fat:
5
g
|
Trans Fat:
1
g
|
Cholesterol:
74
mg
|
Sodium:
2005
mg
|
Potassium:
625
mg
|
Fiber:
5
g
|
Sugar:
5
g
|
Vitamin A:
1135
IU
|
Vitamin C:
113
mg
|
Calcium:
98
mg
|
Iron:
3
mg